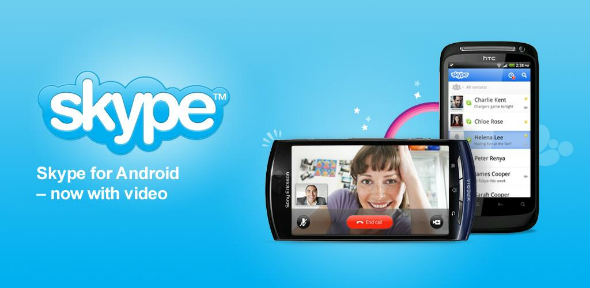 Skype released yesterday a new version of its Android app, v2.0.0.45, which brings much awaited free Skype-to-Skype video calls over 3G or WiFi.
Unfortunately, although everyone can download the updated application, official support for video chatting is restricted to the Google Nexus S (excluding the US Google Nexus S 4G), HTC Desire S, Sony Ericsson Xperia Neo and Sony Ericsson Xperia Pro, at least for now.
It didn't take long though for the Android modding community to fiddle with the installation APK file and allow support for more handsets. You can find the modded files and installation instructions after the break.

Tested devices, which work with the modded APK files, so far include the Samsung Galaxy S II, HTC EVO 3D, HTC Sensation, Droid Charge and HTC ThunderBolt. We've tried the general APK file with our Galaxy S II and HTC Sensation and confirm that they both work (video chatting only in landscape though).
Note that, even if your front-facing camera enabled handset is not listed above, the modded app might still work, though you'd probably have more success if your device is running Android 2.3+ rather than 2.2 Froyo. Make sure you let us know how successful your are with your device in the comments!
To try it out:
First un-install the Skype application if you've already installed the official 2.0.0.45 app.
Go into Settings then Applications and enable 'Unknown Sources'.
Download either the first general or the ThunderBolt specific APK file below, either directly on your phone or to your computer and then transfer it via USB to your device.
Open the APK file and install the application.
[
General Handset APK file
,
ThunderBolt specific APK file
(
mirror
)]