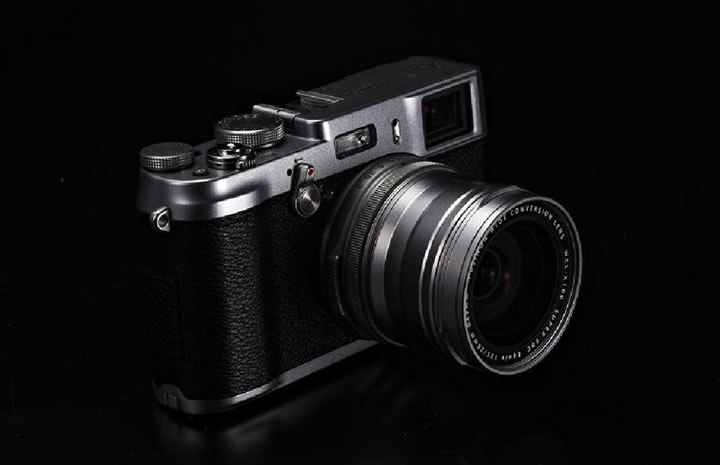 Although the official announcement by Fujifilm is pegged to happen tomorrow, the company's UK website proved too eager to keep this camera under wraps for any longer. The Fujifilm X100S is the proud successor of the X100 APS-C fixed lens camera and has been revealed through a press release on its website. We've always said that Fujifilm listens to its customers and critics and the new X100S really keeps all the good parts of the X100 and improves on the not-so-good parts.
When we reviewed the X100 our main issue with it was its slow performance, both to autofocus (AF) and in general operation. Well, Fujifilm now claims that the new X100S has the world's fastest AF of just 0.08 seconds under certain circumstances, a start-up time of around 0.5 seconds and a shooting interval of 0.5 seconds.

These improvements are thanks to a new EXR Processor II and also a new 16.3 megapixel APS-C X-Trans CMOS II that includes phase detection pixels. This allows the camera to combine contrast with phase detection in order to improve autofocus performance.
Astute readers would have also noted that the new X100S will offer an improvement in image quality as well. The X100 sported a 12.3 megapixel standard Bayer array CMOS sensor, whereas the X100S is now sporting the company's unique X-Trans sensor that does away with any anti-alias filter for better resolution and crisper images — Fujifilm claims an increase in resolution by about 25% and reduction in noise by more than 30% over the X100. This is in fact a second generation sensor over the one found in the X-Pro1 and X-E1, but we would guess that the main improvement over the first generation X-Trans sensor is the inclusion of the phase detection pixels.
Fujifilm also has some tasty bits for fans of manual focusing — an impossible feat with the original X100. A new "Digital Split Image" feature shows dual images on the left and right of the screen to be lined up during manual focusing. There's also the much-demanded focus peaking option that up to now was only found in Sony cameras.
Other improvements include a new hybrid viewfinder with a high-resolution 2.36 million dot EVF, same resolution as in the X-E1, and there is now a full HD (1080p) 60fps movie mode. Fuji will also be offering an external microphone with a USB adapter that will connect to the X100S.
Otherwise, the X100S maintains the same versatile 23mm f/2 lens (35mm full-frame equivalent), same 2.8-inch 460k dot rear display and the same design as the X100 with the full specs just below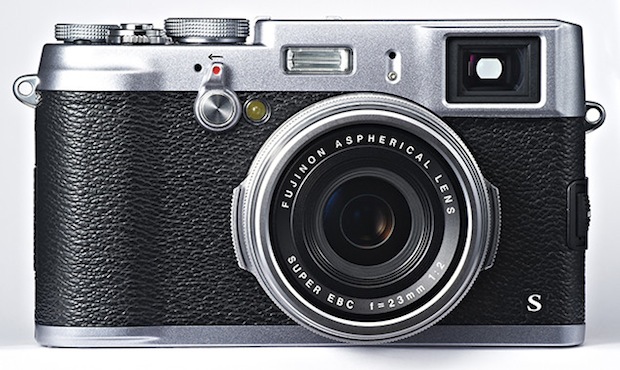 Summary specifications:
16.3 megapixel APS-C X-Trans CMOS II sensor
EXR Processor II
High Definition Hybrid Viewfinder (OVF / EVF)
FUJINON 23mm f/2 lens
Intelligent Hybrid AF (with the world's fastest AF speed of 0.08 secs (*1))
Start-up time of 0.5 secs
Shutter time lag of 0.01 secs
Shooting interval of 0.5 secs
High-contrast and wide viewing-angle 2.8-inch Premium Clear LCD (460K dots)
Super Intelligent Flash
Burst shooting rate of up to 6 frames per second at full resolution (max. 29 frames)
Focus Peak Highlight function
Digital Split Image display
Artistic filters
Full HD movie recording (60fps / 30fps)
There is no word on price and availability yet but we would guess this to go for around $1,200.
UPDATE: Pricing confirmed at $1299.95 and the X100S will be shipping by end-March 2013. You can pre-order the X100S from Amazon US here.
Hands-on video (includes autofocus speed and manual focus peaking assist and digital split image demos)
Specs overview video
[Source:
Fujifilm UK
]