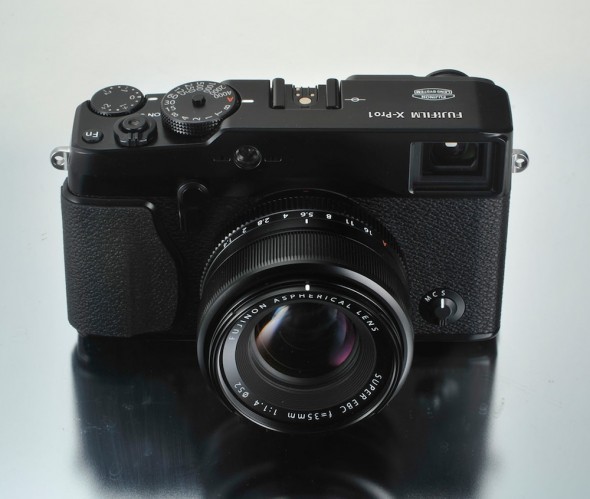 Fujifilm didn't exactly keep the lid on its X-series mirrorless interchangeable lens camera (MILC) system. We've seen pictures and specs of the Fujifilm X-Pro1 in a number of leaks last week, but now we have the official announcement by Fujifilm with all the minor details we are sure you're anxious to hear.
The X-Pro1 is a retro beauty following in the footsteps of the X100 and the X10. The camera has a new 16-megapixel APS-C X-Trans CMOS sensor that was developed in-house by Fujifilm together this its proprietary EXR technology. Fujifilm claims that the new X-Trans CMOS sensor is able to deliver image resolution that bests other APS-C sensors. This is achieved by a new color filter array that does not require an optical low-pass filter, which degrades resolution. The new EXR Processor Pro is capable of processing the increased signal data coming from the new sensor.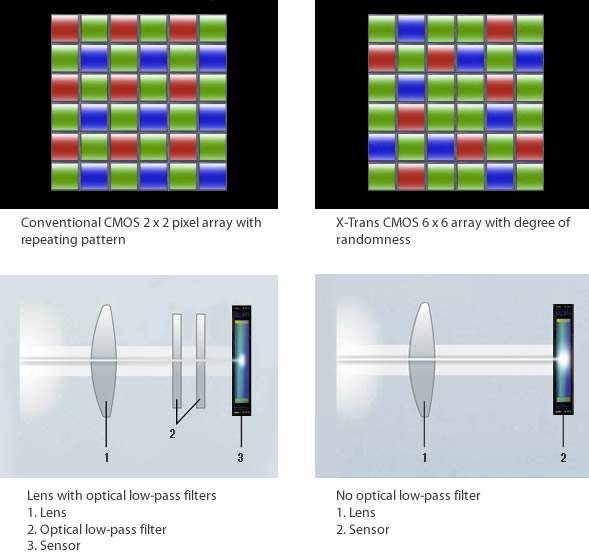 Fujifilm has paired the new sensor with a trio of prime all-metal lenses, the XF18mmF2 R (27mm equivalent) f/2.0, XF35mmF1.4 R (53mm equivalent) f/1.4, and XF60mmF2.4 R Macro (90mm equivalent) F/2.4. The new lens mount is titled 'X-Mount' and Fujifilm promises to release more premium quality Fujinon lenses in the future including a telephoto lens. The X-Mount has a short flange back distance of 17.7.mm and lenses are mounted up to 7.5mm inside the body. Fujifilm will also be offering a Leica M mount adapter in the near future.
Building on the X100's success, the X-Pro1 will have a second-generation hybrid optical/electronic viewfinder. The OVF features optical magnification which automatically switches when a different Fujinon lens is mounted. Magnification switches to 0.37x for the 18mm lens, and to 0.60x when the 35mm or 60mm lenses are mounted. The EVF measures 0.47-inches with 1,440k dots. On the back you'll find a 3.0-inch RGBW (White) 1,230k dot LCD monitor — explanation of the RGBW tech here. The X-Pro1 has all manual controls, with shutter speed and exposure compensation dials together with an aperture ring on each lens.
The X-Pro1 has standard ISO 200 to 6,400 extending to 100 and 25,600. It can shoot up to 6fps and video up to 1920×1080. The camera measures 139.5 x 81.8 x 42.5 mm (5.5 x 3.2 x 1.7 inches) and weighs 450 g / 15.9 oz (including battery and card).
The X-Pro1 is made of magnesium-alloy, while the top and base plates are made from die-cast aluminium alloy. The camera will have a February 2012 release, and although there is no official pricing yet, we are expecting it to go for around $1,650 together with the 35mm lens. According to Amazon, the 18mm and 35mm prime lenses will sell individually for $500, while the 60mm macro lens will retail for $600.
No doubt the X-Pro1 is a very unique proposition by Fujifilm and can easily stack up against the best of the MILC crowd. To make life easier for you (and us) we've compiled a comparison between the Fujifilm X-Pro 1, Panasonic GX1, Sony NEX-7 and Olympus E-P3 here. The first hands-on preview videos can be found here.
Summary specifications:
16.3-megapixel ASC-C (23.6 x 15.6mm) X-Trans CMOS sensor
3-inch 1,230k dots RGBW (White) LCD (640 x 480)
Second-generation hybrid optical/electronic viewfinder;  OVF adjusts to 0.37x and 0.6x magnification depending on focal length; EVF 1,440 dots
ISO 200-6,400 (expandable to 100-25,600)
49-point contrast AF
256 zones metering
6fps burst mode
1080p24 and 720p24 H264 video with stereo sound
Film simulation mode
5.5 x 3.2 x 1.7 in (140 x 82 x 43 mm)
15.9 oz (450g)
Three X-mount lenses at launch: 18mm F/2 ($500), 35mm F/1.4 ($500), 60mm F/2.8 macro ($600)
Will launch in February 2012 for around $1,700
Promotional video:

UPDATE: Fujifilm has uploaded a number of sample images taken with the X-Pro1 which show the incredible resolution of the sensor and the quality of the three lenses (images may take some time to load):

UPDATE 2: Our favorite Canadian duo, the Fuji Guys, go over every detail of the X-Pro1 in their new series of official videos here.