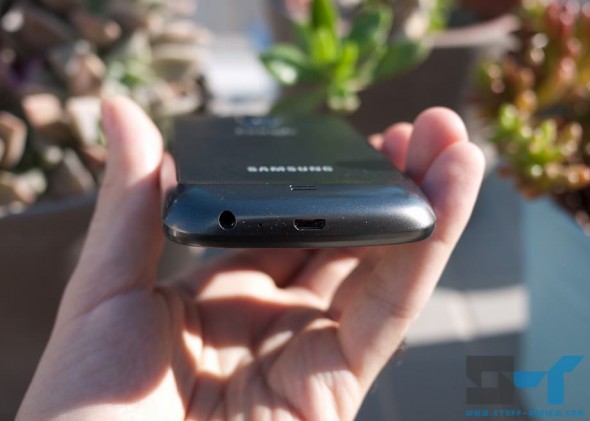 For better or worse, Google has been pushing to abolish microSD card slots from Android devices. Some of the reasoning behind this move revolves around making making the experience easier for beginners, i.e. not having to worry where apps will be installed, applications breaking when you remove the SD card or having to download and use a file manager. Of course this goes against rightly disgruntled advanced users who've been used to the convenience of expandable external storage.
The Galaxy Nexus (read our full review here) is Google's brainchild, proudly becoming the first Android device to run version 4.0 Ice Cream Sandwich, and as such, it does not have a microSD card slot. Moving the external storage discussion aside, there is one specific functionality that's become collateral damage. That is USB mass storage. To clarify here, Ice Cream Sandwich has support for USB mass storage but the Galaxy Nexus doesn't.
USB mass storage is the protocol that allows your computer to view any USB device as a normal storage drive, i.e. gives it a drive letter and you can open it with Windows Explorer or Finder on Mac OS and transfer files and folders as you would with any other drive. If you've ever connected a USD thumb drive to a computer and browsed its contents, then it was using USB mass storage. USB mass storage allows block level access, i.e. 'complete access' to a storage device. As the Galaxy Nexus has one, unified, built-in storage which hosts both the Android operating system and your personal files it was impractical (if not impossible) to permit block level access on that storage.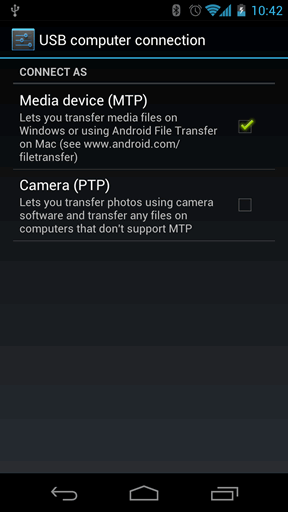 Instead, the Galaxy Nexus uses the Media Transfer Protocol (MTP in short) to allow you to transfer both media but also any type of file to and from your smartphone. MTP is already built-in on most Windows PCs, you only have to connect the Galaxy Nexus with a USB cable and browse the Galaxy Nexus media device as you would have with any drive. Below you can see how a Windows 7 PC views the Galaxy Nexus. Opening the device shows a standard folder view.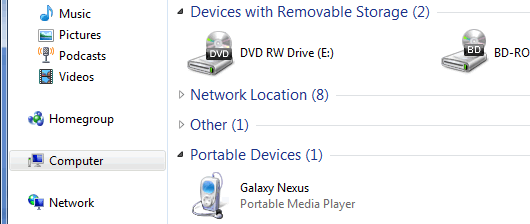 Only users with Windows 2000, Windows 98 and Windows Me would need to download additional software. A drawback with MTP is that you can't alter files directly on the device, you need to download the file to your computer, change it, and then move it back. Though obviously this isn't a big deal.
Mac OS doesn't have built-in support for MTP, you would need to download and install a special tool, you can find instructions here. After you install and run the Android File Transfer tool, it will open automatically when you attach the Galaxy Nexus to your Mac. It is however an inconvenience if you want to quickly connect the Nexus to a friend's Mac computer for example. Below you can see the Android File Transfer tool running on a Mac.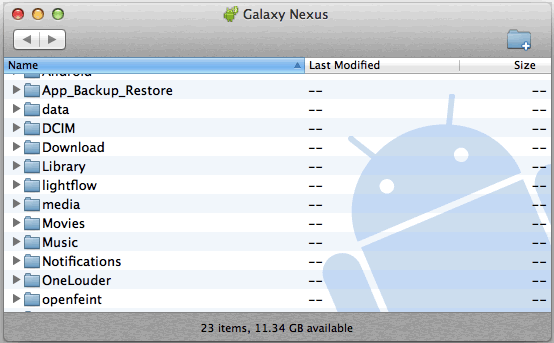 The tool is very stripped down, the list view above is the only choice, i.e. forget about thumbnail or Coverflow view modes. On a Mac you can't preview or open files directly from the Galaxy Nexus, you would first need to transfer the file to your computer.
Finally, there are cases where you might want to connect the Galaxy Nexus to another device, e.g. a media player or TV in order to play files. If your hardware doesn't support MTP you'll be more or less stuck unfortunately, so you might want to check your device's capabilities. You will still be able to connect the Nexus to a printer directly in order to print photos since it also supports the Picture Transfer Protocol (PTP).
Hope this has cleared any confusion on MTP and the Galaxy Nexus, but please fire away any questions you may still have.