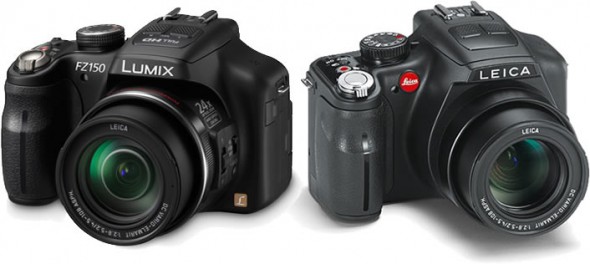 The Leica and Panasonic partnership has been a long-standing one and has resulted in some fantastic products — especially some incredibly sharp Micro Four Thirds Lenses. We are also used to Leica taking one of Panasonic's compact shooters, adding an optimized firmware and releasing it as a Leica branded version. Of course the red dot always demands a premium and this is what has happened with the Panasonic Lumix FZ150.
Leica has announced the V-Lux 3 superzoom bridge camera, which is a rebranded FZ150 with a few cosmetic changes. The two cameras share the same 12.1-megapixel CMOS sensor and 24x zoom Leica DC Vario-Elmarit 4.5-108mm f/2.8-5-2 (25-600mm 35mm equivalent) lens. It can shoot up to 12 frames per second at full resolution and is capable of full HD 1080p60 video in AVCHD format. The V-Lux 3 has a 3-inch fully articulating 460,000 dot LCD display
It will start shipping in January 2012 for $949, a $450 premium over the Panasonic FZ150. In order to at least give some grounds for the hefty premium demanded, Leica is packaging the V-Lux 3 with Adobe's Photoshop Elements and Premiere Elements software and a two year warranty.

If you are a fan of overpriced bridge cameras, you might also want to check out the Fujifilm XS-1, you know, just for measure.