There has been a lot of buzz around the release of the Samsung Galaxy Nexus, and that has mostly centered on the fact that this is the first smartphone to carry the latest (and greatest) iteration of Android 4.0 Ice Cream Sandwich ('ICS'). Similar to previous Nexus devices, it acts as Google's launch device for a major Android version.
What one must understand is that this is a mass adoption device rather than a super high-end smartphone. It lacks the exotic materials found in other high-end phones and features such as Bluetooth 4.0, GLONASS satellite navigation or an advanced camera.
Nevertheless, it's a well-executed device, albeit a few early teething problems. The Galaxy Nexus features a sharp 4.65-inch Super AMOLED 720p display and a fast dual-core 1.2GHz processor. It's also a pure Google Android experience smartphone, without any user interface customizations such as HTC's Sense or Samsung's TouchWiz, which is important for some.
Most importantly, it's the only device to officially run Ice Cream Sandwich, for a while, and similar to past Nexus devices, it will be the first smartphone to receive future software updates as they are released by Google — at least until the next Nexus device is launched. Although the Galaxy Nexus might not be bleeding edge with regards to hardware features, it will be cutting edge on software, which, can be argued, is more important.
This review is an in-depth look at the Samsung Galaxy Nexus, and centers on the device's hardware features, real-life performance, as well as what's new in Android Ice Cream Sandwich. We will further cover Android Ice Cream Sandwich in more detail in a future review. So read on for our opinion on the latest and greatest Android smartphone.

Design and build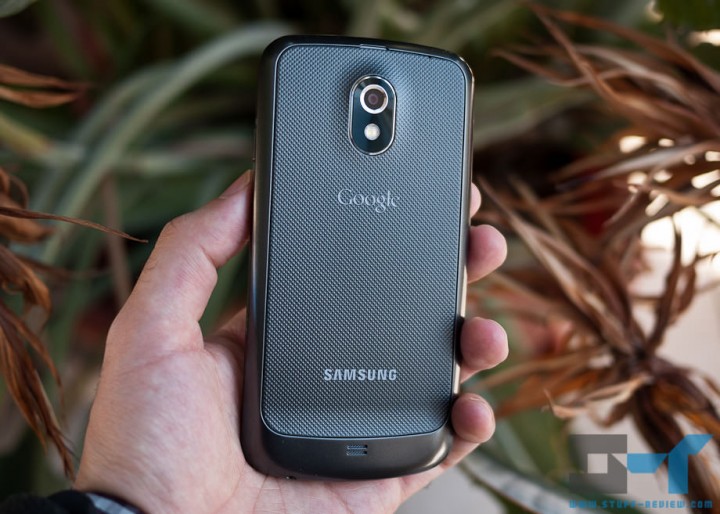 The Galaxy Nexus is a beautiful device. It's a minimalist's dream and the pictures speak for themselves. The phone most closely resembles the previous member of the Nexus family, the Nexus S. However, it is quite distinct in looks and that's important. The front is covered by fortified glass; with the phone lying face up it's an all-black shiny (and smudge loving) surface and you can only barely distinguish the earpiece and front facing camera. Centered at the bottom and behind the glass facade is a discrete multi-color LED notification light. It's much nicer than standard single color LEDs, but perhaps a little too discrete. It pulsates very slowly and can easily be missed, though you can customize it to pulse faster with a third-party app (i.e. Light Flow).
On the back you'll find the main 5-megapixel camera and LED flash. The removable back cover is a wafer thin textured plastic that, by itself, seems ready to snap in two, yet is quite rigid when attached to the device. The Galaxy Nexus is thinnest at its the top, getting thicker as you move down and ending at a small hump housing the speaker at the bottom. The screen is also slightly curved up at the bottom of the device.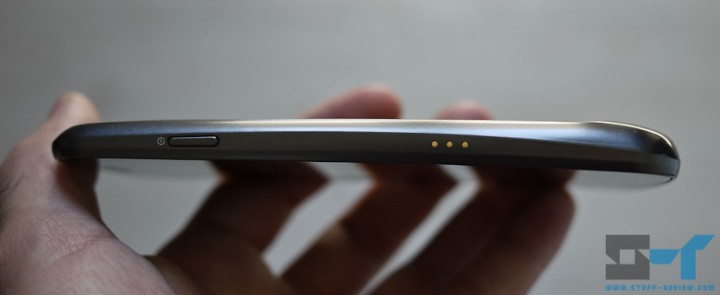 The device fits nicely in the hand and it feels good to hold. However, although the textured back provides some grip, you are mainly holding the Nexus by the glossy (and slippery) hard plastic sides. Also, though a very minor issue, having the hump at the bottom props the Galaxy Nexus screen away from you when lying flat on a surface. The power button is nicely placed on the right, so that you can easily push it with your thumb; other smartphones place it at the top, making it more difficult to press.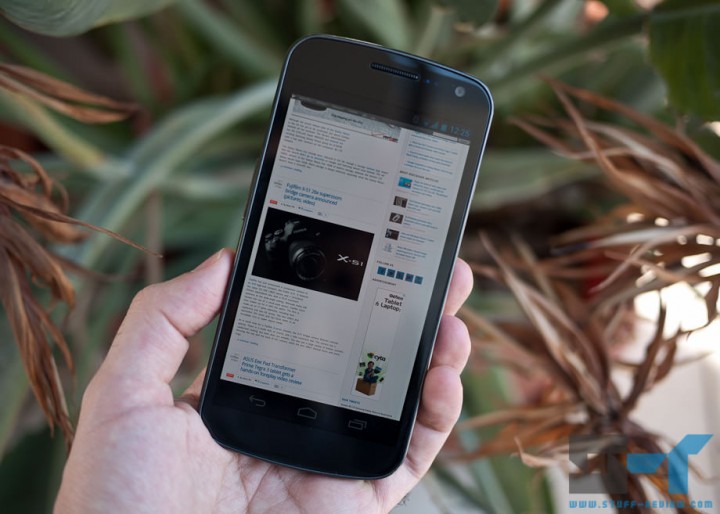 It's a large screened smartphone, with a 4.65-inch display donning the front –that's one of the largest screens we've ever seen on a smartphone. Based on the quoted screen size, one would expect a very large device, but since Google and Samsung have replaced the fixed Android touch keys with a row of software on-screen buttons, the effective size of the screen is around 4.4 inches (the height is the same as a 4.3-inch smartphone, though slight wider). You only benefit from the bigger screen when the software buttons auto-hide, i.e. when viewing videos.
Samsung has been very liberal with the top and bottom bezel, however proportionally the phone looks well balanced. The Galaxy Nexus is large, but it's not an unwieldy device at all; it's actually very pocketable, especially since it's mostly kept quite thin. The Nexus measures 67.94 x 135.5 mm and at its thickest measures just 8.94mm for the HSPA+ version or 9.47mm for the 4G LTE one. You can easily slip it top facing down into your jeans pocket and the 3.5mm audio and micro-USB ports remain accessible.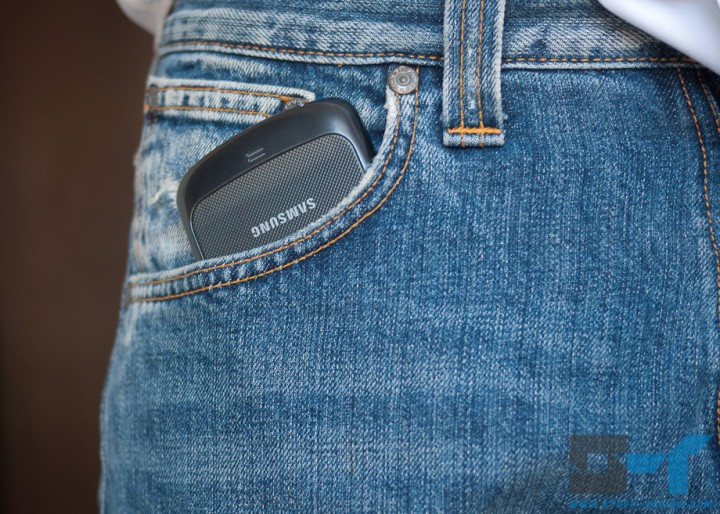 In terms of materials it's nothing unique. Save for the glass front, the rest of the device is all plastic, though as good as plastic goes. It's a notch below smartphones that use materials like aluminum or other metals and glass liberally, like the iPhone and some HTC smartphones. Nevertheless, it feels very solid and dense, without any creaks. There is minimal ruggedization – only the front glass is fortified – while we have seen other devices employing splash proof coatings or even Kevlar (see the Motorola RAZR). If you want your device to last, our advice is to get a case which covers the back and all sides and corners.
Being all-plastic however has the benefit that, despite its size, the Galaxy Nexus is quite light, 135g HSPA+ (150g LTE). For comparison the iPhone 4S weighs 140g, HTC Sensation 148g, while the Rezound a whopping 170g.
Overall it's a nice device to hold, it's not too big for a phone, though we are not sure how it will hold up to the demands of daily life.
Hardware
We've already mentioned that a key feature of the Galaxy Nexus is the large 4.65-inch 720p HD Super AMOLED screen. The screen is a great asset with a few misses, as we'll discuss in the section below. Besides the screen, the rest of the Nexus' specs range from average to high-end but you won't find something that hasn't yet been seen in another Android device.
The Galaxy Nexus comes with a typical set of connectivity options, you get Wi-Fi 802.11 b/g/n, Bluetooth 3.0, aGPS, an NFC chip and a range of sensors. Also within the thin walls of the Galaxy Nexus one will find a proximity sensor, an ambient light sensor, a gyroscope, an accelerometer and even a barometer. The Galaxy Nexus comes in two flavors, a world penta-band (850, 900, 1700, 1900 & 2100MHz) version with up to 21Mbps on HSPA+ and a U.S. bound 4G LTE version; the first has so far appeared with 16GB of storage while the latter doubles that to 32GB. Internal storage capacity is important, since unlike other Android devices there is no external microSD card slot.
Android users are used to the convenience of having expandable storage. However, Google has been leading the crusade against removable storage and obviously the search giant is keeping with its beliefs on the Galaxy Nexus, as with previous Google launch devices. Because of the lack of external storage, you can only transfer files using the Media Transfer Protocol rather than USB mass storage. We've covered the pros and cons in a separate article, which you might want to read.
Display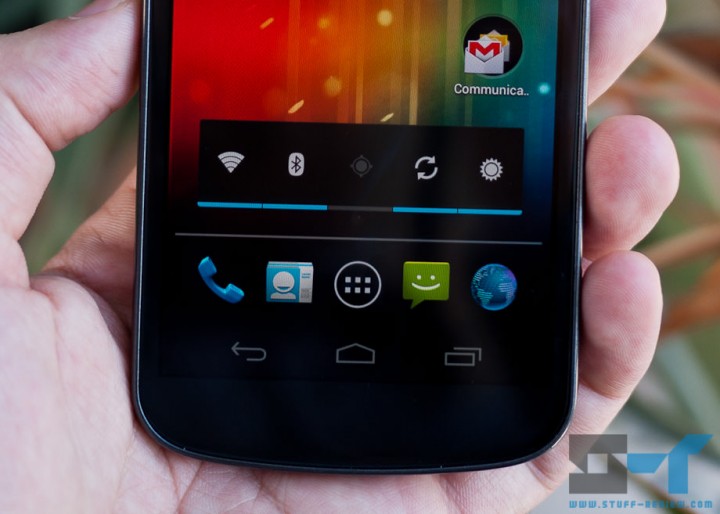 The Super AMOLED HD display with a resolution of 1280×720 is not a standard RGB screen, i.e. each pixel made up of one red, green and blue sub-pixel. It's rather using Samsung's PenTile Matrix technology, whereby sub-pixels are shared between adjacent pixels in order to achieve this high resolution. We've gone through the issue here, and it's simply a compromise in order to manage such a high resolution with current AMOLED technology.
Above you can see a close-up of the Galaxy Nexus' PenTile AMOLED sub-pixel arrangement, while on the right we've included a standard RGB arrangement, in this case from a S-LCD screen.
Because of this high resolution, the Nexus' screen suffers much less from any shortcomings related to PenTile Matrix technology. The screen is sharp and it's practically impossible to distinguish between individual pixels. Pixel density is a very high 316ppi after all.
As with all AMOLED displays, black levels are fantastic, with ink dark blacks. Viewing angles are incredibly wide and you can view the screen even completely sideways. Refresh rates are also very fast, with zero ghosting. Finally, the screen remains rather viewable even under direct sunlight.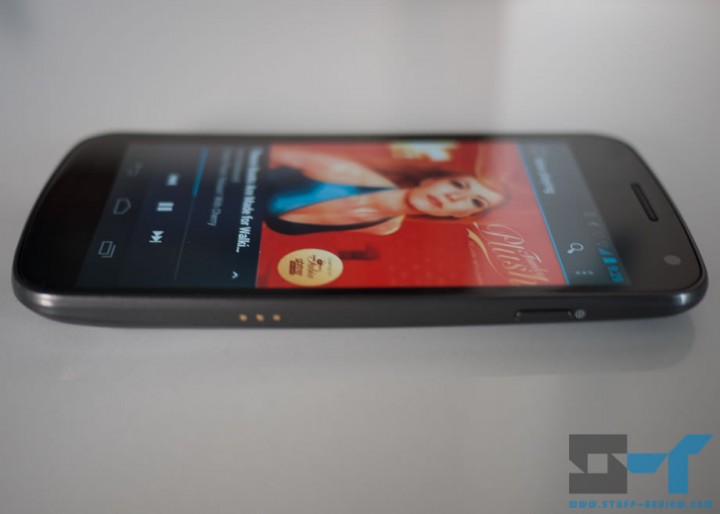 The display does have one glaring fault however. Color temperature is off (overly warm) and the display can't manage to display white correctly. Even at maximum brightness there is a yellow tint when viewing the screen head-on. We've covered the issue in-depth here. On its own you wouldn't be bothered by the Galaxy Nexus' bad color accuracy, but looking at the screen side-by-side to a Super LCD (like the one found in the HTC Sensation) you can clearly see that the latter is far superior with regards to color accuracy.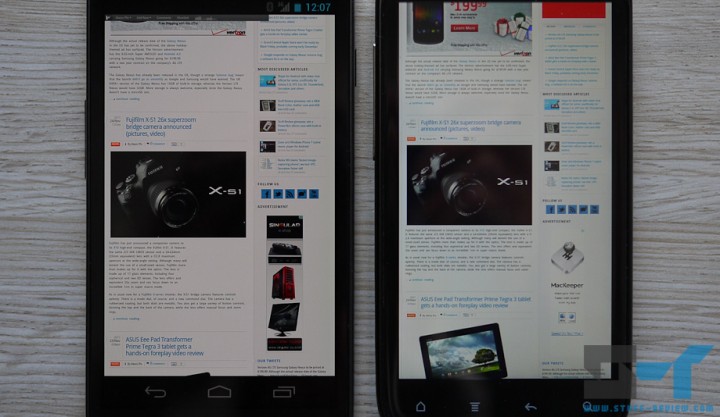 Colors on the Nexus' AMOLED screen are punchy and bright but are oversaturated and 'comic-like'. Color accuracy is not a strong suit of AMOLED screens in general, though in the case of the Galaxy Nexus this could be aggravated because of a misconfiguration issue that Google and Samsung may fix with a software update. Like other PenTile AMOLED screens, viewing the screen from an extreme angle actually gives it a blue-ish tint, while some hard edges, i.e. between black and white have a slight green-color glow.
That's not to say that you would be unhappy looking at the Nexus' screen, it's still an amazingly colorful, big and sharp display. One might also argue that the screen's warmer color temperature is kinder to your eyes. If you do however consider color accuracy to be an important issue, you will be disappointed.
The Galaxy Nexus is ideal for watching videos and movies on the go. Videos can take the entire 4.65-inch screen and a couple of 720p clips we've tested looked absolutely amazing. Dark scenes benefit from the display's deep black levels and fast action was flawless. AMOLED screens have a large color gamut that is actually better suited for video. It's worth mentioning that the Galaxy Nexus didn't even for a second choke on any of the HD videos we tested. AMOLED screens are more power efficient with darker images, and as such they should consume less power when viewing videos than other technologies.
The Galaxy Nexus (and ICS) is very aggressive towards power efficiency and the automatic brightness setting resulted in a screen that was usually darker than I would prefer. I've ended setting the brightness of the screen manually.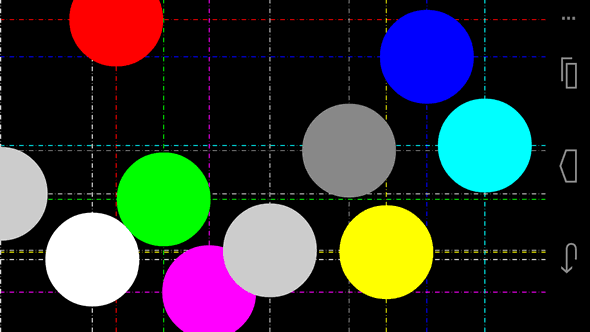 Touch sensitivity is excellent, and the Nexus is the first Android smartphone we've tested that has full 10 finger multi-touch recognition.
Performance
The numbers
The Galaxy Nexus is powered by a dual-core 1.2GHz TI OMAP 4460 Cortex-A9 chip. The 4460 is capable of going up to 1.5GHz (that's what the chipset's official spec sheet says) and already a few custom kernels are floating around, which push the processor beyond the Nexus' factory clock of 1.2GHz – if you are inclined to take such an adventurous route.
The TI OMAP 4460 with integrated PowerVR SGX540 3D graphics accelerator is a solid performer, but not the fastest out there even at launch. Interestingly, Samsung's own Exynos 4210 — found in the Samsung Galaxy S II and the Galaxy Note — is a better performer, particularly when it comes to 3D graphics. Mobile device system-on-a-chip technology is advancing in leaps and bounds, so no sooner than a device hits the shelves and it's already becoming outdated. We have heard rumors of early-2012 smartphones that are said to be powered by much more potent chipsets, and Nvidia has already launched the quad-core Tegra 3 chipset.
Our advice, don't get too caught up in numbers, real-world performance is what matters.
As a side note, running the Quadrant benchmark on the Galaxy Nexus we got a score of around 2,000 (and even as low as 1,500 on some runs), which is ok but really not descriptive of the how the Nexus actually performs. The AnTuTu benchmark places the Galaxy Nexus above all other current smartphones, just above the Samsung Galaxy S II, and below the Nvidia Tegra 3 sporting ASUS Transformer Prime tablet.
Real world performance
Now that we've got the technical part out of the way we're back to what's important, how the Galaxy Nexus performs on a day-to-day basis. In one sentence, it's blazing fast, and that's in no small part because of the performance improvements within Android 4.0 Ice Cream Sandwich. The experience is better than any Android device we've ever held.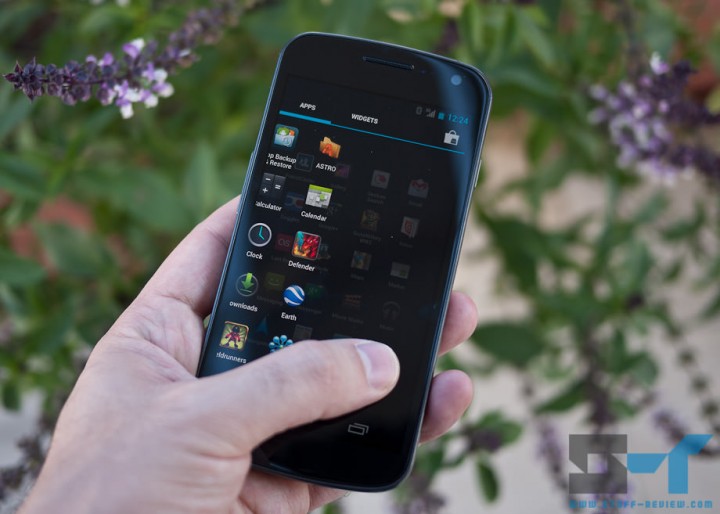 Using the Galaxy Nexus is super smooth. All 3D transitions and effects are velvety, as is scrolling around the different homescreens, even with a bunch of widgets dotted around. Applications perform great and with minimal frustrations. The browser crunches away at the heaviest websites without breaking a sweat, while scrolling and zooming around a website is normally instantaneous. Still, some super-heavy websites can cause zooming in/out to be choppy and live wallpapers can significantly slowdown your homescreen experience.
Despite having to push a full 720p resolution, the Galaxy Nexus also performs admirably as a 3D gaming device. We've tried a number of demanding 3D games, like ShadowGun, Samurai II and Riptide GP, and gameplay was a breeze without any apparent choppiness. It goes without saying that games, similar to videos, look amazing on the Nexus' screen, because of the resolution and zero lag.
The Galaxy Nexus' performance is a win for Google and Android Ice Cream Sandwich.
Reception and connectivity
There is a need to preface this section because, as we speak, Google is pushing out updates for the device, which are said to improve GSM/LTE and Wi-Fi reception.
On average I would say that, so far, cellular connectivity is very good, though bested by other high-end devices like certain Motorola and HTC handsets. Specifically, putting the Galaxy Nexus side-by-side to the HTC Sensation and the Motorola RAZR, all connected to the same network on UMTS, signal strength was about -71dBm on the Nexus and around -65dBm on the other two. That is a 6dBm difference, translating to around four times stronger signal on the other two devices compared to the Galaxy Nexus.
Despite this, I've never faced any dropped calls. Wi-Fi connectivity is excellent and the Nexus was able to take advantage of my entire bandwidth on Wi-Fi. Cellular data speeds are also great; on HSPA+ I've got some of the fastest transfer speeds from any handset to date. Reports on the Verizon version support similar findings over 4G LTE.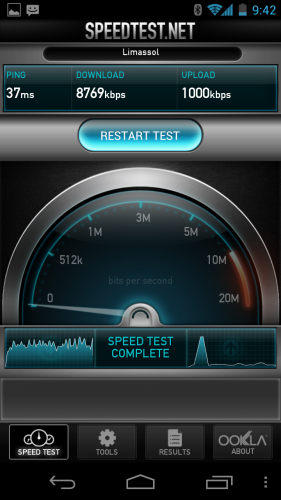 The Galaxy Nexus doesn't suffer from any kind of 'death grip', as far as we've been able to test. I've faced a number of software bugs with mobile data connectivity however, whereby the device would just stop transmitting data, despite a good signal, only fix for this was to do a full reboot.
The Galaxy Nexus lacks Bluetooth 4.0 found in the iPhone 4S and the Motorola RAZR. This means that it will not be able to connect to upcoming Bluetooth Smart devices using the Bluetooth low energy (BLE) protocol. Bluetooth 4.0 radios are smaller and cheaper than their 3.0 predecessors, and come 2012, the Galaxy Nexus will be feeling lonely.
Audio quality
Though not the loudest handset out there, I would say that sound quality is really good. Both the earpiece and speaker are clear. The speaker port is located on the rear hump and audio reflects on hard surfaces making it sound bright and open. If you however place the device face up on a soft surface the speaker port may be blocked and the sound won't be heard.
The microphone is ok and can pick up audio from around 50cm away.
Battery life
The removable battery has a capacity of 1,750mAh for the GSM and 1,850mAh for the LTE versions. Battery life with the stock battery is quite decent for an Android device. After a couple of weeks of testing, it takes around 16 hours to get from a full charge down to 15% under our normal daily use pattern involving some Wi-Fi and some cellular data transfer, browsing, running apps and a short game session with around 2 hours of display on time.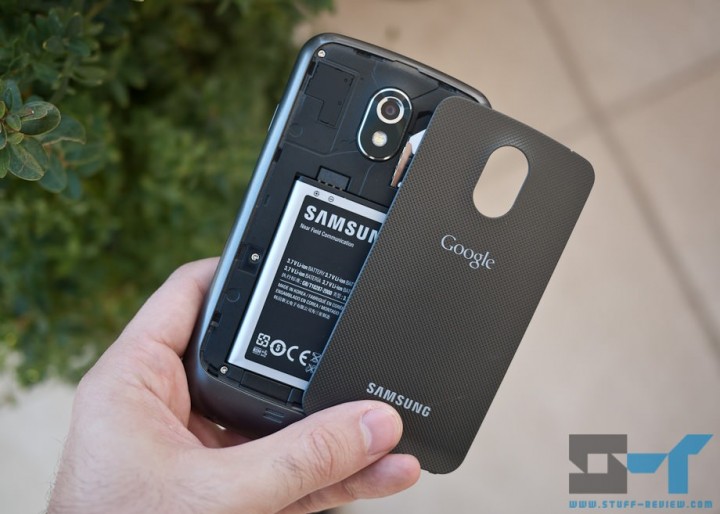 The Galaxy Nexus and Ice Cream Sandwich employ some serious power saving features, and as Google continues to tweak ICS, we should expect battery life to improve somewhat.
An extended battery (2,100mAh from Verizon, 2,000mAh for the GSM Galaxy Nexus) and back cover is on offer, which would add around 2-3 hours to your device's staying time.
The extended battery and required cover makes the Galaxy Nexus only slightly thicker, it basically gets rid of the lip at the bottom. With the extended battery, the Galaxy Nexus still remains quite thin. We honestly can't understand why the slightly larger battery is not the default option. There is an unhealthy obsession with making gadgets incredibly thin on the expense of practicality.
A user over at xda-developers has made the below comparison between the two batteries:
Like the megapixel war the extreme thinness war is purely a marketing win. Personally I would prefer my device lasting more rather than winning a thinness competition.
Camera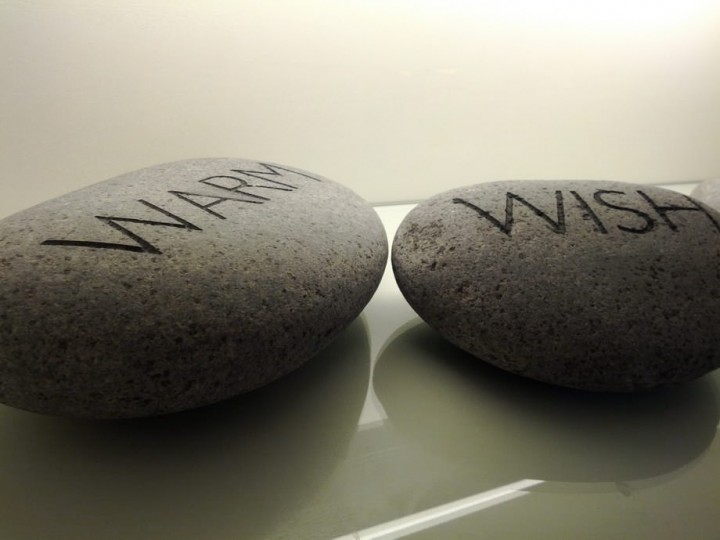 The rear 5-megapixel camera is so unexciting that I've even debated whether it merits a separate section. It's a shame that either because of economics or lack of vision (pan intended) the Galaxy Nexus wasn't donned with a more capable camera module, especially since Android's main competitor the iPhone 4S is such a capable shooter. It's certainly not bad; it's simply the type of camera one would have expected to find on a year-old smartphone and not on Google's flagship device. In fact the quality of the camera is on part with the year-old Nexus S, despite the advances we've seen in smartphones' cameras over the past year.
The camera app however, tries to make up for the unimpressive hardware. You get what Google is calling as 'zero lag', from pressing the virtual shutter button, to taking a picture, to being able to shoot the next one literally takes less than a second. You can also shoot panoramic photos, which the Nexus automatically stiches together. The app does touch to focus, while the Nexus can also shoot up to 1080p video.
Below I've included a number of sample photos taken with the Galaxy Nexus. Rather than having any photographic merit, I've tried to convey the quality of pictures under different conditions.
Software: Stock Android 4.x Ice Cream Sandwich
The Galaxy Nexus, similar to past Nexus smartphones, is the launch device for a major new version of the Android operating system, Android 4.x Ice Cream Sandwich. If you are new to Android you might want to check out our beginner's intro to here. You might also want to have a read on what's new in Ice Cream Sandwich.
We will be going over ICS in more detail in our dedicated review; for the purpose of this Galaxy Nexus review we will concentrate on what's unique for this device, which runs on pure Google stock Android.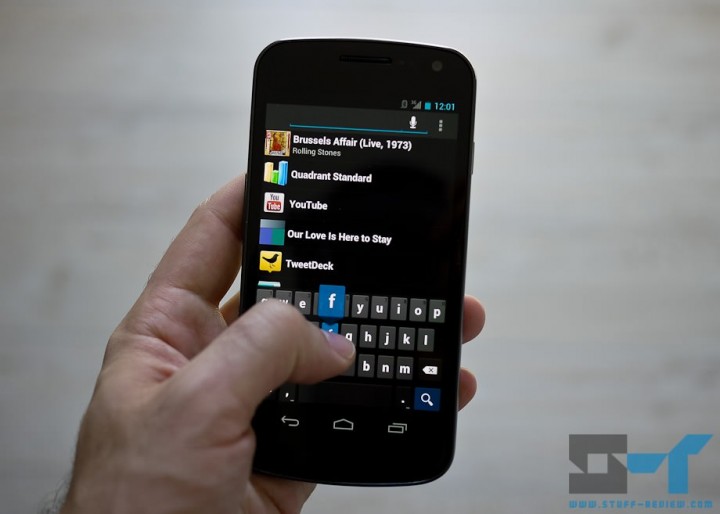 Android was only launched three years ago but has been rapidly maturing. We can safely say that Ice Cream Sandwich on smartphones is a huge upgrade in terms of looks and usability, the biggest so far. Android had sort of split off into Android 3.x Honeycomb for tablets while smartphones continued on the 2.x path with Gingerbread. Ice Cream Sandwich brings many of the Honeycomb features to smartphones, and then some. Android ICS is slick and edgy and compared to Apple's iOS the latter is showing its age, though in some parts form has won over function as we'll cover in our upcoming ICS review.
It's been glaringly obvious that the operating system and applications you run on your device are more important than the hardware itself. Of course the Galaxy Nexus is just the first drop of a torrent of upcoming Ice Cream Sandwich devices. Many older devices are expected to also to receive software updates to ICS. In this sense, the Galaxy Nexus is not unique, but there are three factors that do make the Galaxy Nexus, similar to other Nexus devices, unique:
– It's a stock Android device; there are no OEM user interface customizations or third-party built-in apps. This isn't necessarily good or bad. With Android 2.x, OEM customization made devices more functional, e.g. HTC Sense had a better way of selecting text and a more functional lock screen; Motoblur allowed you to dismiss individual notifications and measure data usage. With ICS, a lot of these functions have now been integrated into stock Android. In addition, the new Android interface looks absolutely gorgeous, mainly because it's much cleaner and consistent. This is where OEM customization might destroy the experience, by making things more clattered again. Previews of Samsung Touchwiz and HTC Sense for ICS certainly seem to be a step back in terms of looks.
– It will receive software updates first. Since this is an official Google device running stock Android, similar to Nexus devices in the past, it will be receiving official software updates adding new functionality before other Android devices. It will also most probably receive an update to the next version of Android first. The year-old Nexus S is the first smartphone to officially receive an Ice Cream Sandwich update. Getting 'guaranteed' timely software updates in the Android ecosystem is important, since most OEMs either take ages to update devices or actually abandon updates after about one and a half years.
– It's a developer's or tinkerer's dream device. The Google Nexus comes with an easily unlockable bootloader. Getting root access is also pretty straightforward. Google has also kindly provided stock images to restore your device if your tinkering exploits lead to a dead-end.
This doesn't mean that the Galaxy Nexus is the device for everyone, if you don't care much for the above, and if you like the user interface customizations and additional functionality of a particular manufacturer you might want to stick with that.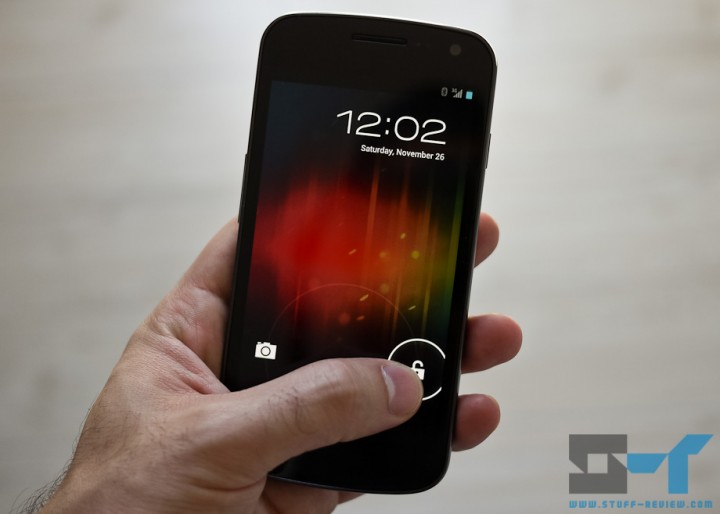 We have to admit that stock Android ICS is still lacking on some features. There is still no 'find my phone' tracking option, which is now offered by most major Android manufacturers. It also doesn't handle multiple contact books well, e.g. when merging Google, Facebook and Twitter contacts you end up with a lot of non-matched contacts; HTC's Sense has this pretty well ironed-out. Facebook will not sync contacts out of the box; Google disabled that option until Facebook complies with its terms, for now, you would have to use Friendcaster as a way around this. While the new ICS lockscreen is more functional, you only get to launch the camera from it; it would have been nice to be able customize that icon and/or add one more shortcut, e.g. a call button at the top of the circle (it's still a phone, isn't it). HTC's Sense gives you four customizable lockscreen quick-launch options.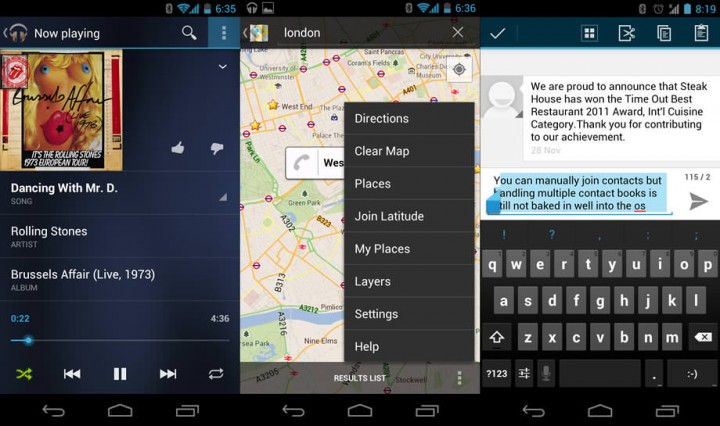 The Galaxy Nexus features software Android buttons, rather than fixed, which rotate in landscape mode and hide while viewing videos. Google has opted to get rid of two of Gingerbread's most used buttons from the fixed button row, the options/menu and search keys. Instead, they have been replaced with a new 'task-switcher' button, which brings up the recently launched apps. I'm not sure if I'm just becoming resistant to change, but I saw much more utility out of the search and options keys than from the task-switcher key. Now you have to fish for the location of the two missing keys within applications and they now can reside at the top of the screen, forcing you to switch your handle on the device so that you can press them with your thumb. Fortunately, since Android is customizable you can bring the buttons back with an app. There is also a persistent Google search bar at the top of the homescreens, taking up valuable space.
Wrap-up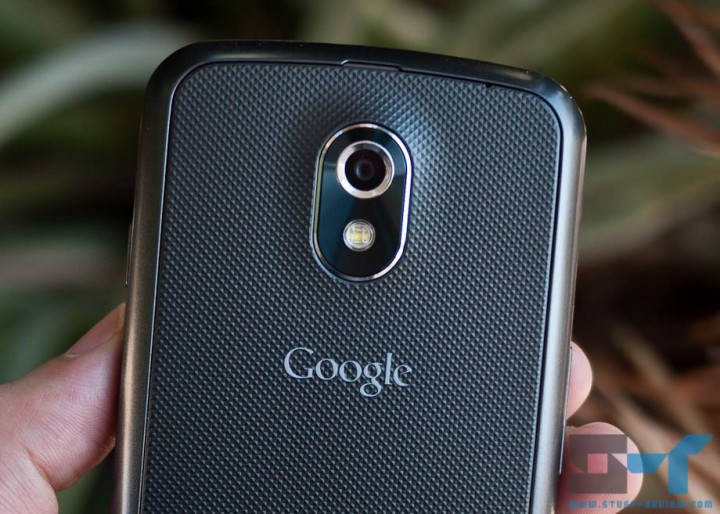 Almost all of the major tech blogs have named the Galaxy Nexus as the best Android device out there. We'll be more cautious than that, it could have easily been the best Android device, period, if Google had paid a bit more attention to detail. The Galaxy Nexus lacks in certain factors, first the mediocre camera, second on materials and ruggedization and third on some features, such as Bluetooth 4.0, GLONASS and external storage. As we've said, it's a mass adoption device rather than having all the latest bells and whistles.
Nevertheless it's a very well rounded device and most importantly it just works. Size, weight, thickness and handling are perfect. Despite our issues with the white balance, the display is an overall win especially because of the size and resolution. Performance is amazing together with Android 4.0, and battery life is pretty good compared to other Android smartphones. Most important is that you will be living on the bleeding edge of Android software for some time to come. Getting ICS first is a temporary advantage but being first on future updates is what sets this smartphone apart.
Our closing statement: if you can live with the little shortcomings and omissions, yes it's a smartphone you will fall in love with, if you want a stock Android experience or can't wait to get your hands on the latest Android functionality as it comes, then you will want the Galaxy Nexus and nothing else.
GIVEAWAY: We're giving away two OtterBox Defender series cases for the Galaxy Nexus here.
Pros
Destined to be updated first to future Android versions
High-resolution, large display with great viewing angles and no ghosting
Quite thin and light, even with the extended battery
Stock Android experience
Easy to unlock the bootloader, root and recover
Decent battery life
Multi-color LED notification light
Cons
A large glass front, plastic body, limited ruggedization and slippery sides could spell out disaster without a case
Unimpresssive camera
Rocky launch with a number of serious, but mostly software bugs
No USB mass storage, Bluetooth 4.0 and GLONASS support
Some OEM customizations add additional functionality still not included in stock Android
The display has a yellow tint when viewed head-on
Hands-on video
Samsung Galaxy Nexus

review score: