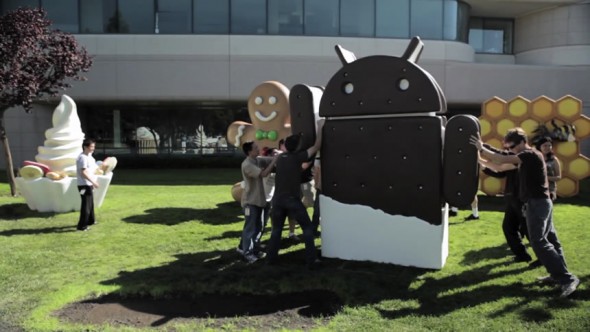 Having just had a discussion with a non-'techie' friend who owns an Android phone, I received the very logical question: what is Ice Cream Sandwich? My response was followed with the equally valid inquisitive look on why would Google name its mobile operating system after a frozen desert.
Our attention is caught up with new gadgets and technology that we simply skip past all the basic concepts. Well today is the inauguration of a new column, appropriately titled 'basics', which will go over fundamental terms and provide beginners with (hopefully) easy to follow and clear how-tos. After all we are claiming that our opinions and advice should reach real people.
First, a background on Android. Android is a mobile operating system, it runs on mobile phones and tablets and provides all the basic functionally needed, such as connectivity (to connect to a Wi-Fi network or your mobile carrier), multi-touch recognition, a phone dialer and some built-in applications, like an internet browser and email. It's like Windows or Mac OS but for your phone or tablet. Competing mobile operating systems are Apple's iOS, Microsoft's Windows Phone and also BlackBerry OS and the now-defunct webOS.

Android is being developed by the Open Handset Alliance which is led by Google. It was first launched in September 2008 with the release of version 1.0. As with most pieces of software, it has since been continuously developed and improved; with newer versions offering better functionality and new features.
Since version 1.5, Google has been giving a desert themed codename to each major update of Android in alphabetical order. Version 1.5 had the codename 'Cupcake', as it was the third version of Android released after 1.0 and 1.1. Version 1.6 Donut, 2.0/2.1 Eclair, 2.2 Froyo, 2.3 Gingerbread, 3.x Honeycomb and finally the just released version 4, Ice Cream Sandwich. The next release codename should start with a 'J' and it's been rumored to be Jelly Bean, though not confirmed.
Google is also keeping the tradition of donning the lawn at its Mountain View, California headquarters with an oversized statue styled after each major release codename. The photo above shows Google's employees putting up the Ice Cream Sandwich mascot last week.
Now, why would you want Android 4.0 Ice Cream Sandwich, on your phone or tablet, over earlier versions. Well newer, in this case, is always better. Ice Cream Sandwich offers a lot of improvements and new features, which we've covered in detail here. Currently only one device runs Ice Cream Sandwich, out of the box, the Galaxy Nexus smartphone, which will be available in November. But you don't need to rush out and get a new device if you want to take advantage of Ice Cream Sandwich. Since this is a software update, if you have a recent Android smartphone or tablet, there are good chances that you might wake-up one morning and you device would have received an update to Android 4.0 Ice Cream Sandwich.