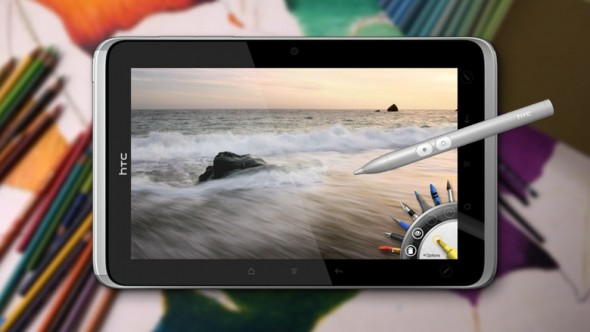 As much as we wanted to love HTC's 7-inch stylus-friendly Android tablet, we couldn't get past the fact that it was still running Android Gingerbread, and not a tablet optimized version of the OS. Thankfully for those who have put their faith in the HTC Flyer, the company has just started rolling out an over-the-air update to Android Honeycomb 3.2. The update, which is over 200MB, is initially targeted for the 32GB 3G version of the Flyer. HTC has confirmed that the 16GB Wi-Fi only version will be getting the update soon.
Of-course Android 4.0 Ice Cream Sandwich has already been officially launched, nevertheless, Honeycomb is a major step for tablets and we are sure users will love the upgraded functionality. Since Honeycomb operates with on-screen buttons, the tablet's fixed touch buttons become inoperable once the update is applied, but the stylus continues to function as before.
If you have an HTC Flyer, be sure to connect to a nearby Wi-Fi access point and check for software updates.

From HTC's official Facebook page:
Ready for some 'sweet' news? The GSM version of the HTC Flyer tablet, available in Europe, is beginning to receive updates to Honeycomb beginning today! Honeycomb brings a ton of improvements to Android on tablets, including the latest version of HTC Sense for Tablet with enhanced Internet browsing, Mail, Calendar and more all optimized for the 7″ screen. Not to be outdone, the WiFi version of the HTC Flyer will receive its Honeycomb update soon, too! Stay tuned for more details.