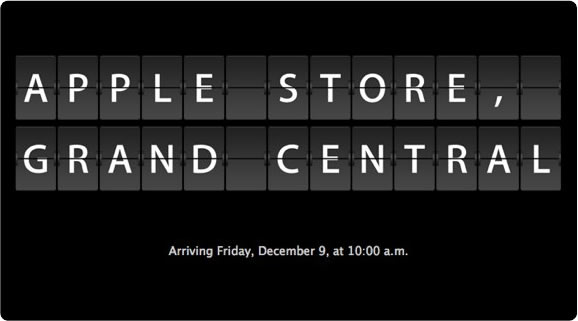 It's official, Apple announced the opening date of its New York Grand Central Terminal store through a sign at the location. Apple has also just sent an email with the above, just to make sure we've been paying attention. The Grand Central Apple Store will first open its doors at 10am on Friday December 9th, and commuters will be able to grab themselves a new piece of tech just in time for the weekend.
The Grand Central Terminal store will be open for business quite early on weekdays, at 7am, presumably to accommodate early morning traffic through the station. We dare any of you to grab a new gadget and be able to go through a full working day without touching it.

Full standard opening hours will be:
Mon – Fri: 7:00 a.m. – 9:00 p.m.
Sat: 10:00 a.m. – 7:00 p.m.
Sun: 11:00 a.m. – 6:00 p.m.