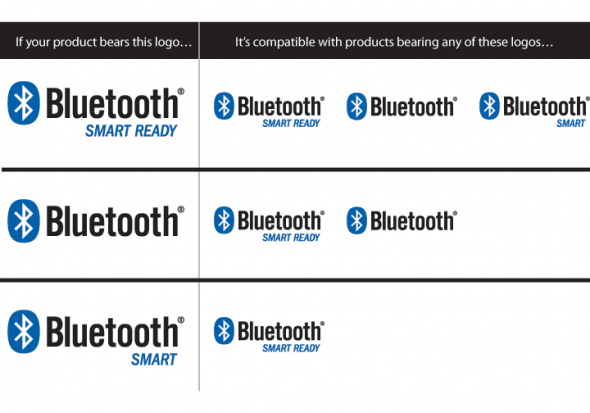 Hoping that this move will actually help prospective buyers and users, rather than confuse them more, the Bluetooth SIG has introduced two new categories and respective logos for devices that include Bluetooth 4.0 connectivity.
The first is Bluetooth Smart Ready, these are devices like your laptop or phone, which are capable of communicating with any other Bluetooth device, i.e. they offer Bluetooth 4.0 connectivity but are also backwards compatible with every other existing Bluetooth device. They feature a dual-mode radio that can communicate over both classic Bluetooth and the new Bluetooth Low Energy (BLE) protocol. You can include the 2011 Mac Mini, the 2011 MacBook Air, the iPhone 4S and the Motorola RAZR in the list of Bluetooth Smart Ready devices.
The second is Bluetooth Smart, these are devices that run on small button-cell batteries, and their single-mode radios use only Bluetooth Low Energy. The devices gather information and then send data to Bluetooth Smart Ready devices only, they do not connect to legacy classic Bluetooth devices. These would be for example, blood glucose or heart beat monitors, sharing information with your app enabled Bluetooth 4.0 smartphone.
So to sum it up, when you see the Bluetooth Smart Ready logo on a device it means that it has Bluetooth 4.0 but it's also compatible with all previous versions of Bluetooth. When you see the Bluetooth Smart logo, these will be small devices that can only communicate with Bluetooth Smart Ready devices.

[
Bluetooth SIG
]