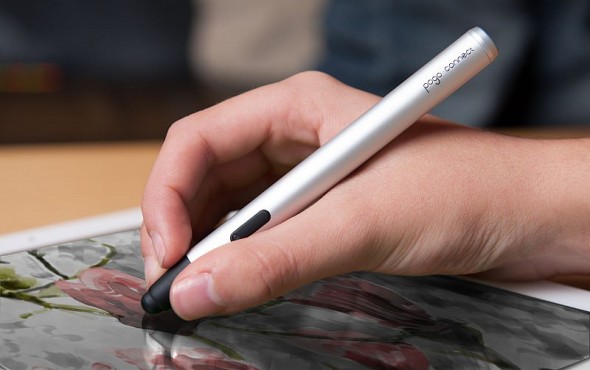 People really like to draw on the iPad, even world famous artists, and that's where styluses come in. The problem is that iPad styluses so far have simply been imitating your finger and relaying only their position through the touchscreen.
The Pogo Connect stylus from Ten One is about to add a whole new level of control by adding pressure sensitivity. The company claims hundreds of levels of pressure, requiring no calibration and working at all angles. The Pogo Connect will work with a number of popular iOS apps, like Brushes, Procreate and Paper that will interpret the level of pressure applied, for example, to change the thickness of the line you are drawing.

The stylus takes advantage of power-frugal Bluetooth 4.0 connectivity, it's actually a Bluetooth Smart device, to provide months of continuous use on a standard AAA battery. As such, it will only work with Bluetooth 4.0 iOS devices, i.e. the iPhone 4S and iPad 3 and Ten One is quick to jump the gun and announce compatibility with the new iPhone 5 and iPad mini. If you have an original iPad or iPad 2 you can use an iPhone 4S/5 to bridge the connection and use your current tablet.
If you happen to misplace the stylus there is an iOS app with a radar-style view to track it down; pretty nifty.
The only downside we can see is the possibility for some lag between moving the stylus and the result appearing on screen, particularly as the Pogo Connect adds this additional layer of complexity, though this remains to be seen in real use.
The device measures 5.1 inches (13 cm) long, and is 11.7 mm in diameter (about 16% thinner than a AA battery), while the tip is 7mm.
Pre-orders begin on October 1st and the Pogo Connect will set you back $80.
[
Pogo Connect
]