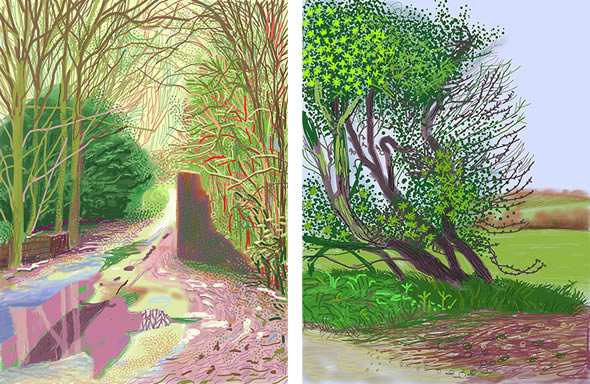 David Hockney is one of the most influential contemporary British artists. Born in 1937, with a career spanning more than 50 years, he has relentlessly acquired mastery in a number of media. David Hockney has made paintings, drawings, lithographic and etching prints, designed stage sets and worked with photography and photocollage. In his long, and successful, career he has also always embraced new technologies. David Hockney's latest exhibition, titled 'A Bigger Picture' and running between January 21st and April 9th 2012 at the Royal Academy of Arts in London is a testament to this.
The exhibition is devoted to landscapes and includes more than 150 works by the artist, most of which were created in the last decade while many are massive in size. The vivid works were inspired by Hockney's native Yorkshire. After Hockney's 30 year long stay in California and Los Angeles, where he created his famous paintings portraying alluring poolside scenes he returned to his home country and has been based in Bridlington, a small seaside town in east Yorkshire, around 65 miles from Bradford where the artist was born. The exhibition includes oil paintings, watercolors and more than 50 drawings created on an iPad and then printed onto paper. There are also a number of videos created for the exhibition.


Hockney is no stranger to drawing on a touchscreen device. His 'Fresh Flowers' exhibition at the Royal Ontario Museum (ROM) in Toronto last year featured works made exclusively and displayed on Apple iOS devices. The exhibition featured approximately 100 iPhone drawings displayed on 20 iPods and 100 iPad drawings on 25 iPads. David uses the $8 Brushes app on an iPhone or iPad and draws using either a stylus or his fingers. Because the application records strokes, part of the ROM exhibition included playback animations of the works being drawn on the devices.
David started drawing on his iPhone in 2008 and moved on to the iPad when it was released in 2010. Over this period he has created hundreds of landscapes, still lifes and portraits, which he often emailed to friends.
Back to the latest Royal Academy exhibition, co-curator Edith Devaney said: The work he did on his iPhone is charming, but the work he does on his iPad has the painterly quality of his oils, it's astonishing. The iPad drawings for the exhibition were printed to sizes over a meter and a half in height.
David has commented on how the iPad provides a medium which you can carry anywhere with you, whip it out and start drawing immediately, it's faster than watercolor or charcoal. David has said on the exhibition: Lots of artists would have responded to the iPad, Tiepolo, Van Gogh. There are disadvantages, the loss of resistance; part of drawing with pencil is knowing the resistance from the paper, but the advantages far out-weigh them.
While many have been accusing the iPad of being primarily a content consumption device, it's quickly becoming a take-everywhere Swiss Army knife for creative individuals. It's exhilarating to see what a tool like this can do in the hands of a talented and capable person.
A Bigger Picture is expected to draw huge crowds to the Royal Academy, and could prove the gallery's most popular exhibition to date. If you live in London or passing by, you'd be advised to give it a go, just make sure you book in advance.