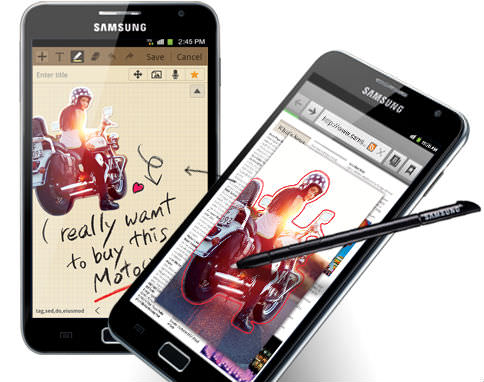 Take this with a grain of salt: an LA industry analyst is claiming that Samsung's oversized smartphone will be heading to Verizon and Sprint, probably under the name Galaxy Journal. The 5.3-inch stylus-friendly Samsung Galaxy Note smartphone/tablet finally made it to North American shores last week with a big appearance at CES. The device is now confirmed to be released soon on AT&T, though no information was given on availability on other carriers.
The Galaxy Note is currently GSM only, so an initial AT&T release makes sense, but a CDMA/LTE version could be in the works so that the device can be launched on both Verizon and Sprint. Despite being the largest smartphone to date, Samsung had shipped over one million Galaxy Note units last year.
The Galaxy Note has 5.3-inch Super AMOLED 720p HD screen with a dual-core 1.4GHz Samsung Exynos processor powered by a decently sized 2,500mAh battery. The device does indeed challenge anyone's perception of a phone, it is a really big device weighing 178g (6.3 oz). To convert people to believers, Samsung has included a Wacom-designed pressure sensitive S Pen stylus, an 8-megapixel rear camera, 2-megapixel front and other nice features like GLONASS support.

So far it's been officially shipping with Android 2.3 Gingerbread with a promised Android 4.0 Ice Cream Sandwich update coming soon; though by the time it hits Verizon and Sprint it could already be running Android ICS out of the box. If you'd rather have another flavor of Android on the Note (or Galaxy Journal), bear in mind that you can easily root it and istall ClockworkMod recovery following our instructions here.
[
examiner
]