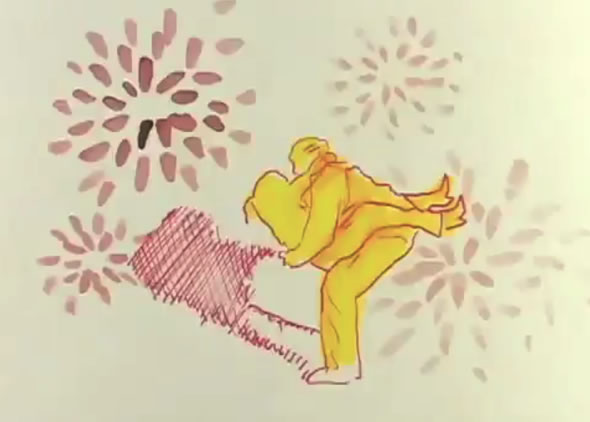 Jeff Scher wasn't content just with painting a beautiful picture; he wanted to breathe life into his work. By drawing a series of paintings and then shooting them in sequence, with each painting making up a frame to a film, the same way old-school hand-drawn animation was made, he's been doing exactly this. The New York-based artist has been experimenting with video most of his life and his collection of short animated films are a combination of a lot of patience, hard work and a touch of technology.
Each second of video is around fifteen paintings or collages. Every painting is captured with a digital camera and joined in software to create the end product. Most films end up being around two minutes with a minute and a half of video being shy of 1,500 drawings.

When we asked Jeff what his favorite medium is, he responded, yes to watercolor, and pastel and pencil and anything that will make a mark on paper. I am drawn to watercolor because it's fast, and because it's the most like cinema of the painting mediums. He continued, it's transparent color, just like movie film, and the white of the paper is the white of the painting, the same way the white of a movie screen is the white of movie. Also, I just love to paint, it's the only way to get through a couple thousand paintings a film.
The finished product is a mesmerizing series of images, which although are based on real life they retain a dream-like sensation. Combined with a musical score, each experimental short transports the viewer to a different place, a different time or a different season, evoking memories and feelings.
When asked to describe his films, Jeff told us: My films are short, fleeting moods, sometimes in animation, sometimes live action, but the idea is always to investigate a little slice of life and to find some universalness in it. The films do this with music and pictures, but no words other than the titles. The films are generally two minutes or under, and could also be described as musical montages. I make them pretty much on my own, except for the music. My composer collaborator, Shay Lynch works alone too. We work alone together. I see him once a year but we talk often and email lots.
Of course none of the films would have become reality without a little help from technology. His current rig includes a Sony DCR-VX2000 and a Canon D60 wired to a Mac Pro tower running versions of iStopMotion and Dragonframe. Jeff is a testament that you really don't need the latest and greatest gear. He regularly shoots with beginner's gear and even toy cameras, taking advantage of their distinct characteristics:
I shoot with generally sub prosumer gear. I love cheap cameras and finding their blind spots. I believe there's no such thing as a bad camera, only bad cameramen. "Spring City" was made by exploiting a fault in the rolling shutter of an iPhone. "The Shadow's Dream" was shot with a plastic Panasonic point and shoot.
Jeff sometimes uses the rotoscoping technique that involves projecting an image on paper and then tracing the image. The end product is more tactile than the original, with images exploding on screen.
He also prefers to add any effects in front of the camera, rather than in post processing:
Technically I am a primitive. I was using film up until eight years ago. I still have a six plate Steinbeck in my studio. I went digital when my favorite labs went under, and it was time. I've never regretted going digital for one moment. It's faster, cleaner, lighter, cheaper, Jeff adds, coming from film I want the most simple of everything. I want to make my effects in front of a camera lens, not in post. It's more fun for me to figure out funny tricks and illusions, but also to see things differently while you're shooting.
Jeff Scher's work is in the permanent collections of the Museum of Modern Art and the Hirshhorn Museum. His work has also been screened at the Guggenheim Museum, the Pompidou Center in Paris, the San Francisco Museum of Modern Art, and at many film festivals around the world.
Watching the films, we want to run out and enjoy the nice weather. So, we'll now let you enjoy Jeff's work, of which more can be found on his website, on YouTube and his blog on the New York Times.