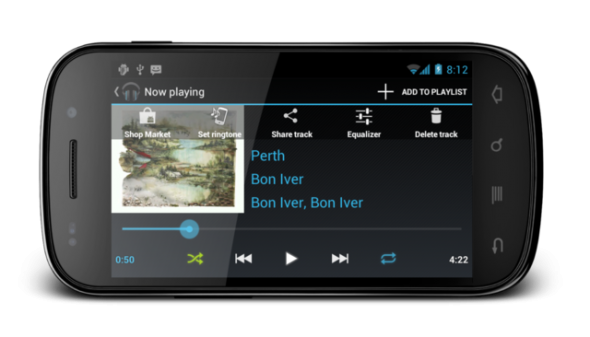 CyanogenMod's popularity lies in the fact that the ROM brings to Android a level of customization never seen before. The CyanogenMod team already let us know that they will be releasing individual parts of their upcoming Android Ice Cream Sandwich based CyanogenMod 9 ROM. First the CM9 launcher titled Trebuchet was made available as an APK file, and today you can download the CyanogenMod 9 Music app as a standalone application.
The Music app is extremely customizable; using a theme engine, designers can change every UI element in the app. If you'd rather have the familiar Android Ice Cream Sandwich look, you can download the 'Google Music' theme which is based on the latest version of the Google Music app. Within the application you can share what you are listening via social, set songs as ring tones, delete tracks and search. There is a drag-and-drop queue and playlist, a custom lockscreen, and shake and flip actions — you can pause your music by flipping the device face down, and you can customize the shake action to skip tracks for example. The app also comes with a number of custom widgets.

You can download the app below as an APK file, or wait for it to appear in the Android Market within the next couple of weeks (though no name has been decided yet). Bear in mind that you must be running some form of Android 4.0 to be able to run the application. The app will of course be part of CyanogenMod 9 ROM, when it's officially released.
[
CM Music APK
,
CyanogenMod 9 Music
]