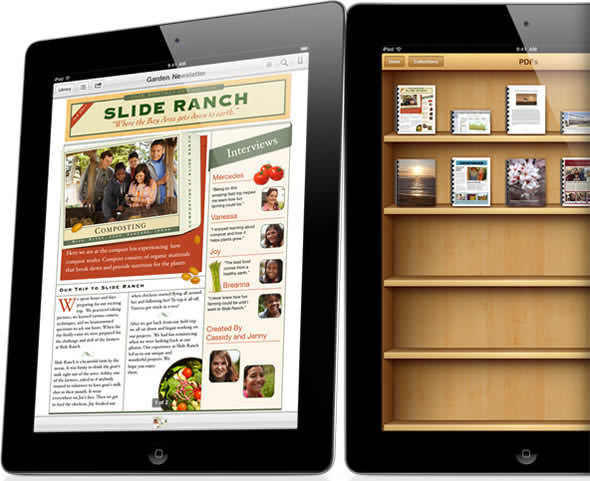 One of most anticipated hardware launches of the year is none other than the third iteration of the world's most successful tablet. The iPad, which made tablets relevant, has transformed the way we consume content on the go, and even how we create it. The iPad 2 and iOS 4.3 were announced at a special Apple event on March 2nd 2011 and released on March 11th.
Betting on Apple's one year update cycle, we would expect the iPad 3 to be announced around the same period this year. But what do we know about the iPad 3? Well, Apple devices have generally been going in one direction. With each iteration, they usually get faster, thinner, with better battery life and a better screen. It's almost certain that the iPad 3 will feature a faster chipset, probably an Apple A6 quad-core processor and better graphics. One of the longest standing rumors has been that the next generation iPad will have a high resolution display; most rumors point to a 2048 x 1536, which is effectively double that of the current iPad 2 on each axis. The improved A6 graphic processing unit (GPU) is claimed to be able to handle the quadruple pixels.

With regards to thickness, opinions diverge, some say it will be very slightly thicker to accommodate the increased demands of the new screen or bigger batteries, others say that despite the increased capabilities it will still be thinner. A recent report by Bloomberg has added the possibility that the iPad 3 could also offer fast 4G LTE connectivity, a first for an Apple product.
Fast forwarding to the news today, a Japanese Apple publication, Macotakara, is claiming that according to Asian supply-chain sources and a U.S. source, Apple is preparing for a special iPad 3 and iOS 5.1 event in February. Bear in mind that the same publication told us of an iPad 3 launch back in September 2011, and that obviously didn't happen.
Anyway you cut it, the iPad 3 is coming and all bets are on that it will happen in the coming months. The announcement will also mark Apple's first major product announcement after Steve Jobs' passing.