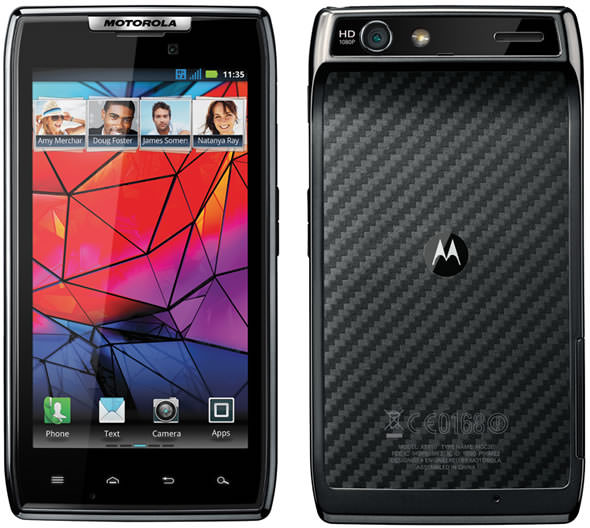 So no surprises here, we got what we expected. Motorola announced its latest flagship handset the Droid RAZR. It will be available in North America, Asia, Europe, Latin America, and Middle East and Africa starting November. Verizon will carry the phone under its Droid line in the U.S. for $299 under contract — the phone will be known as simply RAZR elsewhere in the world.
As rumored, the Motorola Droid RAZR flaunts a 4.3-inch 960×540 qHD Super AMOLED Gorilla glass display and a 1.2GHz dual-core processor. It's an LTE 4G device on Verizon and HSPA elsewhere in the world. It's wrapped in Kevlar no less, while the phone has received a special nanotech splash-guard coating, so it should be able to take a beating (and splashing) despite its super-thin profile. Motorola is claiming "world thinnest smartphone" at just 7.1mm. Other features include 1GB of RAM, 16GB of built-in storage, Bluetooth 4.0 no less, GLONASS support on top of GPS, 1780mAh battery and it will weight 127g. Oh, it will run Android 2.3.5 Gingerbread on launch.
You can find the full specs and pictures after the break.
The RAZR can become friends with a bunch of accessories and docks, such as two lapdocks the 100 and 500 Pro, HD dock and wireless keyboard.

Specifications:
Form Factor: Touch Screen
Software Platform: Android 2.3.5 (Gingerbread)
Size/Dimensions: 130.70mm (x) 68.90mm (y) 7.1mm (z)
Display: 4.3" 960×540 Super AMOLED Advanced
Weight: 127g
Processor: Dual-core 1.2GHz processor
Battery: 1780 mAh
Talk and Standby Time: Up to 12.5 Hours Talk Time and Up to 8.5 days Standby Time
Bands/Modes: CDMA800,CDMA1900,LTE B13 700
Connectivity: 3.5mm, BOTA, Corporate Sync, DLNA, MML, Phone Portal, HDMI, USB 2.0HS
Bluetooth: Stereo Bluetooth Class 2, Version 4.0 LE+EDR
Messaging/Web/Apps: MMS, SMS, Email (Corporate Sync, Google Mail, Push Email, Yahoo, GTalk), WebKit w/ Flash
Camera: 8 MP, 1.3 MP P2P Video, LED
Audio: AAC, AAC+, AAC+ Enhanced, AMR NB, AMR WB, MIDI, MP3, WAV
v10, WMA v9
Video: Capture/Playback/Streaming, HD Video, H.263, H.264, MPEG4, WMV
Storage & Memory: 1GB RAM x 16GB ROM, 11.5GB user available internal memory, 16 GB microSD card preinstalled
WLAN 802.11b, 802.11g, 802.11n
Location Services: aGPS (assisted), eCompass, sGPS (simultaneous), GLONASS
Pre-loaded Applications: MotoCast™, Google Mobile Services, Google Talk™
Official press release:
With an ultra-thin, lightweight design and mind-blowing features, Motorola RAZR is about to make heads turn
LIBERTYVILLE, Ill., Oct. 18, 2011 /PRNewswire/ — Say hello to the jaw-dropping new Motorola RAZR, brought to you by Motorola Mobility, Inc. (NYSE: MMI). Impossibly thin at 7.1 millimeters with sexy curves to boot, this beauty will be available in North America, Asia, Europe, Latin America, and Middle East andAfrica starting this November. Boasting a gorgeous sculpted glass face, diamond-cut aluminum accents and a hyper-vibrant 4.3-inch Super AMOLED Advanced display for incredibly vivid images. Motorola RAZR also sports KEVLAR® fiber (yes, that KEVLAR) and Corning® Gorilla® Glass to help the screen stand up to scratches and scrapes. In fact, every part of Motorola RAZR is protected by a splash-guard coating – even the electrical boards inside. This work of art is a force to be reckoned with.

If that's not enough, pop the hood and find a dual-core 1.2 GHz processor with an impressive 1GB of RAM, all powered by Android™ 2.3.5. You'll fly through tasks up to two times faster than single-core processor phones. Stream or download music and photos from your home or work computer with the easy-to-use MOTOCAST™ app(1). Watch movies on a screen that sports a wider range of colors than most LCD HDTVs. And for that inspiring filmmaker in you, use the 8-megapixel rear-facing camera with 1080p video capture for crisp, clear, cinematic-quality images.

"Motorola RAZR is an iconic brand, and one that originally revolutionized the mobile device industry by turning a functional necessity into an object of desire," said Sanjay Jha, chairman and CEO, Motorola Mobility. "Now we've done it again with a head-turning, ultra-thin smartphone that offers users breathtaking speed, innovative apps and revolutionary accessories."

Close to Home, Wherever You Go

Your favorite music playlists, from classic rock to heavy metal. Pics of every vacation, from road trip to romantic getaway. With Motorola RAZR it's all at your fingertips, all the time. With the free preloaded MotoCast app, you can stream content from your computer straight to your pocket (or purse) so your personal content is always within reach. Whether you're across the street or across the country, you can rock your playlists or breeze through photos instantly – without hogging your device's memory. And, because you don't have to upload to a third-party site, you're saving time while gaining peace of mind. That's right – your files stay safe because they stay with you.

Life Has Never Looked Better

"Super AMOLED Advanced display technology." It sounds futuristic because it is. Whether you stream or download your movies, hyper-vibrant colors make watching flicks on-the-go just as thrilling as watching at home on your HDTV. And zero motion-blur keeps the action smooth, so you can focus on the story, not the screen. Capture the excitement of your own life with the 8-megapixel rear camera and 1080p HD video recording, or chat with a friend using the front-facing HD video camera. No need for clunky, expensive camera equipment.

Work Smart. Not Hard.

Featuring government-grade encryption for protecting your email, contacts and calendar, this device has been deemed "Business Ready" by Motorola's enterprise experts. Even your strict IT manager will be impressed. Hassle factor? Zero. Plus, Motorola RAZR is equipped with the Motorola Smart Actions app that lets you automate everyday tasks and enable better battery life. Smart Actions can turn down the ringer when you step into work, change the Bluetooth and GPS settings when you get home to save battery, or send a text to someone if you miss their call. It's the simple things in life that make all the difference.

Accessories Unlock a World of Experiences

Motorola RAZR is powerful on its own, but when combined with Motorola's accessories (sold separately), you unleash a world of possibilities. Use the new Motorola Lapdock™ 500 Pro or Lapdock™ 100 to let loose Motorola's revolutionary webtop application, giving you the power to edit documents and browse the Web with a desktop-class Firefox® browser – all while powering the device. Or, plug your Motorola RAZR into the HD Dock or HD Station to connect to your HDTV, speakers and other productivity peripherals for large-screen entertainment. And now, you can control your content, browse the web, and use your Android apps from the comfort of your couch with the Smart Controller. The built in touch-pad lets you zoom, pinch and rotate content just like a touchscreen. Best of all, no more running for your phone when a call comes in, you can make and take calls while your phone is docked. You can also connect a navigation dock for GPS and directions, battery pack for extra life, Bluetooth®-enabled keyboard for efficient typing, and the elegantly designed, almost-invisible Motorola ELITE SLIVER™ headset for discrete, hands-free talking. You'll have the brains, brawn and beauty to make the impossible possible.