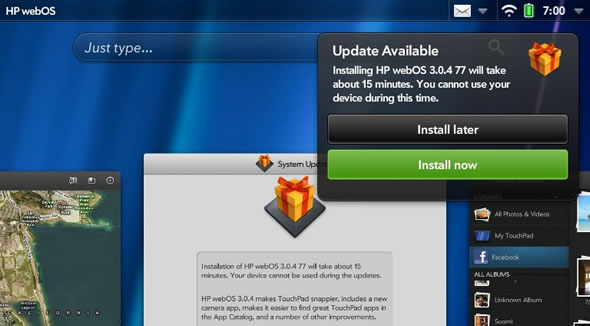 HP had promised to continue to provide over-the-air updates for the now discontinued TouchPad and today we have the first proof of HP's commitment.
HP has just released software update 3.0.4 for the TouchPad, which will be distributed automatically via Wi-Fi to all devices. The update is said to make the TouchPad snappier, something we've found was needed. The new software also includes a new camera app, again something that was lacking, improved messaging and several interface tweaks to make things look nicer.

The TouchPad became a best-selling device when HP slashed its price down to under $100, so its good to see that all those who picked up one are being taken care off by HP. If you own a TouchPad, connect it to your Wi-Fi network and lay back until the update downloads and installs.
We'll be testing our TouchPad with the latest update and will let you know if the changes/improvements are significant.
From the official HP Palm Blog:
Some of the new functionality you'll find in the new update include:

A new Camera app for photos and video
The ability to pair non-webOS phones to your TouchPad, so you can answer calls on your TouchPad. Pairing with non-webOS Bluetooth keyboards has also been streamlined.
Support for OGG Vorbis music files
Online/offline messaging status support.

In addition to new features, you'll also experience better performance, user interface improvements, and other enhancements such as support for accelerometer events in Adobe Flash Player, and more robust Skype video calling.
UPDATE: If you aren't getting the update automatically, press the main button, go to SETTINGS and then 'Software Manager'. We've tested the latest software and we can say that yes, things do feel a bit snappier. We've also tried the new camera app, which for some reason doesn't fill the whole screen, but at least you can now take pictures without external applications.
[
HP Palm Blog
,
Ari Jaaksi's Blog
]