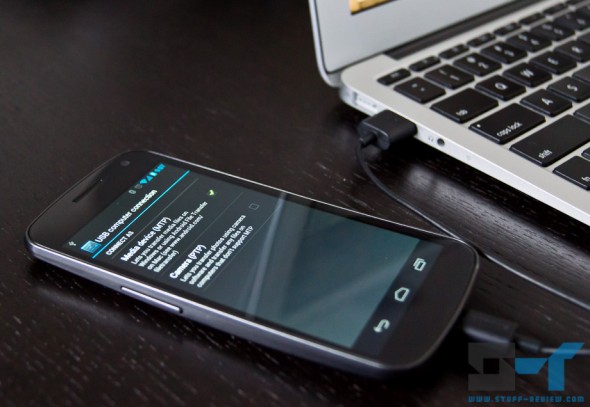 Connecting the Samsung Galaxy Nexus to your MacBook Pro, Air, iMac or any other Mac OS X computer isn't as straightforward as other Android devices. Other Android devices offer access through a protocol named USB mass storage, which means your device is treated like a USB flash drive. The Galaxy Nexus uses the Media Transfer Protocol (MTP in short) in order to allow you to transfer media and other files between your computer. Windows PCs have built-in support for MTP but Mac OS computers don't. If you want a more detailed account of MTP, USB mass storage and the Nexus, hit our article here.
To transfer files between the Galaxy Nexus and a Mac OS X system you must first download and a install the small official Android application named 'Android File Transfer'. First go here and download the application dmg. Once the download has completed, doubleclick on androidfiletransfer.dmg. Now in the installer window click and drag the Android File Transfer icon to the Applications folder on its right (note you may be required to enter you system password at this point). Now the tool is installed on your Mac.

The first time you connect the Galaxy Nexus to your Mac you would need to manually start Android File Transfer; after this initial run, the application will start automatically every time you plug in the Nexus to your computer. So open Android File Transfer from your Applications and you will be presented with this: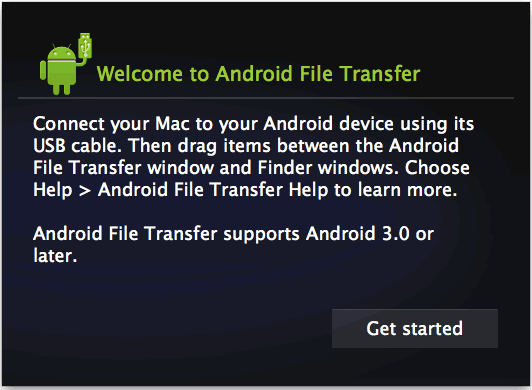 All you have to do now is connect the Galaxy Nexus to your Mac's USB port with a micro-USB cable and the Android File Transfer tool will load it as a drive and show you its files and folders, as in the image below. Note that the Galaxy Nexus will not show up in Finder. You can now drag files and folders from and to your computer and the Galaxy Nexus. You won't be able to preview or open files directly from the Android File Transfer app, you will have to first move them to your computer and then open them.