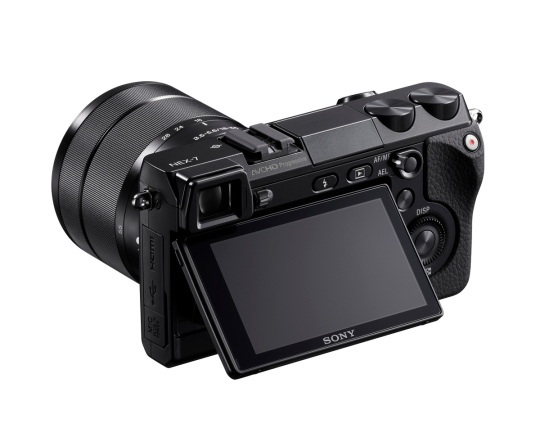 The Sony NEX-7 is the most anticipated compact mirrorless interchangeable lens camera (MILC). Although Sony's current NEX shooters offer amazing image quality, as a result of their large sized APS-C sensor, their interface is better geared towards beginners. The NEX-7 changes this by offering a set of dials with a new control user interface and an amazing high-resolution OLED electronic viewfinder. It also pushes the megapixel envelope for MILCs, with a new 24-megapixel sensor, also found in the larger Alpha A77 and A65 single lens translucent cameras.
After some delay in actually releasing the camera, Sony USA has now confirmed that the NEX-7 will ship this month in limited quantities to early pre-orders. We had reported that Sony resumed production of the camera last month after the catastrophic floods in Thailand had halted production.
You might want to check out our opinion on the OLED EVF here, and our comparison of the NEX-7 against the best of the competition e.g. the Panasonic GX1, Fujifilm X100, Olympus E-P3 in our comparison here.

A video overview of the NEX-7 is here, while our initial coverage, with a host of product photos, can be found here.
Sony USA official statement:
Sony USA is happy to announce that limited quantities of the new NEX-7 camera will begin shipping to pre-order customers this month. Overall production capacity remains restrained as a result of the recent floods in Thailand, but we've made significant progress recovering our manufacturing capabilities and supply chain. We're continuing to aggressively pursue all efforts to restore full production capability of the NEX-7 and other affected models.