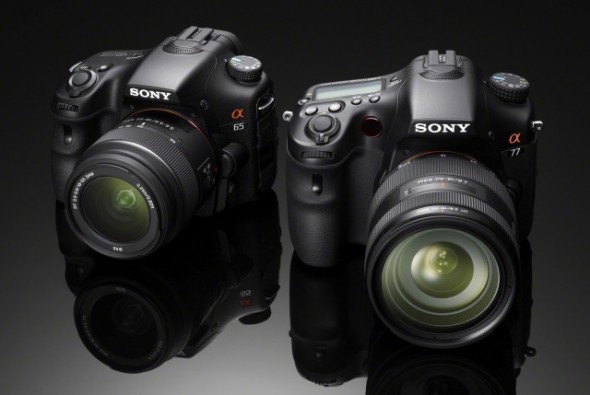 Sip by sip, information about Sony's new cameras has been leaking over the past few months. Today Sony has finally made official four new digital cameras. Two new mirrorless interchangeable-lens cameras (MILCs), the NEX-5N and NEX-7, and two single-lens translucent (SLT) cameras the Aplha A65 and Aplha A77.
The Sony Alpha A77 resides at the top of today's food chain with a brand new 24.3-megapixel APS-C sensor and 2359k dot (XGA) OLED electronic viewfinder packed into a DSLR-type body. The worthy successor to Sony's A700 boasts a 19-point autofocus system and 12 frames per second burst shooting speed taking advantage of a claimed world's fastest continuous autofocus using full-time phase-detection. The A77 can shoot all the way down at ISO 50 and up to 16,000. The back of the A77 is dominated by a three-way tilting 921k LCD screen. The camera can capture full 1080p HD video at 60p and 24p frame rates. The Alpha A77 will arrive in October for $1,400 or as a kit with Sony's new 16-50mm f/2.8 lens for $2,000.

The Alpha A65 features much of the same specs as the A77, 24.3-megapixel sensor and XGA OLED viewfinder, but cuts down to a 15-point autofocus system, 10fps shooting, ISO down to 100 (but still up to 16,000) and no three-way tilting screen while sliming by 4-ounces. Despite otherwise having similar capabilities in terms of image quality as the A77, an A65 body will cost you $900 in October (or as 18-55mm lens kit for $1000) which we consider much better value if you don't need those four high-end features, plus you will be carrying a more lightweight body.
We are most intrigued however by Sony's high end compact mirrorless shooter, the NEX-7. The NEX-7 manages to pack an identical 24.3-megapixel APS-C sensor, an XGA OLED viewfinder and a tilting 3-inch screen in a body weighing just 10.3 ounces (291g). It's by far the most highly specced, highest resolution, biggest sensor, interchangeable lens compact camera out there. It also features an undeniably sexy no-nonsense magnesium alloy black boxy body. The NEX-7 also features an ISO range of 100 to 16,000 and 1080/60p AVCHD video shooting. Unfortunately it will not come cheap, the NEX-7 with a 18-55mm zoom lens kit will sell for about $1350, or as a body-only for about $1200 in November.
Sony has also refreshed its mid-specced NEX-5 shooter, bumping the model to NEX-5N. The camera has a new 16.1-megapixel APS-C sensor, with sensitivy boosted to ISO 25,600 and an improved autofocus algorithm. The NEX-5N manages to be 15mm thinner (staying only 23.3mm thick at its slimmest point) than its predecessor and boasts a shutter lag of only 20ms. The NEX-5N can also shoot full 1080p AVCHD video at 60fps. It will begin selling this September for a much more palatable $700 together with a 18-55mm kit lens (body-only for about $600) in black and silver. Those who enjoy an electronic viewfinder will also be able to purchase an external OLED EVF for $350.
Finally Sony is addressing one of the key shortcomings of the NEX line, that is lack of a broad range of lenses, with three new E-mount lenses. A telephoto zoom 55-210mm F4.5-6.3 optically stabilized lens will be available this October for about $350. A new fast Carl Zeiss Sonnar 24mm F1.8 for $1000 and an E 50mm F1.8 optically stabilized lens for $300 in December. Sony is also introducing a NEX-to-Alpha lens mount adapter with a built-in translucent mirror for $400.

[
Sony A77 and A65 press release
,
NEX-7 press release
,
NEX-5N press release
]
UPDATE: The cameras and lenses are available for pre-order and probably will sell-out fast.