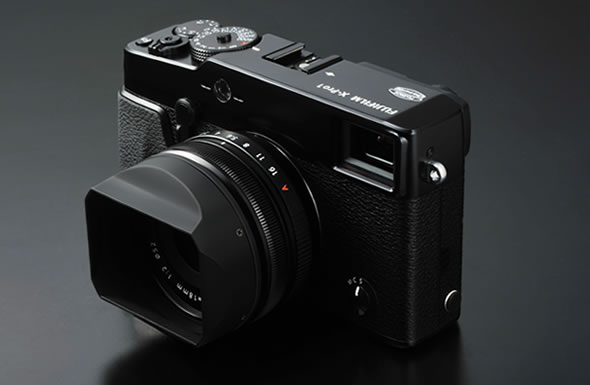 Digital mirrorless interchangeable lens cameras (MILCs) have gone a long way since Panasonic released the first Micro Four Thirds camera over 3 years ago. During this time, we've seen practically all major camera manufacturers (except Canon) entering the space that was once the privilege of multi-thousand dollar Leica Rangefinders. Fujifilm showed us what they can do with a high-end compact camera in their excellent fixed-lens FinePix X100 shooter last year. Now, Fujifilm plans to release a new X-series MILC system led by their X-Pro1 camera.
Despite coming late to the party, Fujifilm intends to enter with a bang. The X-Pro1 has Leica-like controls with individual shutter speed and exposure compensation dials, while each lens has a manual aperture ring. Fujifilm has also improved on the X100's hybrid electronic/optical viewfinder, and the second generation has found its way in the X-Pro1.
In our comparison below we have pitted the Fujifilm X-Pro1 against the best of the competition, the Panasonic GX1, the Sony NEX-7 and the Olympus E-P3. All four share the same rangefinder-style body, though not all come with a built-in viewfinder. It's interesting to note that the X-Pro1 includes a number of technologies which are unique, including the new X-Trans CMOS sensor and hybrid viewfinder.

Anyone trying to decide between the, now, huge selection of MILCs should also consider the entire ecosystem supporting the camera. For that reason, we've now included a new line in our comparison table, titled 'Lens ecosystem'. This is an approximation of the number and types of lenses released by each system's official manufacturer(s); it does not include lenses by third parties. The Micro Four Thirds format has been around the longest out of the bunch, and understandably has by far the largest lens selection.
Fujifilm has elected to release the X-Pro1 system with three fast prime lenses, 18mm (27mm equivalent) f/2.0, 35mm (53mm equivalent) f/1.4 and 60mm (90mm equivalent) f/2.4 macro. If you want the convenience of a zoom lens, for now you have to look elsewhere.
Fujifilm X-Pro1
Panasonic Lumix DMC-GX1
Sony NEX-7
Olympus E-P3
Sensor (effective resolution and size)
16.3-megapixel ASC-C
X-Trans CMOS
16-megapixel 4/3 Live MOS
24.3-megapixel APS-C Exmor HD CMOS
12.3-megapixel 4/3 Live MOS
23.6 x 15.6mm
17.3 x 13.0mm
23.5mm x 15.6mm
17.3mm x 13.0mm
Focal-length multiplier
1.5x
2.0x
1.5x
2.0x
Sensitivity range
ISO 200-6,400 (100-25,600 extended)
ISO 160-12,800
ISO 100-16,000
ISO 100-12,800
Continuous shooting
6 fps
4.2 fps
10 fps
3 fps
Viewfinder
/ effective magnification
Second generation hybrid optical /electronic

OVF 0.37x and 0.6x magnification depending on lens 90% coverage

EVF 1440 dots 100% view

Optional external EVF 1440k dots 100% view
2359k dots OLED EVF with eye sensor
100% view /
1.09x with 50mm lens
Optional external
Autofocus
49-point TTL contrast AF
23-point contrast AF
0.09-seconds
Touch AF
25-point contrast AF
35-area contrast AF
Touch AF
Shutter speed
30-1/4,000 sec; bulb max 60 min
60-1/4,000 sec; bulb max 2 min
30-1/4,000 sec; bulb
60-1/4,000 sec; bulb max 30 min
Metering
256 zones
144 zones
1,200 zones
324 zones
Flash
External
Yes
Yes
Yes
Image stabilization
None
None (lens)
None (lens)
Sensor shift
Lenses
X mount

Leica M with adapter

Micro Four Thirds

Four Thirds with adapter

E-mount
Alpha-mount with adapter
Micro Four Thirds

Four Thirds with adapter

Lens ecosystem
2 prime
1 macro
6 prime
1 macro
1 fisheye
15 zoom
1 3D lens
3 prime
1 macro
3 zoom
6 prime
1 macro
1 fisheye
15 zoom
1 3D lens
Video
1080p24, 720p24
1080p30(25 PAL) 20Mbps MP4

1080i60 17Mbps AVCHD

1080p60 AVCHD 28Mbps

1080p24 24Mbps

1080i60 17Mbps

1080i60 AVCHD 17Mbps
720p60 17Mbps
Audio
Stereo –
Stereo; mic input
Stereo; mic input
Stereo; mic input
LCD size
3-inch 1,230k dots RGBW (White) LCD
3-inch 460k dots fixed touch LCD
3-inch 922k dots tilting LCD
3-inch 614k dots fixed touch OLED
Battery life (CIPA rating)
300 shots
300-340 shots
410 shots
330 shots
Dimensions
5.5 x 3.2 x 1.7 in
(140 x 82 x 43 mm)
4.6 x 2.7 x 1.6 in
(116 x 68 x 39 mm)
4.8 x 2.6 x 1.7 in
(120 x 67 x 43 mm)
4.8 x 2.7 x 1.4
(122 x 69 x 34 mm)
Body weight including card and battery
15.9 oz (450g)
11.2 oz (318g)
12.3 oz (350g)
13.0 oz (369g)
Body material
Aluminium and magnesium alloy
Aluminium with metal buttons
Magnesium alloy
Metal
MSRP
$1,700 (body only)
$700 (body only)
$1,200 (body only)
n/a
$2,300 (with 35mm f1.4 kit lens)
$800 (with 14-42mm kit lens)
$1,350 (18-55mm kit lens)
$900 (with 14-42mm kit lens)
$950 (with 14-42mm X power zoom lens)
n/a
$900 (with 17mm f2.8 kit lens)
Release date
March 2012
December 2011
December 2011
August 2011
© Stuff-Review

Be sure to have a look at the first hands-on videos of the X-Pro1 and our extended look at the camera on its launch day.