I have to foreword this review of the Fujifilm FinePix X100 by saying that I am not a professional photographer or a camera expert, nevertheless I think there is value on a review done from the viewpoint of the average user. Thus, this review will be very different from other technically focused reviews; instead I will tackle the camera from a real world perspective.
I've tried to balance the review with a healthy number of sample shots. To depict the camera's image quality, rather than my Lighroom skills, the images in this review have not received any software treatment, except from the odd straightening/cropping. The shots are mostly out of the camera JPEGs. Rather than photographicw merit, I've tried to include shots that demonstrate the camera's capabilities.
It's also good to note that this review of the Fujifilm X100 comes late to the party; the camera has been out for almost a year now, though initially it was impossible to get hold of one. I've had my own unit since late last summer. I do consider however that despite more recent mirrorless camera launches, and even Fuji's own X-Pro1, the X100 still is a very unique camera with a very unique offering.

This would be a good time to sum up the Fujifilm X100's specs.
Summary specifications
12.3-megapixel APS-C CMOS sensor
Fixed 23mm f/2 Fujinon lens (equivalent to 35mm lens on a full frame)
2.8-inch 4:3 aspect ratio LCD screen with 460,000 dots
Hybrid optical (0.5x magnification, 90% field of view with LCD overlays) / electronic viewfinder (1,440k dots)
ISO 200-6400, expandable to 100 and 12800
Built-in neutral density filter
Built-in flash and flash hot shoe
RAW and JPEG stills
Motion panorama mode
720p24 h.264 high-definition video
Dimensions: 5.0 x 3.0 x 2.2 in (126 x 74 x 54 mm)
Weight (including battery): 15.7 oz (445g)
For a spec comparison against the Panasonic GX1, Sony NEX-7 and Olympus E-P3 have a look here.
Body and looks
So beauty is in the eye of the beholder, but I would find it difficult to believe that someone with a love for photography might consider the X100 anything but gorgeous. In fact the X100's design has been such a success that Fujifilm styled the X10 and more recently the X-Pro1 based on the same principles.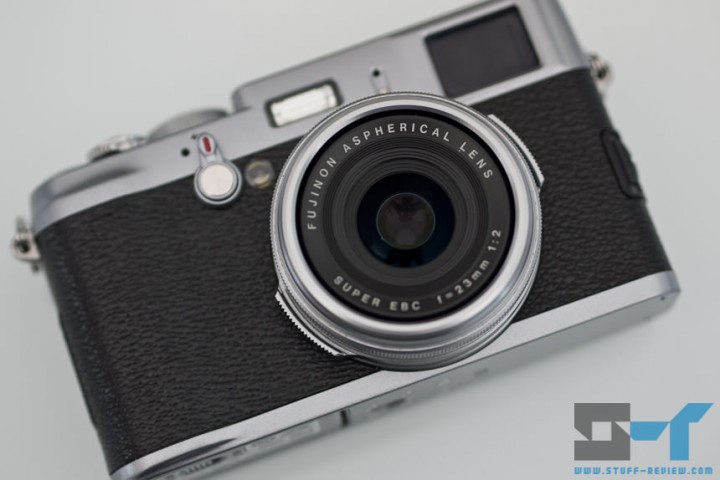 I would compare the X100 to a fine watch, the top and bottom plates made from die-cast magnesium alloy and the entire body having a nice weight. Turning each metal analogue dial gives a satisfyingly solid feel. It is not a weather-sealed camera but it is built to last. Even the choice of faux leather over the real thing was apparently made to promote durability. Though I've tried to convey the real look of the camera, it is something better appreciated in person.
The design is bound to attract attention, but as we'll see, the size of the camera and its completely silent operation permits you a high degree of stealth.
Did I mention the packaging is also beautiful? Yeah, the X100 comes in an all black box with velvety interior. Too bad a lens hood is not included, with Fuji asking the extortionate price of $140 for an adapter ring and the hood. You will also need an adapter ring if you want to attach filters to the X100, as Fuji didn't care to make the standard lens ring threaded.
A fun, but expensive habit is to accessorize the X100. There are numerous leather cases and straps, you can add a shutter soft release button, and as we've mentioned above the adapter ring and hood. The official Fujifilm accessories cost a bundle but thankfully there are equally good alternatives.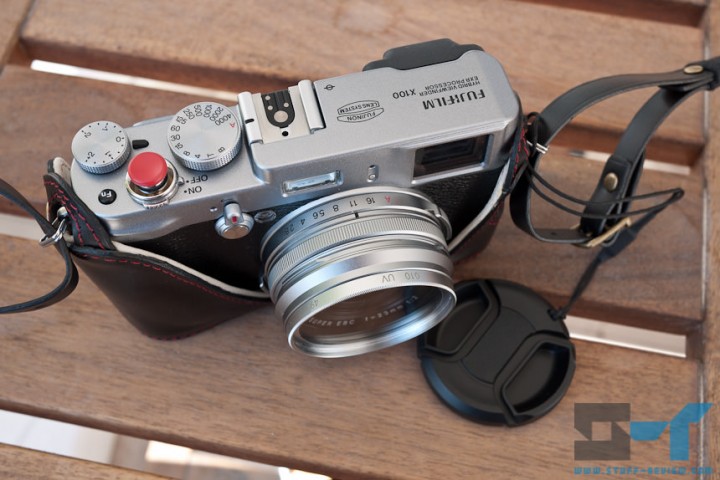 My X100 has been decked out with a Kaza leather case and strap, a red 'Bop' soft release button, the official Fujifilm threaded adapter ring that allows 49mm filters, a B+W haze filter and finally a black plastic softcap so I can be free from the large original metal lens cap.
Size
People who would go for the X100, do so primarily for its size. Sure you are able to get equivalent image quality, low light capabilities and, definitely, faster performance from a mid-range DSLR and a good fast prime lens, but the X100 offers all this, and more (i.e. a hybrid viewfinder) in a relatively tiny package.
A huge benefit is that you can pull the X100 out and snap pictures in situations where lagging a DSLR would be awkward. The X100 is primarily a street shooter and your subjects will act more natural facing its retro rangefinder-style looks than a large DSLR and lens.
The X100 is more or less the same size as the original Panasonic GF1 MFT camera with the 20mm pancake lens. It would fit in a jacket's pocket and would not weight you down after carrying it for a whole day. Actually I find the weight and size very pleasing, not too heavy but neither too light nor small.
It might be slightly bigger than the newest mirrorless interchangeable lens cameras (MILCs), but having tried the latest Panasonic GX1, I've actually found it way too small for comfortable handling.
Price
The Fujifilm X100 sells for around $1,200 (£770, EUR910), which is actually not such a bad value proposition. You get a quality body and a great lens that together can take some amazing pictures, better than any lower-priced compact mirrorless camera. I would also argue that the X100 is a better camera than the $2,000 Leica X1.
If you were to simply compare image quality, you would probably have to shell out more than $1,600 for a DSLR and lens to match the X100.
The big decision here is purpose, i.e. whether you can live with the X100 as a perfect street and travel shooter, or you would need a better multitasker, something the X100 is not.
I also own the Panasonic GF1 and a Pentax K-5, so I'm pretty well covered for different occasions. If the X100 is going to be your only camera you should be aware of its limitations. It might be an expensive toy, but it's a really fun one.
Handling
The X100 doesn't just look like the cameras of yesteryear, Fujifilm made a conscious decision of providing a traditional control layout. You get analogue dials for shutter speed and exposure compensation and an aperture ring around the lens. If you make a selection using these, then respectively the camera goes into aperture or shutter speed priority modes or complete manual operation. if you choose to keep them on auto, then you get full automatic operation.
Some have argued that, because of its classic control system, this camera is not suited for beginners. I would argue the opposite. I think, because you are always made aware of your aperture and shutter speed selections, it's the perfect learning instrument for the basics of photography, provided that you are willing to invest some time and use trial and error.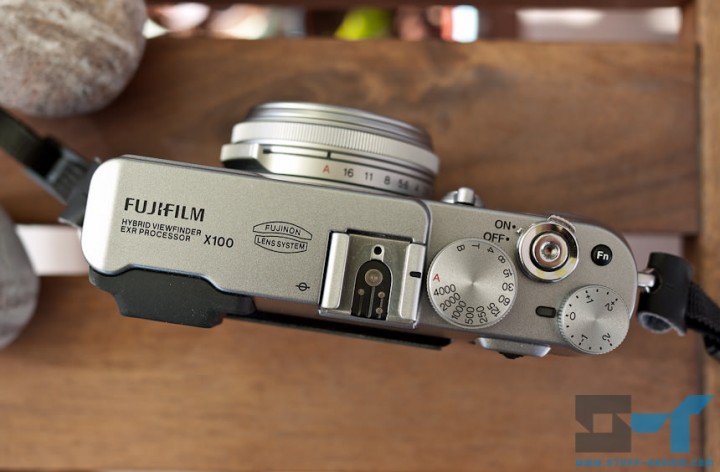 What can I say; I love this back to basics freedom of having all the basic controls directly at your fingertips rather than having to rely on a software menu selection. You can also do 1/3 of a stop adjustments using the scroll wheel (aperture) and thumb switch (shutter speed) in the back.
Now, unfortunately when it comes to the X100's secondary controls, things aren't that straightforward. The plastic buttons and thumb wheel are not as substantial and the organization of the menus is inconsistent with a lot of scrolling needed to get between some pretty essential controls, like the operation of the ND filter or ISO control.
You do get one customizable function button (Fn) at the top of the camera (whose function can now be changed by holding it for more than 3 seconds) but I'm still hoping that Fujifilm will allow customization of the RAW button at the back as well. To Fujifilm's credit a number of firmware updates have improved overall handling but I feel that there is still some way to go.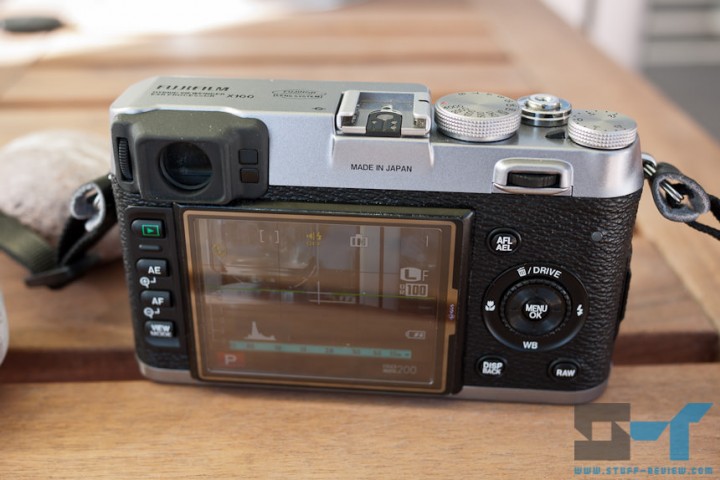 The single most frustrating of all is that Auto ISO control (i.e. letting the camera handle the ISO setting based on maximum ISO and minimum shutter speed limits) and individual ISO selections fall into not only different menu but also completely different settings screens.
For some these fiddly secondary controls might be a deal breaker and the basis of a general love/hate relationship with the X100. I would say that they are not as bad as they have been made up to be, and as long as you are aware where everything is, after a while you learn to live with the X100's quirks. Oh, and you would need to read the X100's manual, as some interface interactions are not obvious at first.
Manual focusing is also pretty much impossible with the X100. The focus ring is very shallow and even after the firmware upgrades you need to keep turning and turning before getting anywhere. The best way to focus manually is to first press the AFL/AEL button, let the camera autofocus and then do minor manual adjustments using the focus ring.
Last quirk in this section is the battery compartment, which would let you insert the battery the wrong way around, an omission by Fuji's design team.
I've setup the camera to a max ISO limit of 3,200 and shutter speed down to 1/30. I mostly then shoot either in fully automatic mode or in aperture priority mode and let the camera do the rest. The X100's metering is pretty much flawless in good light, while I occasionally set exposure compensation a stop down in very dark conditions when I want true to life results. The function button is setup to bring up the ND filter selection.
Some early batches of the X100 suffered from the sticky aperture blade issue that would result in overexposed images. This is a hardware fault and Fujifilm would be more than glad to take it in for a free quick and painless repair.
Fixed vs. zoom lens
A tradeoff with the X100, over other cameras, is that you are getting a fixed focal length lens over the flexibility of a zoom lens or interchangeable lenses.
I would say that Fuji made an optimal decision with the 35mm equivalent focal length, in terms of selecting a lens that is wide enough while avoiding perspective distortion from a wider lens.
You are then left to 'zoom in' with your legs, going physically closer to your subject or moving away to frame the shot. I can only say that it feels natural and very liberating. Isn't that how the human eye works too?
Silent operation
I think this is such a great feature of the X100 that it deserves its own section. The camera has a leaf shutter, which is virtually inaudible to anyone but the person taking the shot. This is a far cry from the mirror sound of a DSLR or any shutter sound I've heard so far.
When you press and hold the DISP/BACK button the camera goes into complete stealth mode, disabling all menu sounds and the AF assist lamp as well. This way you can become completely inconspicuous. This the perfect mode of operation for a perfect street shooter.
Autofocus and operating speed
Similar to other mirrorless cameras the X100 does contrast detection autofocus. Generally autofocus performance is very good, but slower than the latest mirrorless cameras. The X100 would not be suited to shooting fast moving subjects.
Ordinarily the X100 focuses at up to 80cm. In order to do macro (close-up photography) you have to press the left button on the jog wheel and select macro mode. This lets you focus from up to 10cm. However macro mode results in a lot of focus hunting and is slower. The camera also tends to missfocus up close and would require a couple of tries to accurately focus.
Coming to operating performance, the Fujifilm X100 is no speed daemon. We've covered the camera's startup speed and write performance in a separate article here.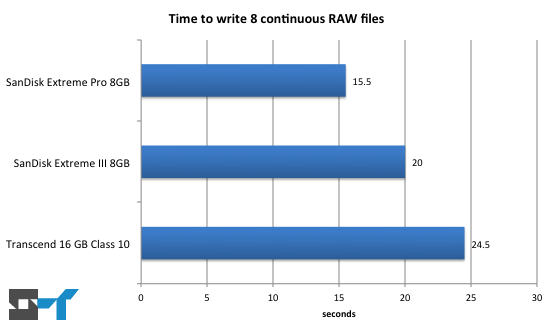 The X100 takes about 3.5 seconds to turn on from cold, but you can enable a 'Quick Start Mode' in the menu, which reduces this delay to a little under 2.5 seconds. Fuji warns that the battery is consumed faster when this mode is on, but frankly I haven't noticed a significant deterioration in battery life.
The other issue is file write speed to the SD card. While the camera is saving a shot, you cannot perform any functions. I personally don't find it much slower than other cameras, and you can improve write performance by buying a fast SD card, like the SanDisk Extreme Pro.
Hybrid viewfinder and LCD screen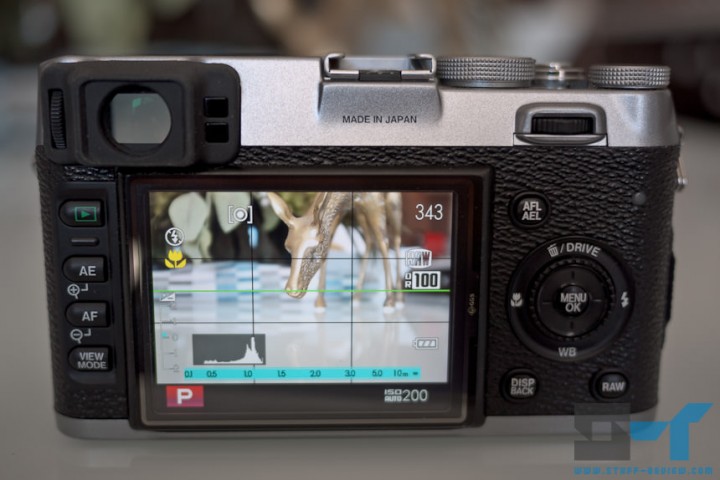 The Fujifilm X100 gives you three ways to frame your shot. First, you can use the 2.8-inch 460k dot LCD screen, certainly not the best in its class, but definitely sufficient and quite bright. No big complaints here.
A headline feature of the X100 is the hybrid viewfinder. There is an eye sensor to switch between the LCD and the viewfinder and with the flick of a lever you can switch between the electronic viewfinder (EVF) and an optical viewfinder (OVF) with overlay information. The X100 was the first camera to offer such a unique function and would have certainly taken some engineering thought to develop it.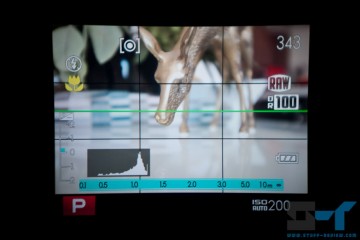 Most mirrorless rangefinder-style cameras typically do not offer a built-in viewfinder at all, exceptions are the NEX-7 and now the E-M5. Sure the X100's EVF is not a match to the NEX-7's amazing 2,400k dot EVF but it still is pretty good, and certainly more than adequate to compose an image. My only complaint is that colorwise it's a bit oversaturated.
The OVF is a amazing. It displays frame lines and a huge amount of customizable information, including a histogram, using a smart LCD overlay. Be warned though, the OVF consumes more power than the EVF because of this LCD overlay. If you select 'OVF Power Save' in the menu, the OVF will be darker until you hit the shutter. The view from the OVF extends beyond the frame lines, which is nice as it gives you a general view of your surroundings.
Cudos to Fuji for giving us more choice than we ever thought we needed and not skimping on either the OVF or the EVF.
Image quality
This is what it's all about right, and this is where the X100 excels. The camera simply takes remarkable pictures.
Resolution is incredible and even at 100%, images can potentially be usable — something very few modern crop sensor cameras can boast. The X100 captures amazing fine detail and noise levels are very low. When slightly stopped down from f/2, images are sharp throughout without many apparent faults, thanks to the matched lens.
After using the X100 for a while and doing some background reading, I would bet that the reason the camera can capture so much detail is because Fujifilm elected to use a weak anti-aliasing (AA) filter. AA filters actually work by slightly 'blurring' the image to avoid moiré effects, lack of such a filter will result in sharper images. However I have not been able to confirm this.
My only complaint would be when shooting macro, the resulting image is generally a bit soft (see image below), and the closer you get the softer the image becomes. You would have to stop the lens down significantly (beyond f/9) to get a sharp image.
As always you will get the best results when shooting RAW but even out of the camera JPEGs look great. Colors are true to life and skin tones are flattering, with the X100 having its own distinct signature. The X100 also generally hits the nail on the head when it comes to auto white balance.
Sure other mirrorlesss cameras are boasting 16 and even 24-megapixel sensors (see NEX-7). But because Fujifilm consciously went with a lower megapixel count it's been able to achieve this high ISO and dynamic range performance.
I'd rather get great photos out of the camera than spend my days on Lightroom fixing unwieldy files that will fill up my hard drive. For me this is a big plus for this camera.
Low-light performance
The X100 can virtually see in the dark. The combination of a fast prime lens and low noise sensor let you take pictures with the X100 in pitch black. There is little noise up to ISO 3,200 and no blotchiness. Noise is also more like film grain rather than being offensive, especially in black and white.
The X100 offers the best low-light performance of any mirrorless camera up to its price. I would even say that noise performance is better than the excellent Pentax K-5 DSLR at the same resolution.
I've also managed to capture great photos in difficult lighting conditions, such as the camera looking directly at lampposts and candles. Because of the fast lens I can take handheld low light shots without even going over ISO 800, and the X100's dynamic range then lets me recover a lot of detail in the shadows.
Fill-in flash
Following the announcement of the Fujifilm X-E1, I've decided to add this section that was not covered in the original review.
Let me just say that I rarely use flash at night as I try to preserve, as much as possible, the original lighting conditions of a scene. I mostly use fill-in flash to balance direct sunlight and for that you'd normally want your shutter speed to be quite fast; that is, to maximize the power of your flash you need to minimize the time your sensor is exposed to ambient light — there are a number of good articles that explain the physics behind this.
Now the X100 uses a leaf shutter that on top of making it ultra-silent it allows it to use a 1/2,000th second maximum flash sync speed. This not only allows you better fill-in flash but also the ability to freeze motion if you want. In real life I've found the X100's tiny flash to be invaluable. The camera really just adds the right amount of fill every time, giving you perfect exposure without any harsh light on your subject. Really exceptional.
In comparison, the X-E1, together with the X-Pro1, use a focal plane shutter and are limited to 1/180th second flash sync speeds. Most DSLRs also use the same type of shutter and are generally limited to below 1/250.
This creative power afforded by the X100 is to be considered when making your buying decision.
Other features
You'll be happy to know that the X100 does shoot video too, at a resolution of 1280×720 and 24 frames per second, but compared to what other mirrorless cameras can do now, it's really an afterthought. Since there's also no image stabilization, you're in for some shaky results without a tripod.
The camera also has a motion panorama mode accessible from the drive menu that captures 120 and 180 degree panoramic photos. It's OK, but sometimes you end up with stitching artifacts.
Finally you can select between different film presets when shooting JPEGs. The standard is Provia, Velvia for vivid and Astia which is somewhere between. You can also, of course do black and white.
Wrap up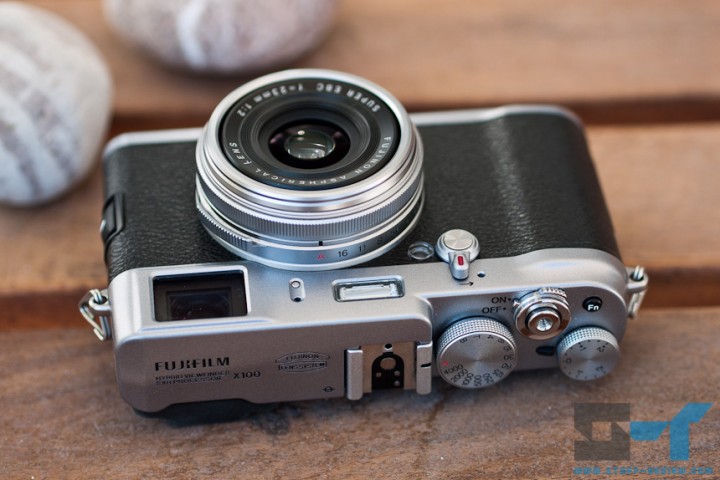 The Fujifilm X100 is the first digital camera to truly deliver great image quality and low-light performance in such a small package and at an affordable price.
Sure it's not been a smooth ride and there's a learning curve too but taking pictures with the X100 is the most fun I've ever had with a digital camera.
The experience of using the X100 boils down to this. You get a solidly built and beautiful camera that's small enough to carry everywhere and all the time, and because of its size and silent shutter you can get away with using it in most places. The analogue controls and hybrid viewfinder are a pleasure to use, though occasionally you might get frustrated when you have to dig into the menu for the ND filter or to enable/disable Auto ISO control.
You will lose some shots because of slow or missed-focus, but you will eventually end up with more great pictures than you can handle. Loading up the images on a computer screen, you'll be amazed at the resolution, color, dynamic range and low noise.
The X100 is already a classic, and even though Fujifilm may eventually replace it, it will remain a valuable commodity simply because of the unique signature attached to its photos.
UPDATE: Fujifilm has released a new firmware for the X100 that brings the ability to customize the RAW button and has moved Auto ISO Control to the ISO settings menu.
Pros
Great image quality: low-noise, great colors, resolution and dynamic range
Small size and silent operation means you will want to and be able to take it anywhere and stay stealthy
Classic basic controls, with aperture, shutter speed and exposure compensation always at your fingertips
Three ways to frame your shots: rear LCD, OVF and EVF
Great fill-in flash that syncs up to 1/2000s
Very solidly built and great design
Small image files
Built-in ND filter
JPEGs are very good out of the camera
Cons
Fiddly secondary controls and some odd menu choices
Autofocus performance lacks equally priced cameras, particularly in macro, on speed and accuracy
Lens is soft at close distances
Full manual focus is practically impossible
Startup and SD card write speeds
Video is an afterthought
Expensive original accessories, like lens hood and case