September 12, 2011 at 4:45 pm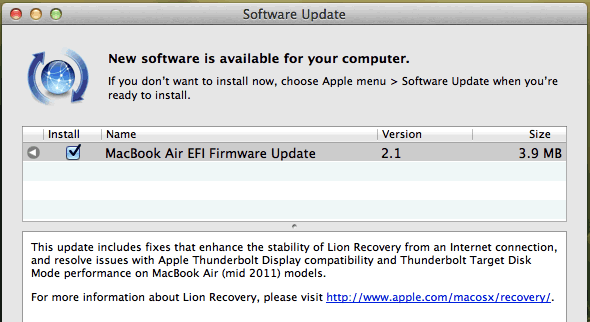 If you own a mid-2011 MacBook Air you might want to hit the update button. Apple has just released an EFI firmware update which solves a couple of issues mainly dealing with Thunderbolt compatibility. The other issue deals with Lion Recovery from an internet connection.
The fixes should:
Enhance the stability of Lion Recovery from an Internet connection.
Resolve issues with Apple Thunderbolt Display compatibility.
Resolve issues with Thunderbolt Target Disk Mode performance.
To update, connect your mid-2011 MBA to a power source, click on the Apple logo in the top left corner and then "Software Update…", then follow the dialogue boxes.
continue reading