November 3, 2011 at 10:30 am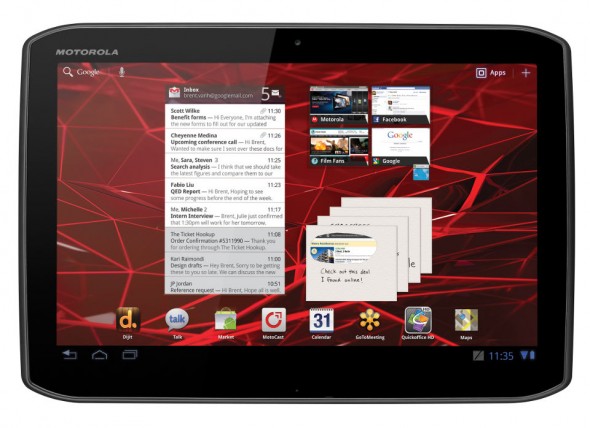 Motorola has officially announced the Xoom 2 and Xoom 2 Media Edition Android tablets. We can't say we are surprised here, as the two tablets have been long-rumored. The Motorola Xoom 2 is a business-centric 10.1-inch HD display tablet running Android 3.2 Honeycomb (obviously no Android 4.0 Ice Cream Sandwich at launch as this is a Galaxy Nexus exclusive). It measures 253.9 mm x 173.6 mm x 8.8 mm and weights 599g (1.32lbs) – 100g lighter than the original Xoom.
The Motorola Xoom 2 Media Edition, shrinks down to an 8.2-inch HD panel measuring 39mm x 216mm x 8.99 mm and weighing 386g (0.85lbs). Otherwise, in terms of specifications the two tablets are similar. Both run on 1.2GHz dual-core processors with 1GB of RAM and 16GB of storage. They have a Gorilla Glass displays and a splash-guard coating, something we've recently seen on the Motorola RAZR, to protect them against accidental spills.
Motorola claims that the Xoom 2 Media Edition will be easier to hold because of the smaller footprint, while it has a wide 178-degree viewing angle. Graphics performance is also mentioned to be 20% better than the original Xoom. The Xoom 2 also comes with a host of business centric applications and Motorola will be offering a stylus as an accessory.
There is no word yet on U.S. availability, but the two tablets will be available in the UK and Ireland mid-November. The Xoom 2 with initially retail for £325+VAT ($520) and £299+VAT ($480) for the Xoom 2 Media Edition. Motorola has confirmed that the two tablets will eventually be getting Android 4.0 Ice Cream Sandwich shortly after Google provides the code to Motorola.
Full specs, pictures and video after the break.
continue reading