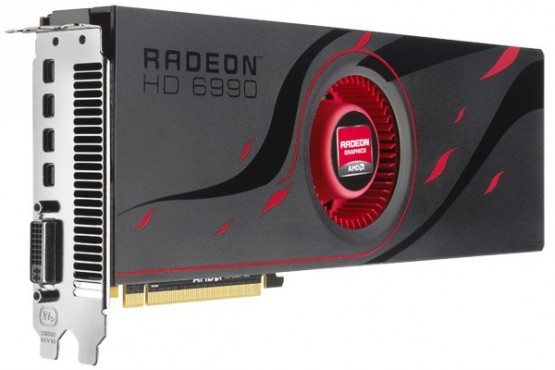 AMD has just launched its new flagship video card, the dual-GPU Radeon HD 6990. A worthy successor to the Radeon HD 5970, the HD 6990 is made-up of two Cayman GPUs on a single card running at 830Mhz for a total of 3072 stream processors, 192 texture units and two 256-bit memory channels driving 4GB of GDDR5 RAM. The card can provide output to up to six displays simultaneously using AMD's Eyefinity technology.
As you might have guessed, the Radeon HD 6990 is insanely fast; but the graphics card has also broken another type of record as well, by being the most power hungry (consuming up to 375W at default clock speeds) and most noisy single card ever.

AnandTech has thoroughly reviewed the Radeon HD 6990 and has bestowed upon the beast the title of "new single card king", for which we say fair enough for a card which can be had for $699 and will probably also put a dent on your power bill.
[
AMD
,
AnandTech
]
Overview and Specifications by AMD:
Perfection is not an accident.
Dual 2nd-gen DirectX® 11 GPUs.
4GB GDDR5.
Quite simply the fastest graphics card in the world.
Harnessing the incredible power of dual second-generation DirectX® 11-capable GPUs, the AMD Radeon HD™ 6990 is quite simply the fastest graphics card in the world.
Featuring 4GB of high-speed GDDR5 memory, the AMD Radeon™ HD 6990 is the definitive solution for ultra-high resolution gaming across up to six simultaneous displays.
Break barriers. Crush records. Flip the Unlocking Switch and take your AMD Radeon™ HD 6990 beyond the bleeding edge.
Higher clocks. Faster gaming. Devastatingly intelligent power management. That's AMD PowerTune technology on the AMD Radeon™ HD 6990.
Up to 830MHz Engine Clock
5.10 TFLOPs Single Precision compute power
1.27 TFLOPs Double Precision Compute Power
Overclocked (BIOS2)
Up to 880MHz Engine Clock
5.40 TFLOPs Single Precision compute power o 1.37 TFLOPs Double Precision Compute Power
4GB GDDR5 Memory
1250MHz Memory Clock (5.0 Gbps GDDR5)
320 GB/s memory bandwidth (maximum)
TeraScale 3 Unified Processing Architecture
3072 Stream Processors
192 Texture Units
128 Z/Stencil ROP Units
64 Color ROP Units
Dual geometry and dual rendering engines
High Speed 256-bit GDDR5 memory interface
PCI Express 2.1 x16 bus interface
"Eye-Definition" graphics
Second generation DirectX® 11 graphics
Full DirectX® 11 support
Scalable geometry processing technology
Shader Model 5.0
DirectCompute 11 support
Quad advanced programmable hardware tessellation units
Accelerated multi-threading
HDR texture compression
Order-independent transparency
OpenGL 4.1 support
Image quality enhancement technology
Up to 24x multi-sample and super-sample anti-aliasing modes
Adaptive anti-aliasing
Enhanced Quality Anti-Aliasing (EQAA)
Morphological Anti-Aliasing (MLAA)
16x angle independent anisotropic texture filtering
128-bit floating point HDR rendering
AMD Eyefinity multi-display technology
Native support for up to 5 simultaneous displays
Up to 6 displays supported with DisplayPort 1.2 Multi-Stream Transport
Independent resolutions, refresh rates, color controls, and video overlays
Display grouping
Combine multiple displays to behave like a single large display
AMD EyeSpeed visual acceleration technology
OpenCL 1.1 Support
DirectCompute 11
Double Precision Floating Point
Accelerated video encoding, transcoding, and upscaling
UVD 3 dedicated video playback accelerator
MPEG-4 AVC/H.264
VC-1
MPEG-2 (SD & HD)
Multi-View Codec (MVC)
MPEG-4 part 2 (DivX, Xvid)
Adobe Flash
Enhanced Video Quality features
Advanced post-processing and scaling
Dynamic contrast enhancement and color correction
Brighter whites processing (Blue Stretch)
Independent video gamma control
Dynamic video range control
Dual-stream HD (1080p) playback support
DXVA 1.0 & 2.0 support
AMD HD3D technology
Stereoscopic 3D display/glasses support
Blu-ray 3D support
Stereoscopic 3D gaming
3rd party Stereoscopic 3D middleware software support
AMD CrossFireX™ multi-GPU technology
Dual card performance scaling
Cutting-edge display support
DisplayPort 1.2
Max resolution: 2560×1600 per display
Multi-Stream Transport
21.6 Gbps bandwidth
High bit-rate audio
HDMI 1.4a with Stereoscopic 3D Frame Packing Format, Deep Color, xvYCC wide gamut support, and high bit-rate audio
Max resolution: 1920×1200
Dual-link DVI with HDCP
Max resolution: 2560×1600
Integrated HD audio controller
Output protected high bit rate 7.1 channel surround sound over HDMI with no additional cables required
Supports AC-3, AAC, Dolby TrueHD and DTS Master Audio formats
AMD PowerPlay™ power management technology3
AMD PowerTune technology
Intelligent power management hardware
Dynamic power management with low power idle state
Ultra-low power state support for multi-GPU configurations