September 18, 2011 at 3:29 am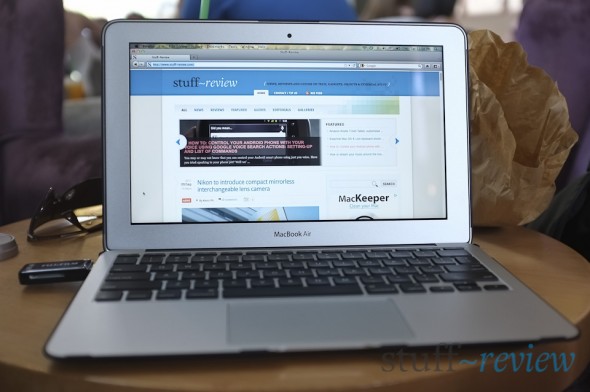 This is a review of the mid-2011 Sandy Bridge MacBook Air (MBA). I've been using the 11-inch model, but most of what I will say also applies to the 13-inch version — a comparison of the two is at the bottom of this review. The review will concentrate on the hardware, rather than the software, aspects of the laptop. After all, loading Windows on the MBA is straightforward and we ours loaded with both operating systems — of course you can also load your favorite Linux distro as well. We're certainly not discounting that the new MBA comes pre-loaded with the new Mac OS X Lion, but, that is a totally independent review in its own. Enough, however, with the introduction and lets move on to our experience with the new MBA.
We like to front-load our reviews, so, lets just say that there is very little that I don't like with the new MacBook Air. What I mean is that there are only pleasant surprises, such as the performance, with most nags from last years' model already worked out. But the MBA is certainly not the only laptop to offer performance in a small package, especially now that Intel is pushing the concept of the 'ultrabook'.
A wise man once said that god is in the details, and that's where the MBA wins over other offerings, in the details. We don't have any preference with regards to manufacturer or operating system. But as said, it's the little things that count. Apple has, over time, accumulated a list of extra features and little nuances that make its notebook products stand out. The MagSafe connector with a truly portable power brick, the oversized clickable multi-touch glass trackpad, a strong unibody construction that leaves zero room for flex, an excellent backlit island keyboard. The MBA is a culmination of all of these. It's also the culmination of true portability and finally power.
The MBA is a svelte performer, never boggling down even with a dozen of browser windows, Mail, Photoshop and Spotify running all at the same time.
That's not to say there are no faults, but it would have been unfair to mention these first; we found the poor vertical viewing angles somewhat restrictive, particularly for the form factor, while, the lack of ports could be a deal-breaker for some. Battery life is also on the lower side, not to say it's bad or anything, but could be disappointing to some road warriors wanting a whole day charge. But please, read on while we delve deeper on Apple's latest ultra-mobile notebook.