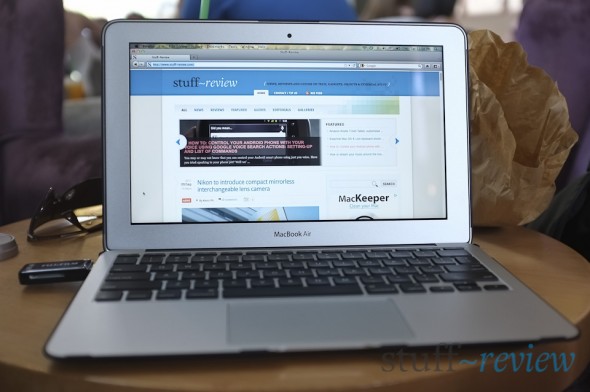 This is a review of the mid-2011 Sandy Bridge MacBook Air (MBA). I've been using the 11-inch model, but most of what I will say also applies to the 13-inch version — a comparison of the two is at the bottom of this review. The review will concentrate on the hardware, rather than the software, aspects of the laptop. After all, loading Windows on the MBA is straightforward and we ours loaded with both operating systems — of course you can also load your favorite Linux distro as well. We're certainly not discounting that the new MBA comes pre-loaded with the new Mac OS X Lion, but, that is a totally independent review in its own. Enough, however, with the introduction and lets move on to our experience with the new MBA.
We like to front-load our reviews, so, lets just say that there is very little that I don't like with the new MacBook Air. What I mean is that there are only pleasant surprises, such as the performance, with most nags from last years' model already worked out. But the MBA is certainly not the only laptop to offer performance in a small package, especially now that Intel is pushing the concept of the 'ultrabook'.
A wise man once said that god is in the details, and that's where the MBA wins over other offerings, in the details. We don't have any preference with regards to manufacturer or operating system. But as said, it's the little things that count. Apple has, over time, accumulated a list of extra features and little nuances that make its notebook products stand out. The MagSafe connector with a truly portable power brick, the oversized clickable multi-touch glass trackpad, a strong unibody construction that leaves zero room for flex, an excellent backlit island keyboard. The MBA is a culmination of all of these. It's also the culmination of true portability and finally power.
The MBA is a svelte performer, never boggling down even with a dozen of browser windows, Mail, Photoshop and Spotify running all at the same time.
That's not to say there are no faults, but it would have been unfair to mention these first; we found the poor vertical viewing angles somewhat restrictive, particularly for the form factor, while, the lack of ports could be a deal-breaker for some. Battery life is also on the lower side, not to say it's bad or anything, but could be disappointing to some road warriors wanting a whole day charge. But please, read on while we delve deeper on Apple's latest ultra-mobile notebook.
Pros
Enough processing power for most jobs while the faster SSD drive means that applications launch quickly and boot-up is fast.
Solid build, nice backlit keyboard, excellent generously sized glass multi-touch trackpad, MagSafe power adapter.
Your choice of OS: Mac OS X Lion (pre-installed), Windows, Linux.
Thunderbolt support.
Bright display, enough even for use in bright daylight.
All these in a small lightweight package.
Cons
Poor vertical viewing angles and reflective glossy screen.
Choosing portability over screen size means that sometimes things can feel a bit cramped.
Battery life is below peers and slightly worse than the previous generation of MBAs.
Apple didn't manage to squeeze-in an SD card slot on the 11-inch model.
Design and Build quality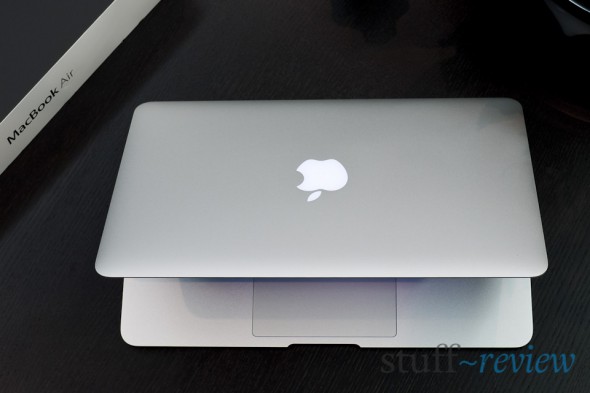 Apple takes a holistic approach when it comes to design. Your experience starts with the beautiful packaging, while inside you discover one of the most appealing machines ever created. The same attention to detail is carried over to every piece of hardware and accessory, even the humble power brick.
Both the new MacBook Airs share the same design and size as their predecessors. The MBAs have a wedge design, at their thickest they measure 0.68 inches thick (1.7 cm) tapering off to a minuscule 0.11 inches (0.3 cm). There are four black rubber feet at the bottom, while on the opposite side, the display houses a large lit Apple logo. The whole design is the epitome of minimalistic industrial design – no hatches or switches are visible when the Airs are closed, just smooth aluminum.
This is achieved by Apple's now famous unibody construction. Apple precisely machines large one-piece aluminum casings for both the main enclosure and the display. Together they form a very rigid and light body; forget about the concept of flex. If you haven't tried it yet, it really feels great – that is, if you like touching a hard piece of metal.
This does mean however that: the battery is non removable and opening up the Air for any sort of upgrade, like adding a bigger storage device, is really left to professionals. As Apple envisions it, by the time you will need to replace the battery you should also bring the Air in for check-up. For me, this isn't really an issue.
Display
Ok, so here is our key complaint with the MBA. Similar to other manufacturers, Apple has gone with a TN LCD panel on the Air, which means limited vertical viewing angles. The screen has a short 'sweet spot' and then colors shift fast as you change your vertical angle. This is particularly an issue for the 11-inch MBA, as for a device this small there are many scenarios where you might not be looking at the screen straight on.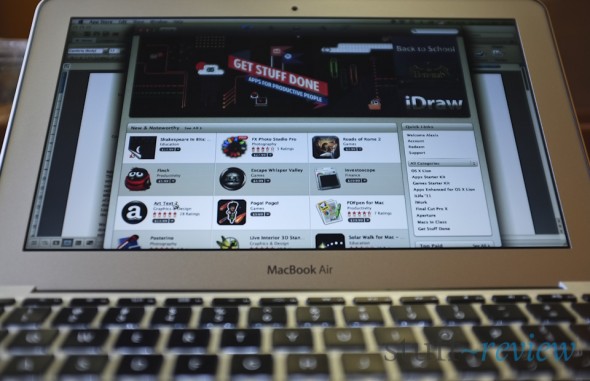 On the other hand, the hinge is now quite strong, compared to last generation Airs, and the display stays where put. The screen is of the glossy kind, so yes it's reflective. Brightness is excellent and would even allow you to use the Air in bright sunlight – I've tried it. An ambient light sensor helps in auto-adjusting brightness. Color rendition and contrast are also good, the latter being enhanced by the glossy screen.
Horizontal angles, as with most TN panels, are good and would definitely allow two-person use of the MBA, for watching a movie for example. The 11.6-inch resolution of 1366 x 768 results gives a 0.188mm dot pitch (smaller is better), while the 13.3-inch Air displays 1440 x 900 pixels with a 0.199mm dot pitch. Both resolutions are sufficiently high for their screen size.
Connectivity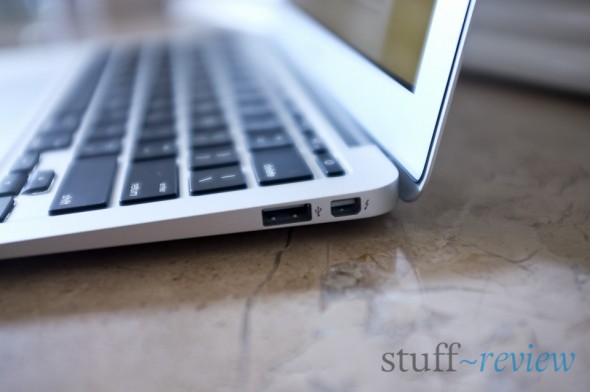 The new MBAs have joined the rest of the MacBook pack and have received the new super-fast Thunderbolt port. It's a jack of all trades, allowing you to connect and daisy-chain a growing range of devices such as external drives, PCIe chassis and port docks together. We've already looked at the MacBook Air's Eagle Ridge Thunderbolt controller, which provides two bi-directional 10Gbps channels. Unlike the bigger MacBook Pros, however, it doesn't allow daisy chaining of displays; but one 2560 x 1440 Thunderbolt screen is enough for most.
Otherwise, the MBA is restrictive in terms of connectivity, no straight HDMI port, no Ethernet and only two USB 2.0 ports. But Apple provides all sorts of adapters and converters to get around these omissions. The Thunderbolt port doubles as  a mini-DisplayPort, so you can use converters to HDMI. Ethernet is offered via an optional external Ethernet adapter.
Apple has also long-declared the optical disk-drive dead and buried, so don't expect to pop in a DVD into the Air, you can optionally buy an external optical drive or, using Apple's Remote Drive software, mount another computer's drive (Windows or Mac).
The MBAs are complete with a headphone port, microphone and the 13-inch model benefits from an SD card reader — something I've missed from the 11-inch model and Apple could have just done me the favor of not having to carry an external SD reader as well.
In terms of wireless connectivity, the MBA is top-notch; with Wi-Fi a/b/g/n and Bluetooth 4.0. I've got the MBA paired with the excellent Razer Orochi Bluetooth mouse and pairing happens automagically.
Keyboard and trackpad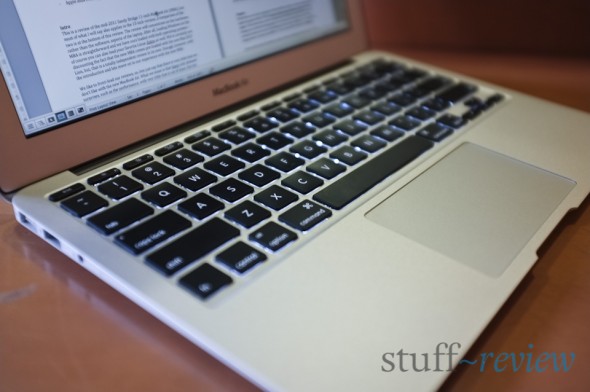 We've already mentioned how much we like the MBA's trackpad and keyboard; both are a notch above other offerings. Apple includes a full-sized keyboard, on both models, and its one of the best you will find out there. Apple pioneered the chicklet island-type keyboard with each key being separated from the other with a sufficient amount of travel but also remaining quiet. A very nice re-introduction for the 3rd generation of MBAs is the back-lighting, for easy typing in low-light situations. It uses an ambient light sensor to change brightness accordingly but you can also fine-tune brightness between 16 different levels. Only gripe here is that, during typing, your wrists rest on the rather sharp edges of the aluminum enclosure, but that's nitpicking.
The large glass touchpad measures 4.1 x 2.5 inches on the 11-inch (4.1 x 3 inches for the 13-inch model) and moving around, scrolling etc. is a pleasure. It is fully multitouch and works flawlessly, great sensitivity and the entire bottom 7/8 are clickable – acts as one large button. The button is a little stiff, though an improvement from the previous generation.
Camera and audio
Not much to say about the camera, it's a small black spot above your screen and it does the job it's supposed to do.
Audio is very good. Two speakers are arranged inside, on each side of the keyboard, and the audio comes out loud and clear magically though all the openings. I think because the speakers are housed inside the enclosure, which acts as a sound box, sound gets enhanced coming out quite open. For a laptop this size, it sounds pretty amazing, I must say. Of course for the size of the machine and the form factor don't expect good bass response.
Heat and battery
Under normal use, the MBA doesn't get overly hot, just warm at the top along the hinge. It only really gets hot when you start pushing it – like extracting a large archive –, particularly the top-left side and that's when the fan kicks-in. Overall no major complains here. I couldn't compare heat to the previous generation, but since the Sandy Bridge CPUs consume more power (see below) I would expect the new MBAs could get just a bit hotter.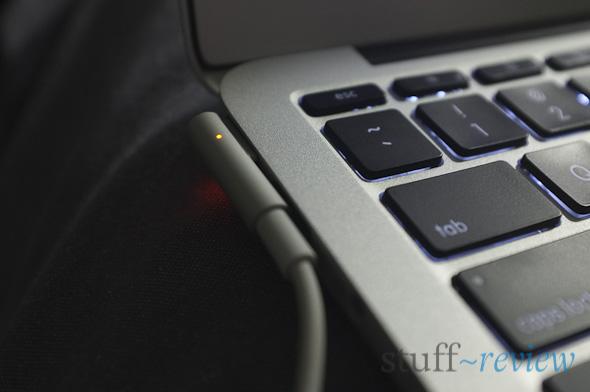 Battery life is average. I manage around 4 to 4.5 hours with normal use — browsing, emailing, writing but nothing really heavy and brightness above 50% – on the 11-inch Air; which is close to the Apple stated life of 5 hours. The 13-inch Air lasts a bit longer, although other reviewers have only got 30-40 minutes more than the 11-inch model (vs. the advertised 7 hours). Overall, the mid-2011 Airs have slightly poorer battery life compared to the 2010 models, as the new second generation core processors consume more power, but trust me, as you will find below, they are worth it.
Overall I wish the battery lasted longer so that I wouldn't have to hunt for an outlet most of the time. I guess this will be an area of improvement for the 2012 Ivy Bridge MBAs.
Performance
Where the 2010 MBAs were lacking was performance, and here is the key change in the 2011 MBAs. Not mind-blowing, benchmark busting performance, but enough to allow frustration-free use at all times. Just a note here to mention that I've been using the 1.6GHz Core i5, 4GB DDR3 RAM and 128GB flash SSD MBA.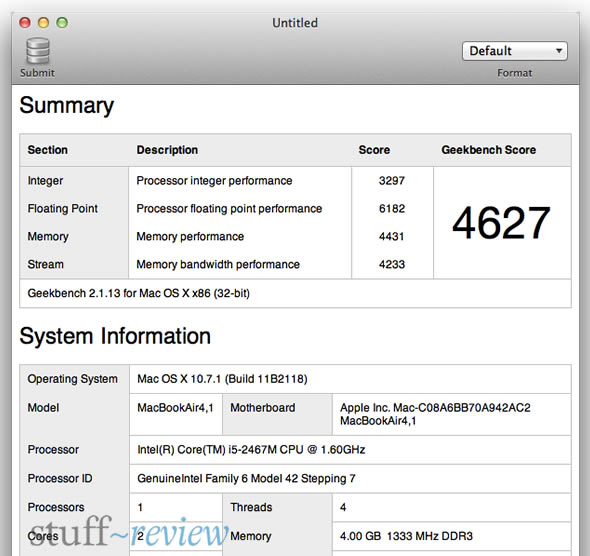 The Sandy Bridge CPUs and GPUs
The biggest upgrade is the new Sandy Bridge or second-generation Core i-series CPUs. They are so fast that they allow the MBAs to match last year's MacBook Pros performance, that's no mean feat, and blow last year's MBAs out of the water. Just check our already published benchmark of the 'entry' level Core i5 1.6GHz MBA.
Apple has also made the decision to move away from discrete Nvidia graphics and just use the integrated Intel HD 3000 GPU. Performance-wise the 3000 is a small step back, but any loss in performance is more than made-up by the new CPUs.
Solid-state performance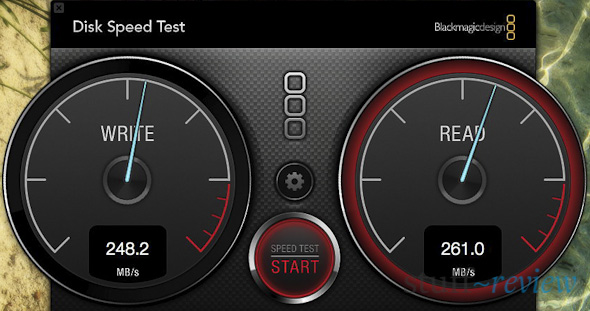 Last year's MBAs had seen the move from mechanical drives (the ones that have a magnetic platter spinning under a reader head) to faster flash-memory Solid-State Drives (SSDs). And this year's MBAs' SSDs are even faster, with better read/write speeds. This means the OS boots quicker, applications launch faster, and file access is more responsive; meaning better overall user experience. Oftentimes when users are feeling that their system is lagging it's actually because of data access speed than raw processing power.
The 2011 MBA boots up Mac OS X Lion in around 15 seconds or comes to the Windows 7 login screen in 35 seconds.
The MacBook Air in your life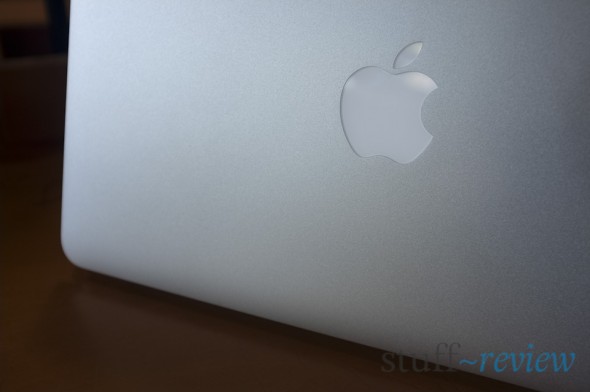 For me this is the most important part of the review. Quoting numbers and plotting chart comparisons doesn't really say much. The real test is actually living with a device, using it daily and discovering its abilities and limitations. That's why I think that reviews shouldn't be written on a few days of use.
The biggest benefit of the MBA is being creative while staying portable.
You would have guessed that this review has been written and the images processed on the MBA, however the 11-inch Air has become for me much more than that. For the past two months, the Air has replaced my tablet as my take anywhere device (as you can see in the gallery it's not much bigger than a standard tablet). This allows me to not only keep informed and entertained, but to also work from anywhere, without having to pull out my hair from frustration.
My primary PC is a custom-built Windows rig, but even with the big-screened desktop around I would still favor sitting on the couch with the MBA for certain tasks, such as catching up on the news with the excellent Reeder, clearing my ever-growing email inbox or posting on Stuff-Review. Though any major photo editing on Lightroom and Photoshop still happens on the desktop.
Thing is, the MBA is so liberating. While I can work more efficiently on my large desktop I prefer to escape the confines of a desk chair, and the MBA can be lugged with you at all times. At 2.38 lbs (1.08kg) for the 11-inch and 2.96 lbs (1.35 kg) for the 13-inch, it's a weight that you will gladly carry.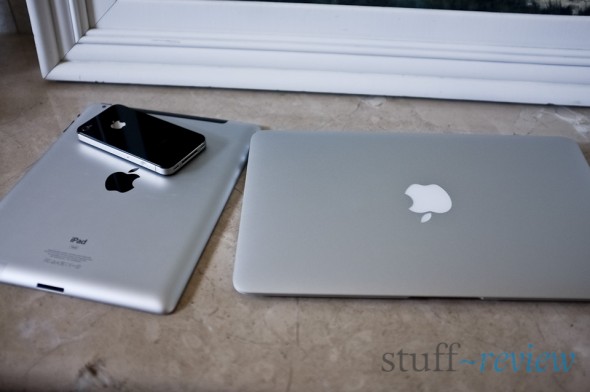 Closing the lid puts the Air to sleep and all your work is maintained; slip it into a bag and you're off. Whenever you want to work on it, just pop it open and, because of the fast SSD, it resumes from sleep almost instantaneously and you're back to work. As I've already mentioned, I always keep a number of applications open and switching between them is smooth as butter, especially with Mac OS gestures on the large trackpad.
From humble beginnings as a niche product, the MacBook Air has shaped the personal computing space and will define all future generations of laptop computers. Bulky laptops will very soon become a thing of the past.
It's no wonder that Apple killed the old 13-inch MacBook.
11 vs. 13-inch MacBook Air
The trade-off here is weight and volume over screen size and I think this is actually a tough choice to make.
My advice is, if you will be using the MBA as a primary computer and you would use applications where more screen real estate is essential — photo editing, big Excel sheets come to mind — then go for the 13-inch version. If you will be using it as a secondary PC, or you are a fan of super-portability, then the 11-inch MBA doesn't have much to be envious of its bigger brother — though as mentioned, I strangely miss the SD card slot on the 11-inch.
I would recommend to any prospective buyer to just pop-into any Apple store and check both models out. Although on paper the difference in dimensions between the two doesn't seem much, you will see that the 13-inch is quite larger than the minuscule 11-inch model.
Although the 11-inch MBA starts at $999, vs. $1299 for the starter 13-inch, it's the $1199 11-inch that is comparable, having 128GB storage and 4GB of RAM. I wouldn't recommend going for the bottom price 11-inch model; 2GB of RAM is just too little nowadays and you will find that the 64GB drive will also fill-up fast. Note that both MBAs can be configured up to same specs. You may also want to check out MacMall, where you can save about $50-60 for either model.
11-inch MacBook Air
13-inch MacBook Air
Screen size
11.6 inches
13.3 inches
Resolution
1366 by 768
1440 by 900
Dimensions
11.8 x 7.56 inches (30 x 19.2 cm)
12.8 x 8.94 inches (32.5 x 22.7 cm)
Weight
2.38 lbs (1.08 kg)
2.96 lbs (1.35 kg)
Ports
USB 2.0 ports (up to 480 Mbps)
Thunderbolt port
USB 2.0 ports (up to 480 Mbps)
Thunderbolt port
SD card slot
Advertised battery life
Up to 5 hours
Up to 7 hours
Price for configuration
1.6GHz dual-core Intel Core i5
4GB of 1333MHz DDR3 onboard memory
128GB flash storage
$1199
1.7GHz dual-core Intel Core i5
4GB of 1333MHz DDR3 onboard memory
128GB flash storage
$1299
Can't get to an Apple store but want to see which size MBA fits you best? Well, we've created these printable MacBook Air dimension templates to help you compare between the two. Grab the tabloid-sized one here, or the metric friendly A3-sized here.