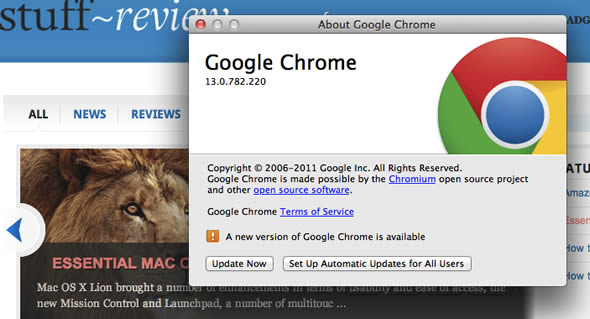 We've had our own personal issues with Google Chrome on OS X Lion. In fact, at times, Chrome was behaving so badly on the new Mac OS that I had more or less switched to Firefox. Well, finally, Google has updated Chrome promising better stability and compatibility with Lion.
In addition, Google has added support for Lion's full screen mode. When enabled, each Chrome window takes up the whole screen (i.e. the menu bar is hidden) and its own desktop Space. Note that you can have different Chrome windows maximised or not in different spaces.
To enable full-screen mode, either click on the two opposing arrows at the top right or press command + shift + F — Google's blog incorrectly states Ctrl+Shift+F.

The update also adds better Lion integration: multi-touch browsing support for going back/forward through pages and Lion's overlay scrollbars, which only appear when scrolling.
If you are using Chrome on Lion, click on 'Chrome' at the top and then 'About Google Chrome', the application should find the update and it's all downhill from there.
[
Google Chrome Blog
]