August 30, 2011 at 1:35 pm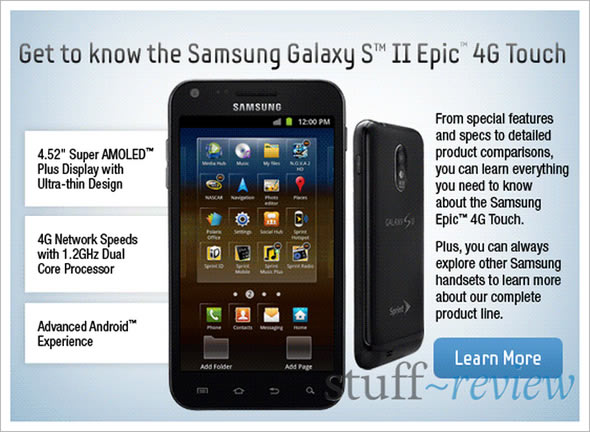 Guess what happens when you wander around online training manuals just before an evening of new product announcements. Well, you stumble on one of these new and still announced products. A tipster has sent us screen shots and detailed product specs of a very juicy new handset heading over to Sprint, the Samsung Galaxy S II Epic 4G Touch.
Samsung is not toying around with Epic 4G Touch. The new smartphone has huge 4.52-inch Super AMOLED Plus Gorilla Glass screen while staying super-thin at 9.59mm and weighing 4.09 oz. The Epic 4G Touch runs a dual-core 1.2GHz Samsung Exnyos C210 processor — same as the original SGSII — and will run Android 2.3 Gingerbread.
The phone will run on Sprint's 4G WiMAX network and have an 8.0-megapixel rear-facing and 2.0-megapixel front-facing cameras. Samsung is loading the phone with its Media and Social Hubs.
More images and full details after the break.
continue reading