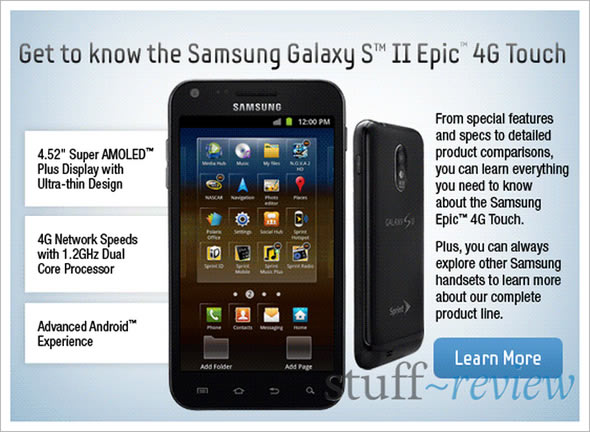 Guess what happens when you wander around online training manuals just before an evening of new product announcements. Well, you stumble on one of these new and still announced products. A tipster has sent us screen shots and detailed product specs of a very juicy new handset heading over to Sprint, the Samsung Galaxy S II Epic 4G Touch.
Samsung is not toying around with Epic 4G Touch. The new smartphone has huge 4.52-inch Super AMOLED Plus Gorilla Glass screen while staying super-thin at 9.59mm and weighing 4.09 oz. The Epic 4G Touch runs a dual-core 1.2GHz Samsung Exnyos C210 processor — same as the original SGSII — and will run Android 2.3 Gingerbread.
The phone will run on Sprint's 4G WiMAX network and have an 8.0-megapixel rear-facing and 2.0-megapixel front-facing cameras. Samsung is loading the phone with its Media and Social Hubs.
More images and full details after the break.

4.52″ Super AMOLED Plus Display with Ultra-thin Design
The Epic™ 4G Touch features a 4.52-inch Super AMOLED Plus display that's sharper and more vivid than the competition.
With 50 percent more sub-pixels than a Super AMOLED, the Plus screen displays crisper text and clearer graphics.
Users can expect more lifelike color with better contrast and wider viewing angles.
The Super AMOLED Plus display on the Epic 4G Touch is energy-efficient, promising long battery life even with steady use.
At just 9.59mm thick and 4.09 ounces, the Epic 4G Touch is amazingly thin and lightweight.
The textured back deters fingerprints and smudges and provides an easy-to-grip surface.
The display is built with Gorilla® Glass, a tough but thin type of glass that resists damage and adds strength without adding bulk.

4G Network Speeds with 1.2 GHz Dual Core Processor
The Epic™ 4G Touch is built with a best-in-class 2 x 1.2GHz (Samsung Exnyos C210) dual-core processor for blazing-fast surfing and gaming, smooth media playback, and quick interface response.
The Epic 4G Touch is built to optimize Sprint's 4G WiMAX™ network with download speeds up to 10 times faster than 3G.
With 4G, users can download media and apps, stream video, upload photos, and surf the web faster than ever before.
Users can share their super-fast connection with up to 8 devices via the Sprint Hotspot feature.

Advanced Android™ Experience
The Epic™ 4G Touch runs on the Android 2.3 platform – also called Gingerbread – which now offers improved management of battery life and apps, support for new technologies, and a more intuitive user experience.
Keys on the redesigned virtual keyboard have been reshaped and repositioned for more accurate typing, and the new OS features Swype™ dictionary suggestions and an expanded cut-and-paste function.
Users get more tools to manage battery life through easy-to-understand usage displays and customizable power-saving options.
Managing apps is simple with a menu that displays active applications, along with their current battery and memory use.
Android 2.3 integrates with a user's Session Initiation Protocol (SIP) account to provide internet calling.
Gingerbread is fully integrated with Google Mobile™ Services such as Gmail™, Google Talk™, and Google Maps™ and Navigation, and includes an updated Voice Actions application.
The Android platform can be infinitely customized with apps, games, and music downloads from Android Market™.

Media Hub
The Epic™ 4G Touch connects users with their favorite TV shows and movies, including those available in the exclusive Samsung Media Hub.
Users can buy TV show episodes and rent or buy movies on the Media Hub – and begin watching immediately with progressive download.
Media Hub is connected with the user's account, not their device, so if their Epic 4G Touch is ever lost or stolen, they can download all their Media Hub purchases onto their new device at no charge.
Users can connect up to five devices on a Media Hub account to share user generated content.
An optional HDMI adapter lets users share content with HDTVs and monitors at up to 1080p.
With the Sprint TVsm app, users can watch live and on-demand TV shows from both free and premium channels.
The downloadable Blockbuster® app offers another source for users to rent and buy movies, often on the same day the DVD is released.

8.0 MP Rear-Facing Camera/2.0 MP Front-Facing Camera for Video Chat
The Epic™ 4G Touch's 2.0 megapixel front-facing camera lets users video chat with friends and family, even when they're miles away.
Download Qik to chat with other Qik users or leave video mail for non-Qik users.
Google Talk™ allows users to video chat with their Google™ contacts, whether their contacts are on a mobile phone or a computer.
Aspiring photographers will appreciate the powerful 8.0 megapixel rear-facing camera and HD camcorder, with a built-in LED light that acts as both the camera flash and a steady light for video recording.
The camcorder can record High-Profile video standard for playback on an HDTV.

Integrated Social Networking with Social Hub
Enhanced interfaces in Samsung Social Hub, Contacts, and Calendar on the Epic™ 4G Touch make it easier for customers to connect with friends, send messages, and manage their events and social networks.
Users can send and receive instant messages, text and multimedia messages, emails, and social networking messages with the unified composer and unified inbox.
Messages are delivered instantly with push service, including always-on push instant messaging.
Users can see incoming messages in the email widget and in the Notifications Panel.
Social networking feeds from Twitter™, Facebook®, and LinkedIn® are aggregated in Social Hub so that the user never has to open the browser to answer messages, post status updates, leave comments, re-tweet, and "like" friends' posts.
In Contacts, see detailed information about each contact, including messaging and call history, social networking activities, online photo albums, and IM and video chat availability.
Multiple calendars are integrated and color-coded in the Calendar app. Users can also create their own events, sync them with online calendars, invite friends, and track RSVPs.