January 9, 2012 at 2:15 pm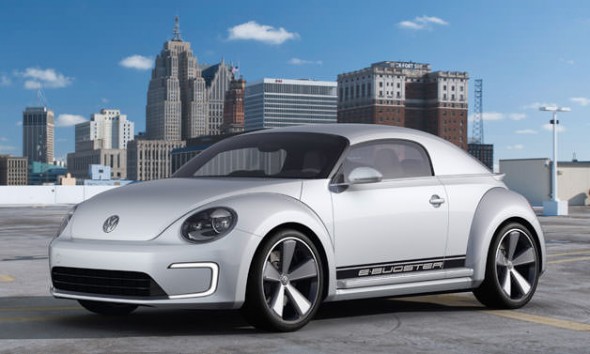 It's a sign of our times that many recent concept cars bear green credentials. Volkswagen's E-Bugster concept is an all-electric Beetle with some Gotham City looks and some serious power under the hood and in the derrière. The E-Bugster houses a 114-horsepower electric motor with some generous 199 lb-ft of torque. The 695 pound lithium-ion battery, which is fitted under the rear seat and trunk floor, gives the car a 100-mile range.
The E-Bugster is three inches lower than the Beetle, and together with the 20-inch wheels and LED daytime running lights it should make for quite a sight — if not any sound thanks to its all electric credentials. Inside you will find an energy consumption display instead of a tachometer, driving range and battery charge indicators. The recharging plug rests inside the VW logo on the hood and can charge from level 1 (120 volts), level 2 (240 volts), and level 3 (400-volt quick charge providing 80 percent charge in 30 minutes) outlets.