November 4, 2011 at 12:42 pm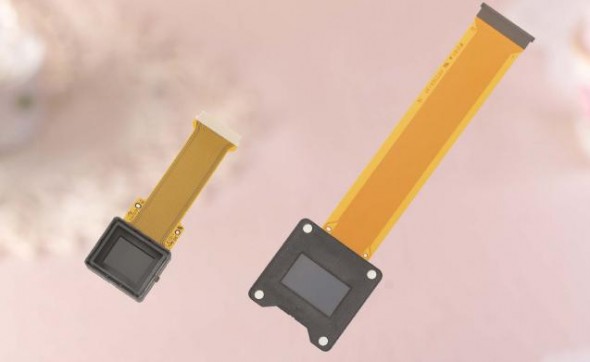 Sony has just reminded us of its recent accomplishments in organic EL display technology and, well, just how awesome its duo of small OLED displays is. Sony had announced its pair of high resolution OLED panels back in late August, which have since found their way into the company's latest digital cameras and 3D head mounted display.
First you have the 0.5-inch ECX331A XGA (1024×768) panel, which has taken its place in electronic viewfinders (EVFs) and is one of the major selling points of the Sony A77 and A65 DSLT cameras and the NEX-7 mirrorless interchangeable-lens camera. The slightly larger, 0.7-inch ECX322A 720p HD (1280×720) can be found in the equally exciting Sony HMZ-T1 OLED 3D head-mounted display.
What's so special about these OLED panels? Well, they offer a wide color gamut (90% of NTSC), high 10,000:1 contrast ratio, and fast 0.01ms response time, with 200 cd/m2 brightness. More importantly they pack an insane amount of pixels in a small area.
To put things into perspective, the 0.5″ ECX331A with a resolution of 1024×768 (RGB) has a pixel pitch of just 9.9μm. In comparison, the iPhone 4S with a 3.5″ 960×640 resolution retina display has a pixel pitch of 77.1μm. In layman terms, pixel pitch measures the size of a pixel; the smaller it is the harder it will be for your eyes to distinguish between them and the sharper and more lifelike the image. That means that each individual pixel (made up of three subpixels, Red, Green and Blue) on Sony's OLED panel is almost 8 times smaller than that of the iPhone 4S display. This makes them ideal for applications where you need a compact design and you would put your eyes very close to the display, such as EVFs and head-mounted displays.
continue reading