November 7, 2011 at 5:20 am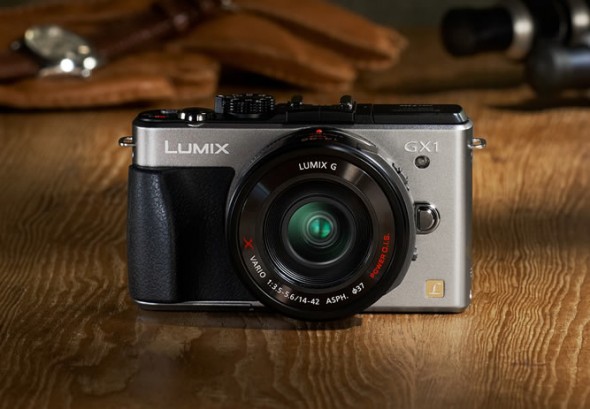 The Panasonic Lumix GX1 Micro Four Thirds (MFT) mirrorless interchangeable lens camera (MILC) has been officially announced. We first saw the true successor of the venerable GF1 in October, while yesterday we managed to catch a good look of the high-end compact GX1 in Panasonic's presentation video. Specifications are exactly as we had initially reported.
The Lumix GX1 has a 16-megapixel Live MOS sensor, the same that can be found in the Panasonic G3. This would mean more detail but less high ISO noise than the 12-megapixel sensor found in the GF3 (and of course the much older GF1). On the back ,you'll find a 3-inch 460k dot touchscreen LCD; similar to other Panasonic offerings, you can touch-focus using the screen. You can also control the Lumix X Power Zoom lenses with the touchscreen. The camera uses contrast autofocus, with Panasonic claiming its as fast as 0.09 seconds. The GX1 can shoot up to ISO 12,800 and supports 1080p video in MP4 (20Mbps) and 1080i60 in AVCHD (17Mbps). We're glad to see that it includes a stereo microphone and an accessory shoe which can host an electronic viewfinder or external flash.
Together with the camera, Panasonic announced the DMW-LVF2, a new 1,440k dot, 90 degree tilting, electronic viewfinder (EVF). The LVF2 offers more than seven times the effective pixels of the older LVF1 (with 202k dots). Unfortunately the LVF2 will not be compatible with any of the current GF-line cameras, (GF3, GF2, GF1); the LVF2 has a different set of connector which are essential in order to support the higher data transfer rate necessary for its higher resolution.
The GX1 is housed in an aluminium body, similar to the GF1, has metal buttons and a substantial textured handgrip. In terms of controls you have a typical Panasonic arrangement with two physical customizable function buttons, a mode dial, while it's only missing the drive mode selector from the GF1. Though, remember, you can control aspects of the camera using the touchscreen as well, if you so choose. Panasonic has, for the first time, included a horizontal and vertical angle level gauge which will be displayed both in portrait and vertical use.
continue reading