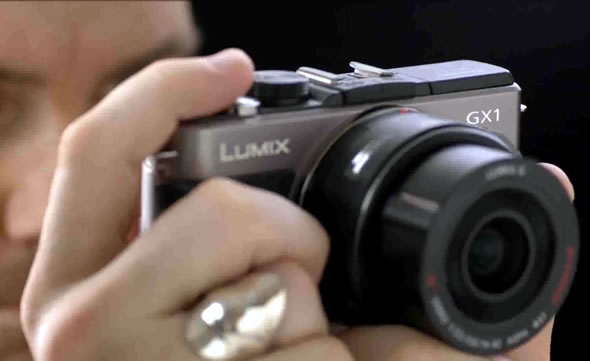 Panasonic has just released a number of teaser videos for its upcoming GF1 successor, the Panasonic Lumix DMC-GX1 Micro Four Thirds digital camera. We first broke the news of the GX1 in October and the company's, now official promotional video, confirms our initial specifications.
The Panasonic GX1 will have a 16-megapixel sensor, probably the same as the Panasonic G3, and a new Venus engine. It will offer a super fast 0.09 second contrast auto-focus. The main screen is a 3-inch LCD with a 460k pixel resolution, and as we guessed, it will be a touchscreen for touch autofocus, similar to other recent Panasonic offerings.
There will be a new external electronic viewfinder (EVF) with 1,440k dots (against a paltry 202k of the original LVF1) and it will be offered in silver and black. While we weren't too excited when we first saw the all black boxy design of the GX1, it looks way sexier in the official video with the silver metal body and oversized black handgrip.
In the video, which you'll find after the break, the GX1 is paired with the new X series lens, the collapsible power zoom LUMIX G X VARIO PZ 14-42mm. There is also another video after the break showing a movie shot using the GX1 with a new miniature / time lapse effect, similar to the Panasonic LX5's miniature effect.

To sum it up, here is what we know:
16-megapixel Live MOS sensor (probably the same as the Panasonic G3).
New Venus engine.
3-inch 460k touchscreen LCD screen.
Fast 0.09 second contrast AF.
Built-in articulating flash.
Oversized handgrip.
Smaller than the Panasonic GF1.
Will come in silver and black.
Teaser video
Miniature effect video shot with the GX1
[
Panasonic
]