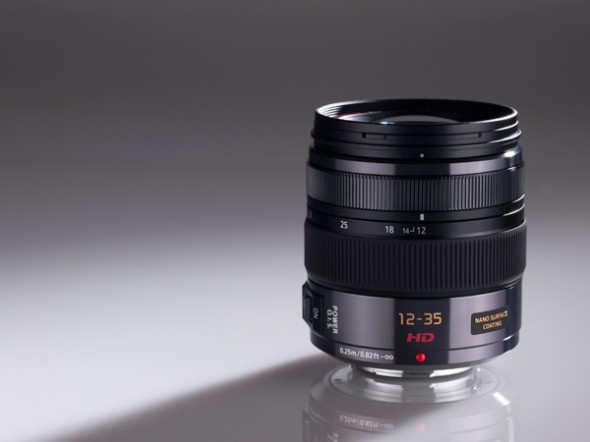 We first saw the Panasonic 12-35mm f/2.8 Micro Four Thirds lens at CES this year, but back then it was still a concept. Today Panasonic has officially announced the new lens which should begin shipping in late July, though the US release date seems to fall sometime in August.
This is the first fast constant aperture zoom lens for the Micro Four Thirds mirrorless camera system, so this is big news for fans of the system. The Lumix G X Vario 12-35mm f/2.8 lens belongs to the Panasonic's premium X lens series and with an equivalent 24-70mm focal length on a full-frame camera it covers a nice range from wide to short telefocus.

Being a Micro Four Thirds lens it's much smaller than equivalent APS-C DSLR lenses. We're looking at a total length of 73.8mm (2.9inch) and a weight of 305g (10.8oz). The lens is made of premium plastic and a metal mount and it's also weather sealed, making it an ideal match for the Olympus OM-D E-M5 (or at least until Panasonic releases its own weather sealed camera). The lens also has optical image stabilization and a silent focusing motor.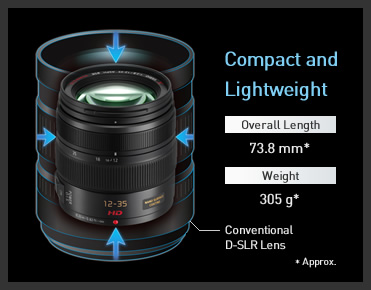 In terms of design you are looking at 14 lens elements (4 aspherical) in 9 groups and a 7-bladed circular diaphragm. The filter size is 58mm.
As we had previously reported the lens should retail for around $1,300 in the US, £999 in the UK and €1,100 in Europe, which is in line with pro-level 24-70mm equivalent zoom lenses for other systems.
The lens has already received a couple of favorable reviews, with both ePHOTOzine and DSLRmagazine (Spanish) praising it for its overall excellent sharpness, low distortion even at 12mm and general absence of chromatic aberrations.
UPDATE: Pre-orders are already up for the US here.
[
Panasonic
, top image credit: DSLRmagazine]