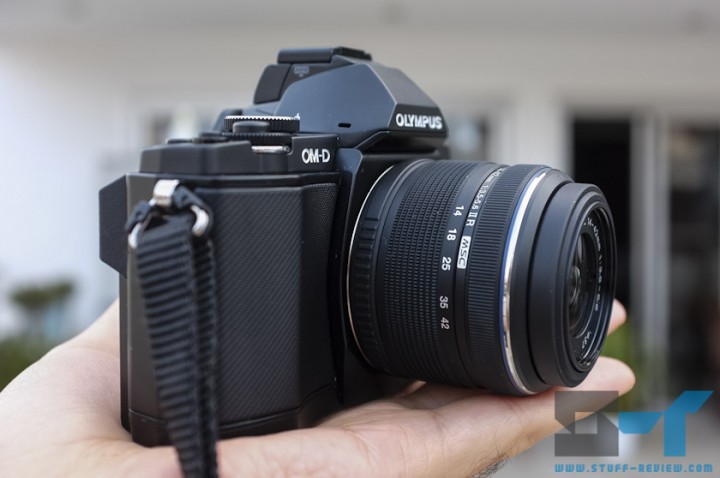 We finally have the Olympus OM-D E-M5 with us, and anyone not familiar with this small Micro Four Thirds wonder camera can check out our entire coverage here. Note that we've opted for the $1,099 kit with the 14-42mm lens and we'll be taking the camera through its paces over the coming weeks.
As we like to spend some time with a gadget before we review it, I thought it would be wise to bring you some first impressions of this mirrorless interchangeable lens camera after a few days of use.
There's a lot to like with this camera, Olympus has thrown everything but the kitchen sink into it, and it's a serious contender against even much bigger DSLRs. Still there are a couple of niggles, but read on for our first impressions.

---
It's small, smaller than I thought it would be. It's incredible that Olympus has been able to stuff such an advanced in-body image stabilization (IBIS) system inside, include a tilting rear display and also make it weather sealed.
I'm struggling to think of a smaller weather sealed interchangeable lens digital camera, the ones I know are not even close by a long shot, but help me out if you are aware of a smaller one.
There are certainly smaller mirrorless cameras out there but the E-M5 strikes a good balance of not being too small. You can see a size comparison of the E-M5 with other mirrorless cameras here.
---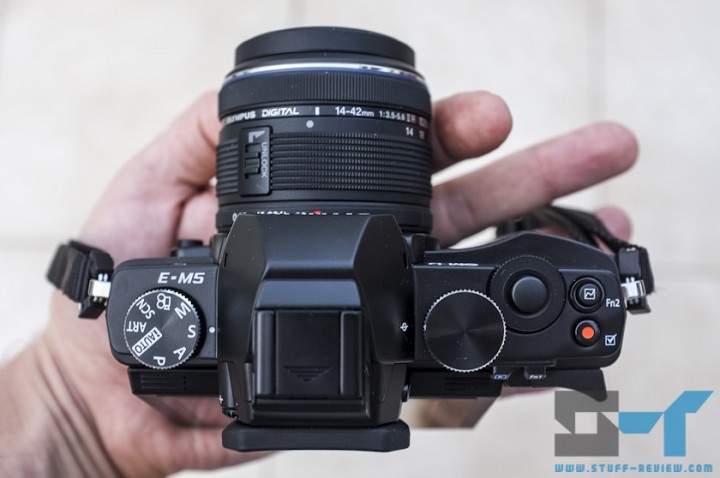 ---
It looks amazing as you can see in the pictures. The top hump isn't too much of a bother, though I could have lived more happily with a smaller one.
---
The front grip is small and impossible to wrap your fingers around it, though the back thumb rest really helps. Not advisable to hold only with your right hand, and you shouldn't. With the weight of the E-M5 resting in the palm of your left hand you have a solid grip on the camera.
The optional front grip, going as HLD-6, is a good addition for a better grip, though would make the Fn2 function button harder to use.
---
Build quality is top notch. The magnesium body feels reassuring; the top dials are nicely tactile, my only issue is with the back buttons.
The buttons are tiny, especially the four-way direction keys. I would certainly have preferred a beefier click wheel instead. This is in fact the biggest negative I can think of in terms of build and handling.
---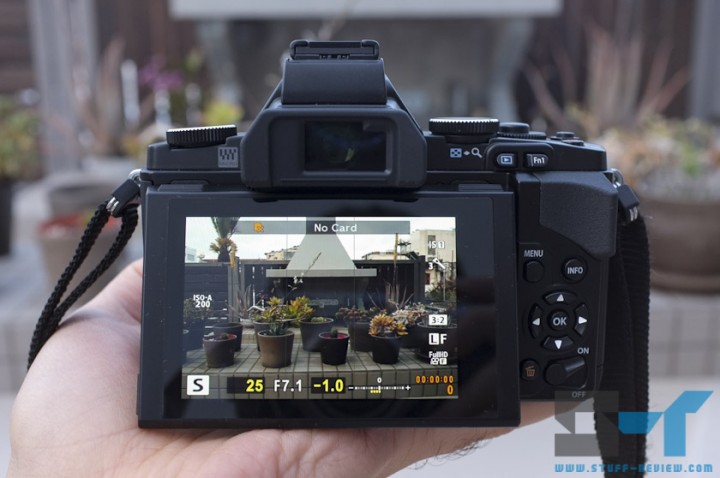 ---
To make up for hard to press back buttons, Olympus offers powerful customization options. You can customize every aspect of the camera, but you need to invest some time first to get the camera to function to your liking.
Several useful functions are not enabled by default, like MF assist that enlarges the view to help you focus manually. The E-M5's factory setup is not the most effective and many settings are also hidden in obscure long menus, so RTFM.
I've setup the E-M5 as follows Fn1: manual focus/AF switch; Fn2: ISO; Down Arrow: drive mode; Right Arrow: white balance.
---
The 800×600 pixel 1.44-million dot EVF is good, better than the Panasonic ones. It's not however up to the standards of the 2.4-million dot OLED EVF found in the Sony NEX-7 and A65 and A77. The Sony EVF really challenges even optical viewfinders, and it would have been ideal if Olympus had opted for it rather than this one made by Epson.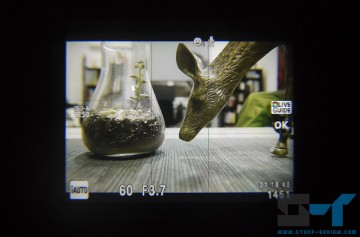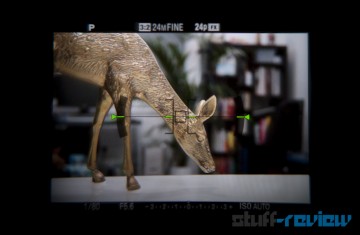 ---
The unique new 5-axis IBIS is awesome. It gives a real benefit in getting sharp images with lower shutter speeds. The 45mm Olympus prime would be ideal with IBIS for example, I can easily take sharp photos at 1/15th sec.
It also gives you amazing lens flexibility; imagine all those 3rd party long reach lenses that you can adapt to work on Micro Four Thirds. IBIS is by far my favorite feature of the E-M5.
---
The IBIS humming noise is there. In a relatively quiet room it's barely noticeable at 20 inches (50cm) and noticeable starting from 12 inches (30cm), i.e. if you put your ear close to the camera. My best approximation of how it sounds is a small cooling fan (though it's not, it's just from the IBIS as mentioned). The sound disappears in movie mode. It's not a major issue and will not affect your use of the camera.
---
Shutter sound is quieter than other cameras and it sounds pleasing though not as quiet as the ultra-silent Fujifilm X100, which we've reviewed in detail here.
---
Autofocus is very fast and accurate in good light. The fastest of any MFT I've ever tested. It becomes slower in dim light and you need to find a contrast point to focus on, but it's still relatively fast. Even autofocusing with the Olympus 35mm f/3.5 Four Thirds macro lens is acceptable.
---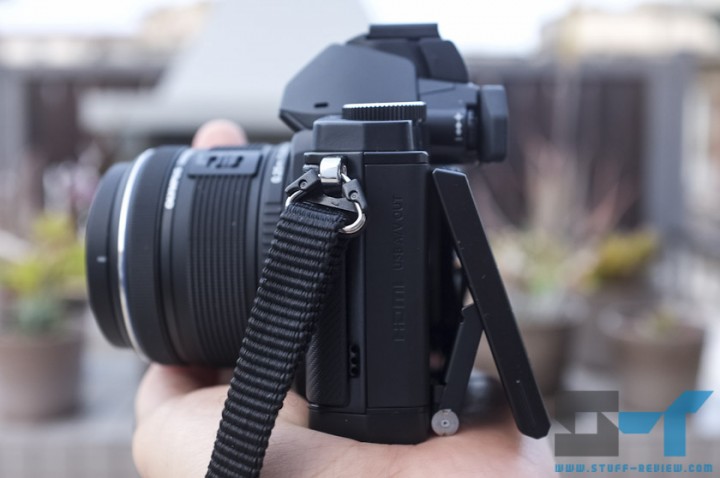 ---
I won't go into too much depth in image quality for now, but it's sufficient to say that it's up to APS-C sensor size standards, i.e. can easily challenge the Sony NEX-7 — but unlike APS-C cameras you get a small body and tiny lenses too.
Out of the camera JPEGs are really good, as will most Olympus cameras.
High ISO performance is incredible for a Micro Four Thirds shooter, more than a generation leap in my opinion, and is able to challenge any crop sensor mirrorless camera, though I still give the advantage to the Fuji X100 for low-light performance.
---
Video quality is good and image stabilization works wonders here. Biggest issue is that it tends to focus hunt too much.
---
Well, this is it for first impressions with the Olympus OM-D E-M5. Be to sure to share your views or fire off any questions you may have.
We'll be coming back with a more detailed overview soon.