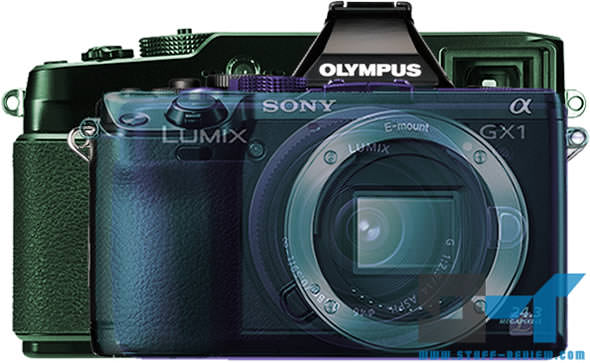 If you are a friend of mirrorless digital cameras it probably means that compactness is high on your priority list. Though much info has been coming in on the autofocus speed and high-ISO performance of the newly announced Olympus OM-D E-M5 Micro Four Thirds (MFT) camera, we haven't really tackled its size compared to other mirrorless camera.

The Olympus E-M5 is trying to be two things at once, appeal to a more pro-level audience, with weather-sealing and an integrated viewfinder, while still retaining MFT's smaller footprint. To make things easier for you in gauging the E-M5's size, we've created composite images using the published dimensions of the Olympus E-M5 and three other very popular high-end mirrorless cameras, the Sony NEX-7, fellow MFT Panasonic GX1 and the Fujifilm X-Pro1. Note that you can access our spec comparison of the four cameras here.

The solid line in the images shows the size of the E-M5 while the dotted line corresponds to the size of the smallest camera — you can click on the images to enlarge. Overall, the Olympus E-M5 isn't much bigger than the GX1 or the NEX-7, while the X-Pro1 is whole different beast. The main feature that makes the E-M5 seem bigger than the first two is the centered hump, which houses the viewfinder and accessory port.
As you can see from the image below, the E-M5's body, without the hump, is pretty much the same height as the NEX-7 and GX1. Mind you that the Sony also has a built-in EVF and an articulating screen, but is the shortest camera of the bunch. So why on earth did Olympus decide to include such an eyesore. Well, it's been suggested that Olympus had to move the electronics for the EVF and accessory port into the hump as the 5-axis sensor shift IBIS (in-body image stabilization) takes a whole lot of space inside the main body. The E-M5 is the only one to offer IBIS from the bunch and personally I'm pretty excited to try it out.
The image below finally shows that the E-M5 is about the same length as the NEX-7 and not too far of from the GX1. The Fujifilm X-Pro1 is the longest. But what about thickness? The four cameras don't differ much in this regard, the E-M5, NEX-7 and X-Pro1 all measure 1.7 inches, while the GX1 is a hair thinner at 1.6 inches.