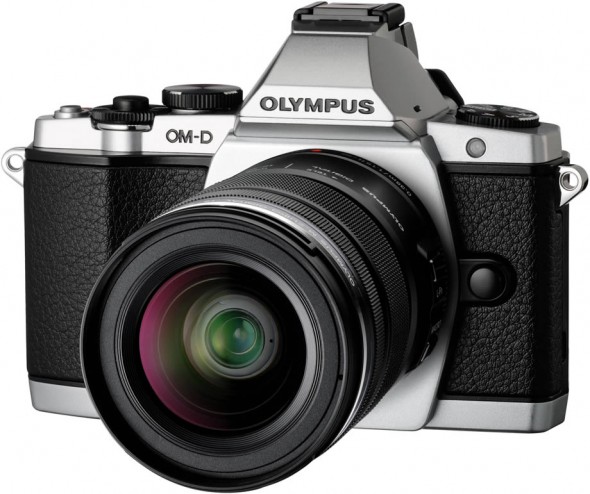 After weeks of speculation, the new Olympus E-M5 Micro Four Thirds (MFT) digital camera has been announced today as part of the company's new OM-D line. If you've been following our coverage so far, then you're pretty much already briefed on what you can expect from the new Olympus E-M5.
First off, Olympus considered the E-M5 too good for the existing PEN series, so it has created the new OM-D line, borrowing a bit of nostalgia from its original 35mm film OM system. The OM-D line still belongs to the Micro Four Thirds system of digital mirrorless interchangeable lens cameras (MILCs), and a large part of the appeal of the E-M5 is the large selection of MFT lenses.

We mentioned the original OM series, which was launched back in 1972, and the new OM-D E-M5 has inherited a bit more than just the name. The design of the E-M5 is a tribute to those legendary film cameras, with Olympus going as far as giving the camera a fake pentaprism hump at the top. The hump does serve a purpose, and that is to house the built-in electronic viewfinder (EVF), although we have a feeling that Olympus might have gone a bit overboard with its size. After all you won't find a pop-out flash in there, though you can certainly mount one.
Talking of an EVF, this is the first rangefinder-style Micro Four Thirds camera with a built-in viewfinder. The EM-5 is also the first weather-sealed MFT camera (dust and splash-proof), with Olympus obviously pitching it as a more pro-level shooter. As we've seen already, you can also attach a horizontal grip to the E-M5, to give it a DSLR-style handle, or a vertical battery grip.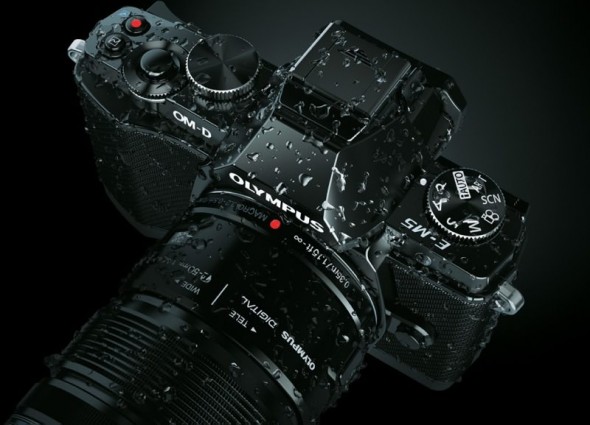 We're pretty sure you'll want to hear more about what this baby can actually do. The camera has a Micro Four Thirds size 16.1-megapixel sensor that features the world's first 5-axis image stabilisation (shift on different axis but also rotating). Even more amazing is the new autofocus system, which Olympus is claiming to be the fastest ever in any interchangeable lens camera, and that includes top of the line DSLRs. That's a pretty bold claim, as mirrorless cameras have to rely solely on the sensor for autofocus, so they typically lag DSLR cameras in speed. Even if what Olympus is saying is only partly true, it would still beat other mirrorless cameras.
Olympus is claiming improved low-light performance over the PEN E-P3, though it's not clear yet if the E-M5 has a completely new sensor or the same sensor as the Panasonic GX1 and G3, or a tweaked version of it. In any case, the OM-D E-M5 has a sensitivity range of ISO 100-25,600 and a TruePic VI image processor. The camera is capable of burst shooting up to 9 fps for single autofocus or 4.2 fps for continuous autofocus — pretty impressive for this type of camera. It can also do 1080i60, 720p60 MPEG-4 AVC/H.264 video.
We've talked about the EVF, which is centered at the top and displays 1,440k dots with a fast 120 fps refresh rate — though the Sony NEX-7 beats it, with the amazing 2,400k dot OLED EVF. On the back of the E-M5 you'll find a bright 610k dot 3-inch OLED touchscreen display; you can use the screen for touch focus for example. In terms of controls you get two programmable dials and dedicated function buttons.
The magnesium alloy body measures 4.8 x 3.5 x 1.69 inches (122 x 89 x 43 mm) and weighs 14.99 oz (425 g) with the battery. The E-M5 is about as wide as both the Olympus E-P3 and Sony NEX-7, but way taller (20-22 mm / 0.8-0.9 inch) because of its pyramid hump.
The E-M5 will start shipping in April but you can already pre-order it from Amazon US here for $999.99 body-only, $1,099.99 with the 14-42mm f/3.5-5.6 standard zoom lens kit or $1,299.99 with the weather-sealed 12-50mm f/3.5-6.3 EZ power-zoom lens. In the UK you can currently pre-order it from Jessops here, starting at £999.95 for body-only.
The E-M5 is squarely pitted against the Fujifilm X-Pro1, the Sony NEX-7 and the Panasonic GX1. You can check out a comparison between all four here.
Together with the camera, Olympus announced two new Micro Four Thirds lenses that will be released later in the year, the M.Zuiko Digital ED 75mm f1.8 and the M.Zuiko Digital ED 60mm f2.8 macro lenses. There will also be a new weather-sealed Four Thirds mount and a host of other accessories.