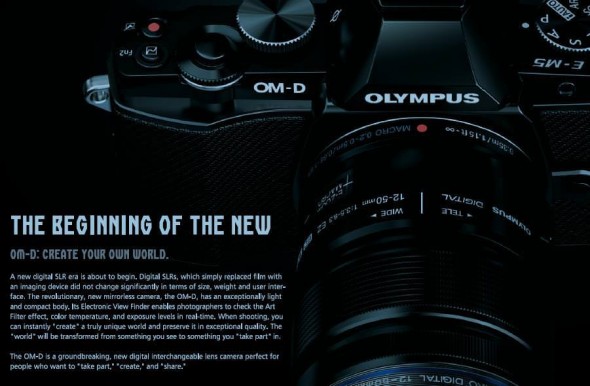 It's been a teaser campaign alright. We first caught wind of the rumored Olympus OM-D mirrorless interchangeable lens camera (MILC) when the company registered it as a trademark with the US Patent and Office at the beginning of the year together with the start of the "OH MY GOODNESS!" campaign.
Ever since, we've been getting little, tiny, bite-sized pieces of information, such as the first rumored specs and the first leaked pictures. It's been a long road however, up to rumored February 8th announcement for the CP+ 2012 camera show in Yokohama, Japan.

Well we now have a better view of what the camera will look like thanks to a supposed leak of an Olympus OM-D brochure (click on image above to enlarge). Despite the curious EM-5 marking and the badly-worded and hyperbole-loaded mumble in the brochure, the overall look of the camera matches previous leaks, so we will file this into probable. The OM-D is following the trend of all-black retro-style cameras pioneered by the Fujifilm X-Pro1 and X10.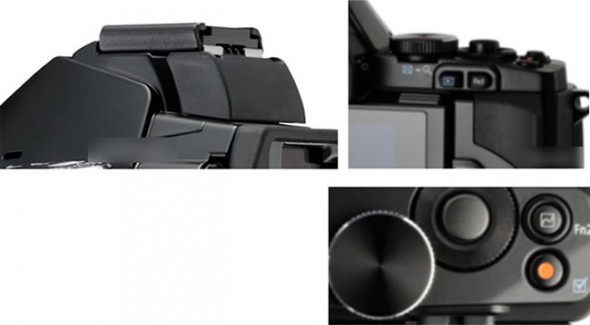 The Olympus OM-D is said take a very special place in the Micro Four Thirds range of cameras. Ever since the launch of the Micro Four Thirds system, users have been clamoring for a pro-level rangefinder-style camera. By pro-level, we mean a weather-sealed camera with an integrated viewfinder, and the Olympus OM-D is said to deliver all that. While the Fuji X-Pro1 selling for $1,700 will be out of reach for most, the OM-D is said to go for around $1,100 — still expensive but at least approachable.
To recap here are the rumored specs so far:
Micro Four Thirds system camera
Styled similar to the classic OM film cameras
16.05-megapixel sensor
ISO 200 to 25,600
Built-in 1,440K dot electronic viewfinder
610k 3-inch OLED screen
New 5-axis in-body stabilization and auto-focus systems
Water and dust sealed magnesium body
121mm thickness and 425g weight
To come in black and white with a late March release date
Priced around $1,100 or €1,000
[via
Blogspot
]