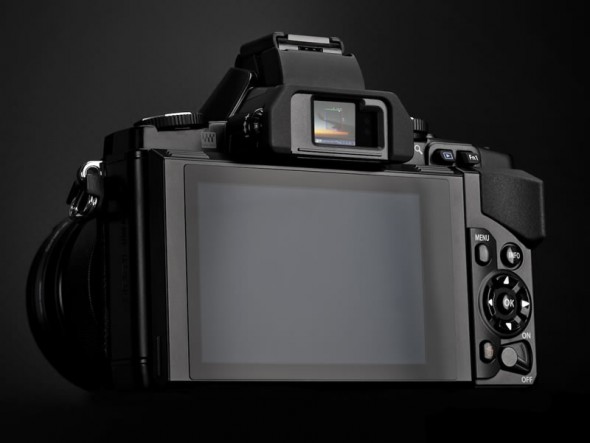 We needn't say much on the state of the competition in the compact mirrorless interchangeable lens camera (MILCs) space. In the short period of a few months we've seen the release of some pretty amazing high-end mirrorless shooters with very distinct design and engineering decisions and featuring a number of innovations.
The latest entrant is the Olympus OM-D E-M5 Micro Four Thirds (MFT) digital camera that has claimed a number of firsts. It's the first MFT rangefinder-style camera with a built-in EVF and the first with a weather-sealed body, it is also the first ever camera with 5-axis image stabilization, while Olympus is claiming that the camera has the fastest autofocus of any interchangeable lens camera.

It's hard not to mention its looks, inheriting the design of the old Olympus OM series of film cameras. Fujifilm established this design trend with the X100, X10 and X-Pro1 but it's Olympus that's mainly responsible for the revival of retro-looking cameras, with the release back in 2009 of the PEN E-P1. Make no mistake however, this latest bunch of mirrorless cameras is miles ahead of the initial pair of Micro Four Thirds cameras that started the mirrorless craze just over 3 years ago.
Below, we've compiled a comparison table between the four most popular high-end mirrorless shooters: the Olympus E-M5, Fujifilm X-Pro1, Panasonic GX1 and the Sony NEX-7. We would note, that there is one new and apparently very capable competitor missing from this comparison and that's the Pentax K-01 that can take all the standard Pentax K-mount lenses, we hope to include this MILC in a future comparison.
Olympus OM-D E-M5
Fujifilm X-Pro1
Panasonic Lumix DMC-GX1
Sony NEX-7
Sensor (effective resolution and size)
16.1-megapixel 4/3 Live MOS
16.3-megapixel ASC-C
X-Trans CMOS
16-megapixel 4/3 Live MOS
24.3-megapixel APS-C Exmor HD CMOS
17.3mm x 13.0mm
23.6 x 15.6mm
17.3 x 13.0mm
23.5mm x 15.6mm
Focal-length multiplier
2.0x
1.5x
2.0x
1.5x
Sensitivity range
ISO 200-25,600
ISO 200-6,400 (100-25,600 extended)
ISO 160-12,800
ISO 100-16,000
Continuous shooting
9 fps
4.2 fps continuous AF
6 fps
4.2 fps
10 fps
Viewfinder
/ effective magnification
1440k dots EVF with eye sensor
100% view / 1.15x magnification
Second generation hybrid optical /electronic

OVF 0.37x and 0.6x magnification depending on lens 90% coverage

EVF 1440 dots 100% view

Optional external EVF 1440k dots 100% view
2359k dots OLED EVF with eye sensor
100% view /
1.09x with 50mm lens
Autofocus
35-area contrast AF
Touch AF
49-point contrast AF
23-point contrast AF
0.09-seconds
Touch AF
25-point contrast AF
Shutter speed
60-1/4,000 sec; live bulb max 60 min
30-1/4,000 sec; bulb max 60 min
60-1/4,000 sec; bulb max 2 min
30-1/4,000 sec; bulb
Metering
324 zones
256 zones
144 zones
1,200 zones
Flash
External
External
Yes
Yes
Image stabilization
5-axis sensor shift
None
None (lens)
None (lens)
Lenses
Micro Four Thirds

Four Thirds with adapter

X mount

Leica M with adapter

Micro Four Thirds

Four Thirds with adapter

E-mount
Alpha-mount with adapter
Lens ecosystem
6 prime
1 macro
1 fisheye
15 zoom
1 3D lens
2 prime
1 macro
6 prime
1 macro
1 fisheye
15 zoom
1 3D lens
3 prime
1 macro
3 zoom
Video
1080i60 MOV 20Mbps
1080i60 MOV 17Mbps

720p60 MOV 17Mbps
720p60 MOV 13Mbps

1080p24, 720p24
1080p30(25 PAL) 20Mbps MP4

1080i60 17Mbps AVCHD

1080p60 AVCHD 28Mbps

1080p24 24Mbps

1080i60 17Mbps

Audio
Stereo; mic input
Stereo
Stereo; mic input
Stereo; mic input
LCD size
3-inch 614k dots tilting touch OLED
3-inch 1,230k dots RGBW (White) LCD
3-inch 460k dots fixed touch LCD
3-inch 922k dots tilting LCD
Battery life (CIPA rating)
330 shots
300 shots
300-340 shots
410 shots
Dimensions
4.8 x 3.5 x 1.7 in
(121 x 90 x 42 mm)
5.5 x 3.2 x 1.7 in
(140 x 82 x 43 mm)
4.6 x 2.7 x 1.6 in
(116 x 68 x 39 mm)
4.8 x 2.6 x 1.7 in
(120 x 67 x 43 mm)
Body weight including card and battery
14.0 oz (425g)
15.9 oz (450g)
11.2 oz (318g)
12.3 oz (350g)
Body material

Magnesium alloy

Aluminium and magnesium alloy
Aluminium with metal buttons
Magnesium alloy
Ruggediza-tion
Weather-sealed
MSRP
$1,000 (body only)
$1,700 (body only)
$700 (body only)
$1,200 (body only)
$1,100 (with 14-42mm kit lens)
$2,300 (with 35mm f1.4 kit lens)
$800 (with 14-42mm kit lens)
$1,350 (18-55mm kit lens)
$1,300 (with 12-50mm power zoom lens)
$950 (with 14-42mm X power zoom lens)
Release date
April 2012
March 2012
December 2011
December 2011
© Stuff-Review