November 5, 2011 at 2:14 pm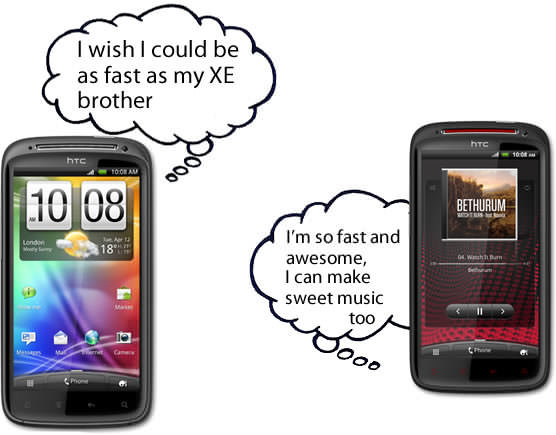 You've recently got a shiny new HTC Sensation or Sensation 4G and there goes HTC tweaking it and releasing the Sensation XE. Well, you can actually convert the Sensation (4G) to a Sensation XE by investing half an hour of your time, and flexing your rooting skills. The hardware in the two handsets is essentially the same, as we've seen in our initial coverage, the XE simply has the same dual-core processor running at its default 1.5GHz speed (against 1.2GHz for the original), includes a custom Beats by Dr. Dre sound profile and a bigger battery.
You can get the improvements by installing a custom ROM, Android Revolution HD, for the Sensation, which among other things, allows the processor to run at 1.51GHz as a default, includes the Beats audio profile and a tweaked Adreno 200 graphics configuration to boot. Only thing missing is the bigger battery, but you can grab a tried and test 1900mAh Anker one from Amazon US or Amazon UK.
A word to the wise here, rooting your smartphone is risky, you could end up with a dead device and/or invalidate your warranty. Use the instructions below at your own risk.
Upgrading your Sensation or Sensation 4G to a Sensation XE involves, three steps. First, you must unlock the bootloader (from S-ON to S-OFF) so that you can install custom ROMs. Then, you have to install ClockworkMod recovery, which you will use to install custom ROMs, and finally, flash the Android Revolution HD ROM. Charge your Sensation and head after the break for the full instructions.
continue reading