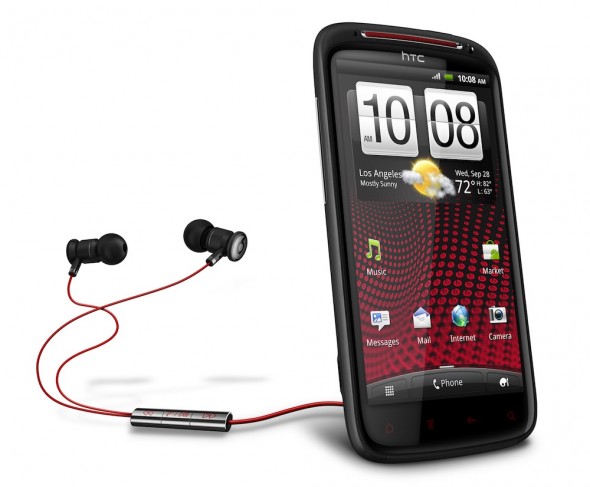 The rumored special edition of the HTC Sensation just became official. The HTC Sensation XE will be the first handset from the company bearing the fruits of its partnership with Beats Electronics. The handset features a new red and black design (if that's your thing) and will come together with a pair of matching Beats by Dr. Dre earphones.
When the in-ear headphones are connected, the handset switches to a custom Beats by Dr. Dre sound profile, which, HTC claims delivers audio tuned specifically for them. The Sensation XE features a higher clocked CPU, with the processor running at 1.5GHz (instead of 1.2GHz for the original Sensation). Most important, for us, is the inclusion of a higher capacity, 1730mAh battery. Hopefully the Sensation XE will be able to last a whole day with one charge; while hopefully, original Sensation owners will be able to buy it for their handset as well.
We'd also like to get the Sensation XE in our hands to test if HTC has fixed the infamous death-grip issue on the refreshed handset.
The smartphone will be available in Europe, Middle East, Africa and Asia in late September. Full PR after the break.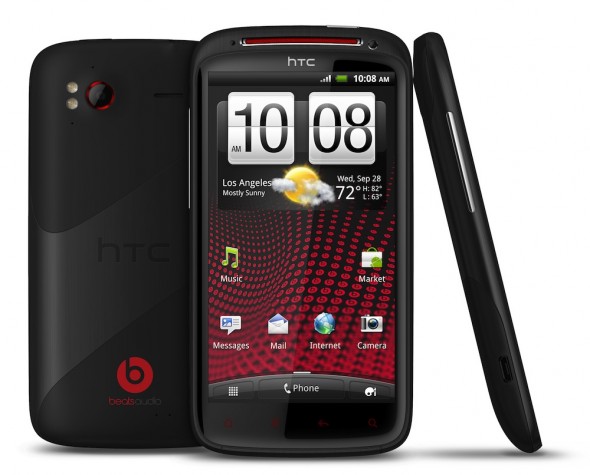 Press release:
HTC AND BEATS INTRODUCE NEW HTC SENSATION XE, THE FIRST PHONE WITH INTEGRATED BEATS AUDIO

New 1.5 GHz dual core processor and longer battery life extend the HTC Sensation XE's sophistication and overall experience.

TAOYUAN, TAIWAN – September 14, 2011 – HTC Corporation, a global designer of mobile devices, today unveiled the new HTC Sensation XE – the first in a new line of HTC smartphones to feature Beats Audio technology to deliver studio quality audio. Taking HTC's flagship handset to a new level of high fidelity audio, the HTC Sensation XE offers consumers the ultimate multimedia experience, setting a new standard for audio quality in the mobile market. In addition, the HTC Sensation XE boosts performance and battery life even further with the addition of a blazing fast 1.5GHz dual core processor and an extended battery that enables you to listen, watch, speak and browse for even longer.

"Audio is a crucial part of any consumer's mobile experience and we are continually pushing the audio boundaries to encompass not only improved voice but music, movies and games," said Jason Mackenzie, president of global sales and marketing, HTC Corporation. "The HTC Sensation XE offers a truly incredible experience that demonstrates our commitment to place consumers at the center of their mobile worlds."

The ultimate audio experience

The HTC Sensation XE is the first handset to offer a Beats Audio experience – a combination of software & hardware that allows you to hear music the way the artist intended. When used with the exclusive Beats by Dr. Dre in-ear headphones, the handset automatically switches to the bespoke Beats by Dr. Dre sound profile, delivering audio tracks tuned specifically for the headphones.

Whether you are using any of the many music services available in the Android market you will notice fuller bass and crisper vocals and a new level of clarity and range offering audio the way the artist intended it to be heard.

Beats Headphones

The HTC Sensation XE also ships with a microSD card (8GB/16GB) allowing you to carry thousands of songs. The exclusive Beats by Dr. Dre in-ear headphones feature a remote control, allowing you to pause, play or skip through tracks and answer/end calls while the phone is in your pocket.

Availability

HTC Sensation XE will be available across EMEA and Asia Pacific from late September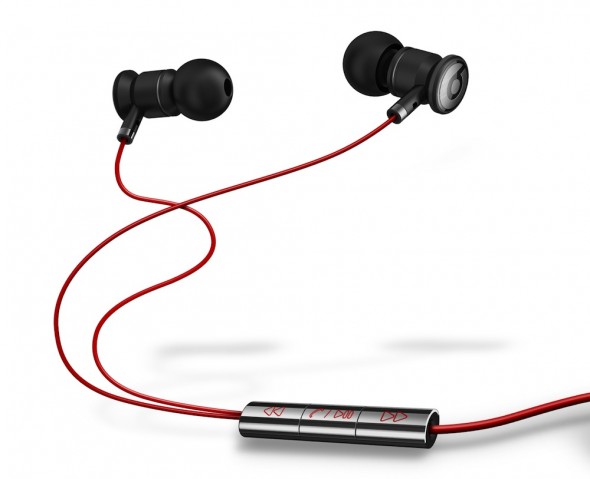 [
HTC
]