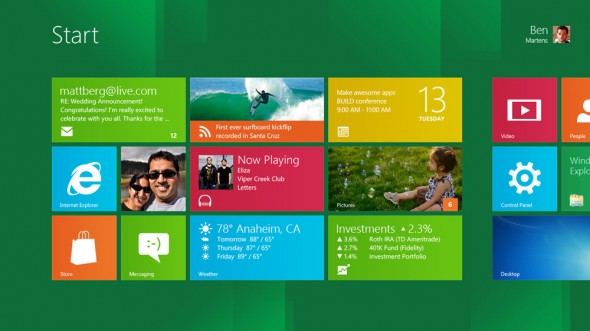 Microsoft just showed-off the next big version of Windows, to a room packed full of developers, at the BUILD conference. Windows 8 features two interfaces, one resembling the current Windows interface and a more touch friendly Metro-style interface — which you can see in the screenshot above. This allows Windows 8 to feel at home on normal desktops, touchscreen all-in-ones, tablets, laptops, you name it.
However Windows 8 is not just a change of appearances, the new operating system features a lot of improvements, we've already seen how Windows 8 will speed-up your boot times, and new features compared to Windows 7. We've compiled below a list of features which we think are interesting, from today's official preview.

Metro-style UI interface designed for touchscreen environments, with swipe and pinch, but will also play nice with a mouse or keyboard.
Touch interfaces are embedded into most parts of the OS, including Internet Explorer. UI will offer both a large full-screen touch keyboard and a split thumb keyboard
A Windows Store where you can buy and download applications and games from your computer.
There will also be Metro-styled applications, which will be able to run in full-screen and have a unified way of accessing their settings.
Windows 8 will have a smaller memory footprint than Windows 7 and will also be able to run on lower-end hardware.
It will provide, for the first time, support for ARM-based chipsets.
Support for all kinds of sensors, such as accelerometers and gyroscopes.
Better cloud integration with SkyDrive, so you can save content/documents and automatically sync to all your devices.
Finally a revamped Task Manager!
You can 'Refresh your PC', which keeps your files, personalizations and Metro apps but gets rid of any malware and restores PC settings.
Microsoft is letting anyone download and play around with the Windows 8 Developer Preview starting from today 8pm Pacific Time. Just head over to dev.windows.com where you can download a 32- or 64-bit ISO file, unfortunately no ARM version yet. Note, as mentioned, this is a developer preview, not a beta, so many features may be missing and stability will be poor.
Microsoft
]