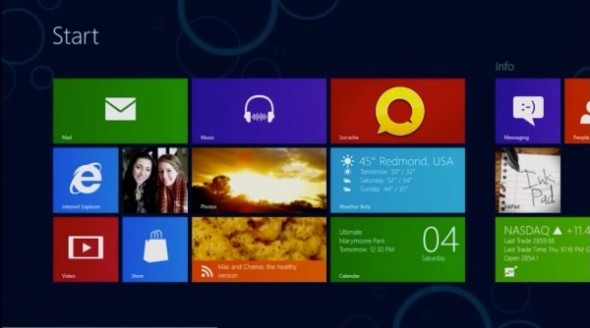 Over the past several months we've been closely following the development of Microsoft's next version of Windows. Windows 8 offers a ton of improvements and changes over Windows 7 and since September, developers were able to try out the new operating system in the Windows 8 Developer Preview.
Now anyone can download and install their own preview copy of Windows 8 with the Consumer Preview. Microsoft is not officially calling it a beta, though it will, hopefully, help shape the finished product. Microsoft claims to have made over 100,000 code changes following feedback it has received so far since the Developer Preview.

You can download the installer here, which will check if your hardware meets the minimum requirements and will automatically download the most appropriate version of Windows 8 Consumer Preview. If you'd rather get your hands on an ISO image head over here. Downloads vary between 2.5-3.4GB.
The minimum system requirements are:
1 GHz or faster processor
1 GB RAM (32-bit) or 2 GB RAM (64-bit)
16 GB available hard disk space (32-bit) or 20 GB (64-bit)
DirectX 9 graphics device with WDDM 1.0 or higher driver
Metro style applications have a minimum of 1024×768 screen resolution, and 1366×768 for the snap feature
Some of the big changes in Windows 8 are (you can find our entire coverage in the timeline below):
Metro-style UI interface designed for touchscreen environments, with swipe and pinch, but will also play nice with a mouse or keyboard.
Touch interfaces are embedded into most parts of the OS, including Internet Explorer. UI will offer both a large full-screen touch keyboard and a split thumb keyboard
A Windows Store where you can buy and download applications and games from your computer.
There will also be Metro-styled applications, which will be able to run in full-screen and have a unified way of accessing their settings.
Windows 8 will have a smaller memory footprint than Windows 7 and will also be able to run on lower-end hardware.
It will provide, for the first time, support for ARM-based chipsets.
Support for all kinds of sensors, such as accelerometers and gyroscopes.
Better cloud integration with SkyDrive, so you can save content/documents and automatically sync to all your devices.
Finally a revamped Task Manager!
You can 'Refresh your PC', which keeps your files, personalizations and Metro apps but gets rid of any malware and restores PC settings.
Faster Wi-Fi reconnects.
Easier and faster installation. Ability to run from a USB drive.
Faster boot times.
Meet Windows 8
Windows 8 Consumer Preview: product demo