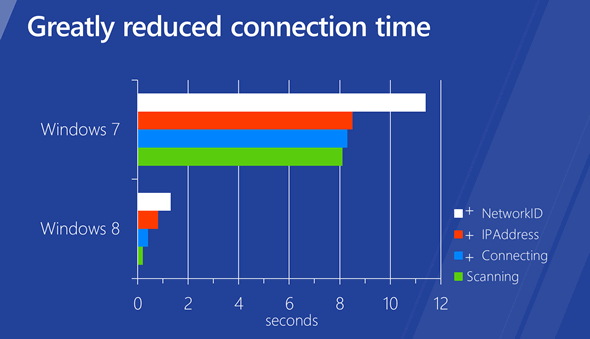 Microsoft has put a lot of attention on making things simpler, smarter and faster in its next personal computer operating system. We have no doubt that Windows 8 will be a huge improvement over the already excellent Windows 7.
One the most confusing and frustrating things, on any computer, centers around wireless connectivity. Microsoft, in its latest post on the official 'Building Windows 8' blog, tackles all the improvements we'll see with regards to Wi-Fi and mobile broadband (3G and 4G) connectivity. It's also a recognition that we are moving towards a mobile future and Microsoft has re-built the wireless networking stack from the ground up.
In short, Windows will show all Wi-Fi and mobile broadband networks in one user interface. You can prioritize Wi-Fi networks over usually slower and perhaps costly mobile networks, so when your computer discovers a favored Wi-Fi network, it will disconnect you from mobile networks and power-down the mobile device to save you power. Connecting to a mobile network should now be as simple as Wi-Fi connectivity, just insert a SIM card and Windows should handle the rest. You can also manually turn individual radios on and off and disable all radios at once in the new "airplane mode".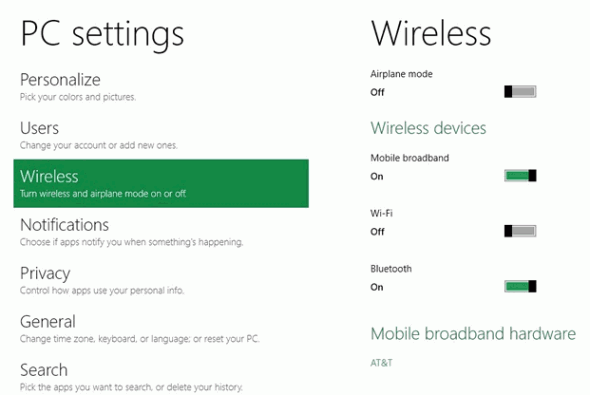 Almost instant Wi-Fi reconnects
Laptops and tablets go to standby automatically to save you power, but when you come back to a Windows 7 computer from standby you will find that you are no longer connected to a Wi-Fi network and would have to wait for around 12 seconds to reconnect. Windows 8 minimizes this downtime, Microsoft is promising that your computer will reconnect to your Wi-Fi network in just one second.
Mobile broadband connectivity as simple as Wi-Fi
If you had to connect to a mobile broadband network (3G or 4G) in the past, you had to find and install the right drivers and then install and run your carrier's software before being able to connect to the network. If you've ever gone through the process then you know how slow and tricky it can be. This also presented a huge problem if you didn't have the needed files on-hand you wouldn't be able to connect at all.
Well on Windows 8, broadband chips are treated similarly to Wi-Fi, ethernet or Bluetooth. A generic driver will interface between your computer and the broadband chip, without the need for specific drivers.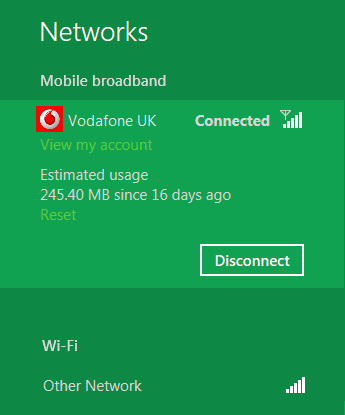 Once you install a SIM card, Windows will lookup and get the correct settings to connect to your carrier's network (i.e. APN, etc.). The connection experience remains the same as the core experience for the operating system and Windows will download any mobile carrier app that can provide data usage information or pay your bill options.
Cost conscious management of mobile broadband
Your mobile data plan might be metered and your cost varied according to usage. Windows 8 will also automatically switch to a Wi-Fi network whenever one is available to contain your mobile data usage. Windows 8 should also be a lot smarter on saving you from unnecessary downloads while you are connect to a mobile network — such us downloading non-critical Windows updates.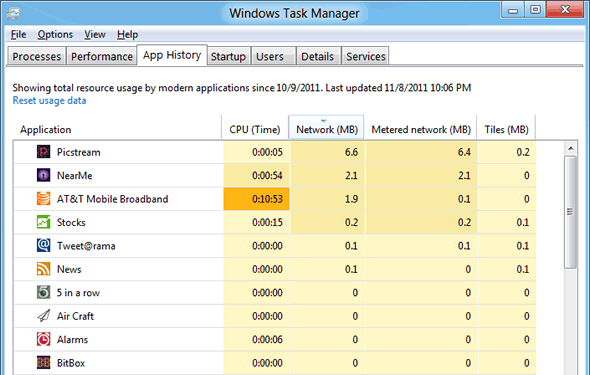 The task manager now provides granular data on which applications are consuming more data so that you can manage these applications better. Finally the operating system provides a set of developer APIs so that they adapt app behavior according to the type of connection, e.g. low-definition video streams for mobile connections vis-à-vis high-definition for Wi-Fi.
So here's a short video from the Microsoft guys

Some really exciting and really necessary stuff from Microsoft here, can't wait for Windows 8 to finally land officially! If you are feeling anxious to try Windows 8 out, you can already download and install a Developer Preview now.
[
Building Windows 8
]