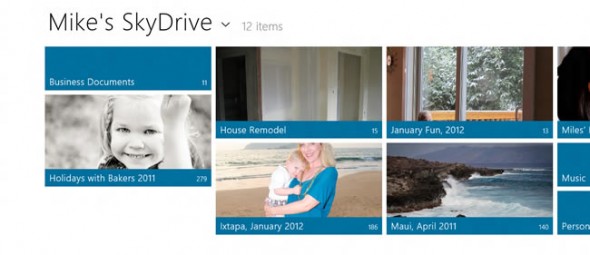 We've been following the development updates from the Windows 8 team for a while now and we had no doubts that Microsoft would be adding some sort of cloud integration into the new operating system. We are users of Microsoft's SkyDrive cloud storage service and although you can already mount it as a network drive on Windows PCs you had so far been limited on the functionality and use.
Windows 8 will be offering much tighter integration with SkyDrive, actually in pretty equivalent terms to what Apple is doing with iCloud in the upcoming OS X Mountain Lion.

First of all, SkyDrive will be integrated into Windows Explorer, making the experience of saving and retrieving something from the cloud the same as for local storage, without requiring difficult setups. Note that Windows Vista and Windows 7 will also be getting downloadable SkyDrive clients, though OS X still remains pending.
More exciting is the new ability to sync all your settings, browser history, customizations and personal files between PCs. If you use multiple computers, then you simply have to login on a different Windows 8 machine and it will become yours, with all your settings and files up-to-date.
Microsoft has also developed a touch friendly Metro style app for SkyDrive using JavaScript, CSS, and HTML5, which it promises will be fast and functional. It will also allow other Metro apps to use SkyDrive for storage without the need for developers to write even a single line of additional code, the feature will be baked in.
If you forgot to put a file onto SkyDrive, you will still be able to access it from your SkyDrive connected PC through SkyDrive.com by providing secondary authentication as an additional layer of security.
Finally, you will also be able to upload files up to 2GB, removing previous limitations. From a secondary source, it has been leaked that Microsoft will soon be offering paid additional storage over the current 25GB free limit.
Some of the new SkyDrive functionality will be available on the upcoming Consumer Preview of Windows 8 to be released in a few days.
[
Building Windows 8 blog
]