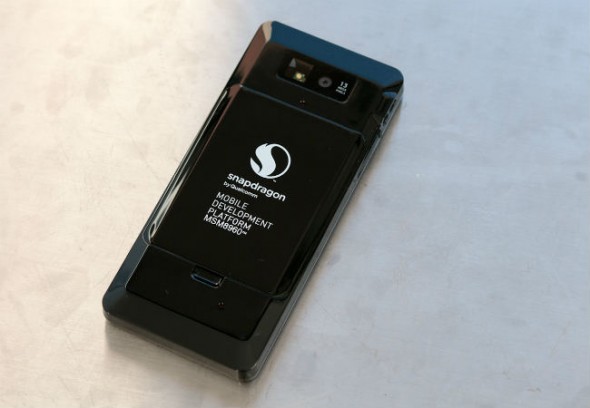 The rising popularity of mobile devices has made some system on chips (SoCs) household names. One of these, is Qualcomm's Snapdragon family of SoCs found in some of the finest smartphones and tablets. Qualcomm has been talking about its new Snapdragon S4 ("Krait") architecture based on a 28 nm process for some time now and we're expecting to finally see devices running on the SoC at Mobile World Congress next week. Yet, it had been unclear what the performance advantage would be from the new architecture.
The fellows over at AnandTech recently got to take home a Qualcomm S4 Mobile Development Platform, which is a posh name for a test smartphone, containing the first chip from the family, an MSM8960. The MSM8960 has dual 1.5GHz Krait cores, an Adreno 225 GPU and integrated support for practically all wireless radio technologies out there, including HSPA+ and LTE.

The team put the new chip through every mobile benchmark known to man and compared the results against a number of last generation SoCs, including Qualcomm's own Snapdragon S3 ("Scorpion"), Samsung's graphics busting 1.2GHz Exynos 4210, found in the Galaxy S II, the 1.2 GHz TI OMAP 4460 found in the Galaxy Nexus and finally the A5 found in the iPhone 4S.
The new Krait CPU practically destroyed all the previous generation SoCs in performance with AnandTech saying:
Occasionally we'll see performance numbers that just make us laugh at their absurdity. Krait's Linpack performance is no exception. The performance advantage here is insane. The MSM8960 is able to deliver more than twice the performance of any currently shipping SoC.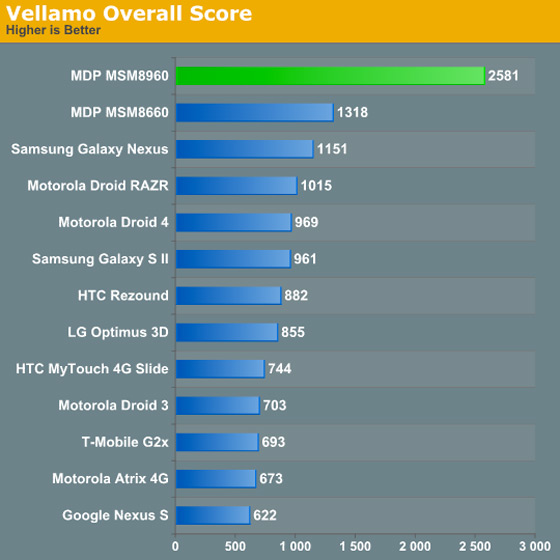 With regards to GPU performance, the MSM8960's Adreno 225 GPU was not as impressive, though it still performed well. In order to get the chip out as quickly as possible, Qualcomm didn't implement a new Adreno 3xx GPU in the 8960. Instead, the Adreno 225 GPU in the 8960 is similar in architecture to the Adreno 220, though benefiting from the new 28 nm process. In the benchmarks the chip is approximately as fast as Apple's A5, though it falls behind when it comes to higher resolutions, i.e. 720p.
The MSM8960 should be making an appearance in the rumored HTC Ville (a.k.a. HTC One S). Mind you, it won't be the only new chip on the block. NVIDIA is bringing the Tegra 3 on a boatload of devices, while we are still waiting for the new Exynos 5250 from Samsung.