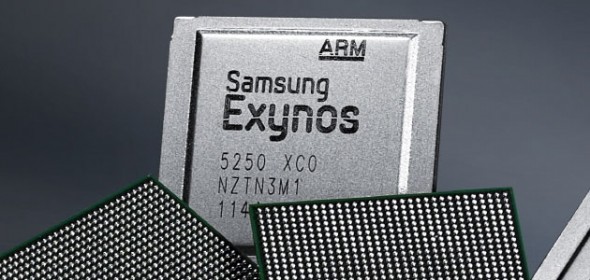 There is huge war raging behind the scenes on which chip will power the next generation of mobile devices. We have increasing demands from our smartphones and tablets and system-on-a-chip (SoC) manufacturers have to find ways of multiplying processing power, pushing more pixels on higher resolution screens while staying as power-frugal as possible. Samsung SoCs are a force to be reckoned with and last year's Exynos 4210, found in the Samsung Galaxy S II, Samsung Galaxy Note and Samsung Galaxy Tab 7.7, literally crushed all other chips in benchmarks.
We heard of Samsung's next generation Exynos 5250 SoC last November, and during its latest earnings call, Samsung said that it has already begun sampling to manufacturers and the 5250 will go into mass production in Q2 this year.

The Exynos 5250 packs dual Cortex-A15 cores at 2.0 Ghz utilizing 32nm high-k metal gate low-power process technology. Samsung claimed that the 5250 has nearly double the computational and four times the graphics performance over the previous generation Exynos 4210 dual-core Cortex-A9 1.5GHz SoC. The Exynos 5250 is able to drive a display with a resolution up to 2560 x 1600 (WQXGA), thanks to an insane memory bandwidth of 12.8 GB/s, and has an embedded DisplayPort (eDP) interface.
The Exynos 5250 has been rumored to be behind the much-awaited Samsung Galaxy S III, though the company said that it will first be used to power tablets and then smartphones. Based on what we've heard, we wouldn't be surprised to see a 5250-powered 2560×1600 resoultion Samsung tablet at MWC in Barcelona next month.
It would be interesting to see how the Exynos 5250 stacks up against this year's quad-core chips, like the Nvidia Tegra 3. We are also expecting the Qualcomm Snapdragon S4 "Krait", Texas Instruments OMAP 5 and lest we forget Apple's A6.