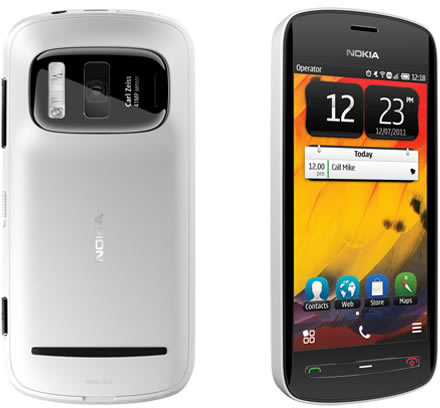 One of the most interesting devices to come out of this year's Mobile World Congress is the Nokia 808 PureView. The 808 runs Symbian Belle over the company's current crop of smartphones running Windows Phone. What makes it special is the new 41-megapixel camera sensor — no that's not a typo — paired with Carl Zeiss optics, which Nokia has aptly named PureView.
Nokia hasn't gone completely crazy, jamming more pixels into a tiny sensor and letting you handle crappy 41-megapixel files. First of all the sensor size is 1/1.2 inch, about five times larger than the typical 1/3.2-inch sensor found in most mobile phones. Because the sensor is bigger, the pixel size is still 1.4µm, the same as most current phones. You can actually see the 808 PureView sensor below at the bottom right, compared to an 8-megapixel and a 5-megapixel sensor this thing looks enormous. When you combine the Carl Zeiss f/2.4 lens and a Xenon flash the entire camera array takes a substantial amount of real estate.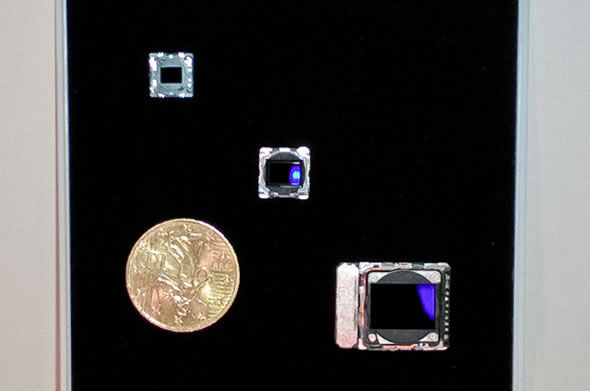 You can take full resolution 4:3 38-megapixel (7152 x 5368) or 16:9 34-megapixel (7728 x 4354) images with the Nokia 808, but you'll probably want to shoot in PureView mode that results in much smaller, and better quality, images. In PureView mode when you take a photo the phone takes the huge raw image and combines or averages-out adjacent pixels, this results in reducing random noise and resulting in a much cleaner and sharper image. The Nokia 808 can output 8, 5 and 3-megapixel PureView stills. At 5-megapixels the Nokia 808 camera averages out around 7 pixels to just one.
Alternatively the camera can also do digital zooming using the large pixel count, with the fixed focal length lens essentially becoming a 28-78mm equivalent zoom for 5-megapixel files. Of course in this case when you are completely zoomed-in you lose the averaging out of pixels and hence the enhanced image quality. The 808 camera can also do some impressive macro shots, being able to focus from 15cm. Nokia has provided some sample shots taken with the phone below — you can download all the original picture from Nokia here (32MB).
The Nokia 808 is expected to launch in May in Europe retailing for around 450 euros ($600).
Some promo videos below.
[
Nokia 808
, sensor image
@DrPinball
]